We are less than two weeks away from the year's most exciting Augmented, Virtual and Mixed Reality event, with the final touches being put together for AWE USA 2022 where the XR community is going to be welcomed once again at the Santa Clara Convention Center from June 1-3.
As always, speakers and exhibitors from leading companies from across the XR industry will be in attendance, including Epic Games, Google, HP, Magic Leap, Meta, Microsoft, Niantic, NVIDIA, Qualcomm, Unity, Varjo and many more. In addition to this, there will be a packed Expo Floor, as well as the AWE Playground, both offering attendees the chance to try out hands-on experiences with the latest and best in AR, VR and MR technology.
However, one aspect of the event that we always look forward to at AWE USA are the industry-renowned Auggie Awards, the results of which are highly anticipated by both exhibitors and attendees alike.
The Auggie Awards, also known as "The Auggies," are the XR industry's most prestigious awards that celebrate both companies and individuals and the innovative XR solutions that they have put out over the past year.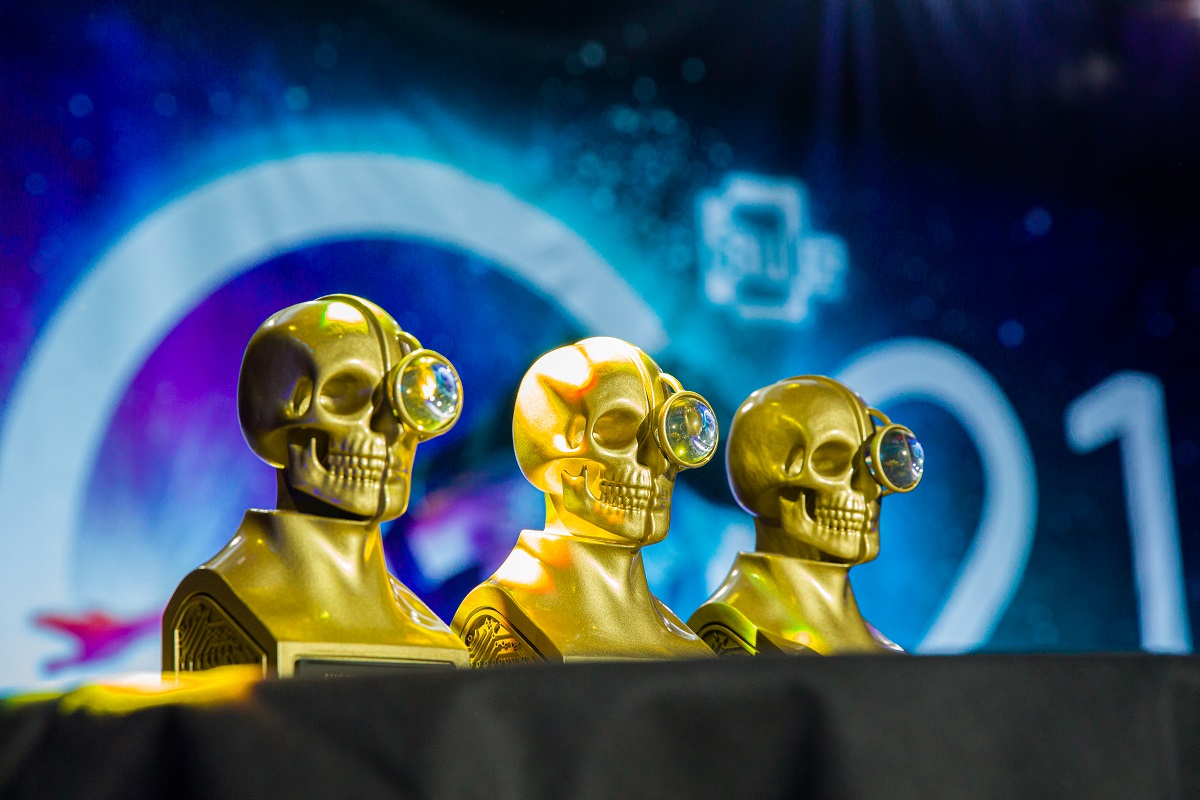 In terms of how the Auggie Awards work, companies and individuals register their XR product or solution early in the year and begin an application to be included in the nomination process. Submitted products or projects can be based on any kind of technology, i.e., for the web, a personal computer, a mobile handheld device, smart glasses, and wearables, a projection system, or any software or hardware platform broadly available to the public.
Submissions are posted on the AWE website and once the nomination period closes, a round of public voting takes place – usually from early April until early May each year (although things were slightly different for AWE USA 2021 as a result of the event's timing due to COVID-19).


The winners of the public vote are then put through as finalists, where their submissions are then judged by an expert panel of impartial judges, who judge submissions based on their quality, their impact, as well as overall user experience.
Based on the judging panel, the winners are announced on stage at AWE USA on the second day of the event. As well as being crowned winner of their respective category, winners also receive a coveted Auggie Award trophy, a one of a kind piece of art created by artist Sigal Arad Inbar.
One great thing about the Auggie Awards is that it's not just Tier 1 organizations or big name brands that always win either. Winners from previous years have come from all stages of the business cycle, from indie developers and small start-ups to large corporations, established organizations and Fortune 500 companies. The beauty of the Auggies is that they offer the perfect place for celebrating innovation across the entire spectrum of the XR industry. It really is an award ceremony where the entire community can come together and get involved to either participate as nominees, or to celebrate ingenuity and appreciate all the submissions as public voters.
Categories and Finalists
There are now a total of 15 categories for which companies and individuals can be nominated, covering a range of different aspects of the XR industry. The categories for the Auggie Awards, along with this year's finalists are as follows:
Best Headworn Device
Red 6 – ATARS
Zappar – Zapbox
RealWear – RealWear Navigator™ 500
XYZ Reality – The Atom
Trimble – FieldLink MR
Varjo – Aero


Best Interaction Product


OpenBCI – Galea


insEYE LLC – camera-free eye tracking for XR devices
Wearable Devices LLC – Mudra Band
NEWVIEW – NEWVIEW SCHOOL
OWO – haptic system
Sony – Spatial Reality Display


Best Developer Tool


8th Wall (now part of Niantic) – WebAR platform with Metaversal Deployment


Zappar – Universal AR SDK
Anything World – Anything World 3D Creator Platform
Holo-Light – ISAR SDK
MAXST Co., Ltd – Maxverse SDK
Qualcomm Incorporated – Snapdragon Spaces XR Developer Platform
Immerse – Immerse SDK


Best AR/VR Collaboration Tool
Mozilla – Hubs Cloud
Librestream – Onsight
Lumeto – Lumeto x CHEST: Immersive Airway Management Training with the Involve XR platform
Mytaverse – Mytaverse
Streem – AR-powered visual assistance platform


Best Creation and Authoring Tool
Arcturus – HoloSuite
Hoverlay Inc. – Hoverlay Spaces
Onirix – Onirix Augmented Reality platform
KP9 Interactive – WorldCAST
Zappar – ZapWorks


Best App
Magnopus – Expo Dubai Xplorer
Trillion – Trillion App
Apple – For All Mankind: Time Capsule
Octagon Studio – Humanoid AR+
Lowe's – Measure Your Space
National Aviation Education Center – National Aviation Education Center World War II Nose Art AR App
SENSORIUM – SENSORIUM Mobile App


Best Marketing Campaign
Zappar – Accolade Wines: Banrock Station
Immerse Lab – ACROSS TECHNOLOGY TO ART - A virtual journey to Arles with LG SIGNATURE
Zappar – King's Hawaiian: Guy Fieri Flavortown
Rock Paper Reality – Sinister AR Collection
weR augmented reality cloud LTD. – The Hidden World of Waffles + Mochi


Best Enterprise Solution
Oversight – Absorber
Avataar – Avataar platform
Allbreaker / Colombian Police – Colombian Police training program for cadets
Red 6 – Combined Augmented Reality Battlespace Operational Network (CARBON)
rooom.com – rooom.com - Enterprise Metaverse Platform
HoloPundits – XR Guru Career Exploration


Best Game or Toy
Overrun Games – Arcaxer
Resolution Games – Blaston: Evolving from Virtual to Mixed Reality with Passthrough API
Schell Games – I Expect You To Die 2: The Spy and the Liar
Petricore – Petricore AR Experiments
ILMxLAB / Lucasfilm – Star Wars: Tales from the Galaxy's Edge
Tilt Five inc. – Tilt Five Holographic Gaming System


Best Art or Film
Big Rock Creative (BRCvr) – Burning Man (VR Experience)
Game for Change – On The Morning You Wake
Infinite Frame Media – The Choice
Ferryman Collective and CoAct Productions – The Severance Theory: Welcome to Respite
Felix & Paul Studios in association with TIME Studios – UNITE - Space Explorers: The ISS Experience - Ep. 3


Best Societal Impact
YESUNIVERSE and Big Rock Creative – Breonna's Garden Virtual Reality Experience
Hope for Haiti – Inspiring Hope
Novaby – The AMP: AIDS Memorial Pathway
Chiefswood Park at Six Nations of the Grand River – Three Sisters VR Experience
Catalyst VR – Walk in my Shoes


Best Indie Creator(s)
Kinemotik Studios – Audio Trip
Sander Veenhof – DIY Digital Fashion tools
CreatorUp – Hugh Hou
Ferryman Collective – Live theatre in Virtual Reality
OnBoardXR – OnBoardXR
Simeone Scaramozzino – The Luminous Temple Experiences


Best Use of AI
Avataar – Avataar platform
Lowe's – Measure Your Space
Perfect Corp. & Sally Hansen – Perfect Corp.'s Agile Hand Technology (as implemented in Sally Hansen nail virtual try-on experience)
SENSORIUM – Sensorium Galaxy
Volograms – Volu - a camera for the Metaverse


Best in Location-Based Entertainment
ONTOP – ARcade Sports
SPREE Interactive – Battery Powered VR Bumper Cars
Magnopus – Expo Dubai Xplorer
Zappar – Lightbox: MetaMe Avatar Creator
Deloitte Digital – U.S. Open AR
XR Immersive Tech – UNCONTAINED


Best Healthcare and Wellness Solution
FundamentalVR – Fundamental Surgery
Lumeto – Lumeto x CHEST: Immersive Airway Management Training with the Involve XR platform
Osso VR – Virtual Reality Surgical Training Platform
Tietoevry – Virtual Therapy Laboratory
University of Mississippi Medical Center – VIST Neuro-ID
Jolly Good Inc. – VR Clinical Training with "VR Hands-On"


To see all winners across all categories for the last three years, click here.
There are also four further categories that are only chosen during the AWE USA event that cover: Best in Show: Augmented Reality; Best in Show: Virtual Reality; Startup to Watch; and the AWEsome Award.
Finally, a huge congratulations to all of this year's finalists. As much as there is only one award to be handed out for each category, you are all winners in the eyes of the community, which has deemed your Augmented, Virtual and Mixed Reality products and solutions worthy of praise and recognition.
Judges are now working hard and evaluating all finalists and their submissions, and winners will be announced on June 2nd at AWE USA 2022. We look forward to seeing you at this year's Auggie Awards ceremony, so if you haven't already got your tickets to AWE USA 2022, make sure you don't miss out and click below!