We're over half way through our 'XR Trends 2022' blog series, which examines the many use cases of Augmented, Virtual and Mixed Reality (collectively referred to as XR), and how these technologies are being utilized to benefit a variety of industries. This seventh post in the series looks at how XR is creating new ways for brands to engage more directly with their customers, enabling things like immersive try-before-you-buy virtual product interactions and engaging AR experiences activated through physical product packaging.
Branded XR experiences have exploded in popularity and it is easy to see why when you look at some of the metrics. According to companies like 8th Wall, which provides a WebAR platform that allows brands to deliver Augmented Reality campaigns via a web browser, many campaigns that utilize its platform have seen huge increases in engagement. This includes click through rates of up to 18% and lengthy dwell times that see customers spend up to 5 minutes in a branded AR experience, all of which contributes to boosted sales for companies.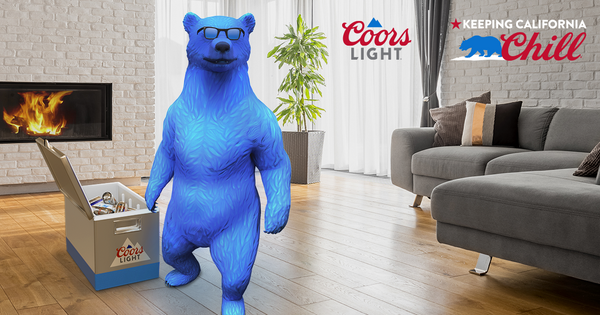 Molson Coors WebAR campaign 'Coors Light California Chill', created by XR agency Trigger, running on 8th Wall's WebAR platform.

Plus, with the metaverse becoming more of a reality every day, many brands are having to come up with their "metaverse strategy" to ensure that they are still able to meet consumers throughout their digital journey. We've all seen some of the success stories from the world of NFTs (non-fungible tokens), with many brands also piling into the trend, but whether or not the hype around NFTs lasts is yet to be seen. If the popularity of cryptocurrencies are anything to go by (given that NFTs essentially run on the same blockchain technology as cryptocurrencies), then it could be likely that NFTs are here to stay for a while. That being said, an NFT of Jack Dorsey's first tweet that sold for $2.9M just over a year ago, is now worth less than 1% of that amount. So, the jury is still out as to whether a branded NFT strategy is worth it in the long run.
One thing that is certainly going to feature more in brand strategies though is the introduction of virtual e-commerce stores, which we will almost certainly start to see more of. Virtual stores allow customers to explore a digital storefront in Virtual Reality and shop for physical items as well as digital assets. Virtual stores will also empower brands by giving them greater control over their visual merchandising, enabling them to keep virtual stores updated with the latest products, while better aligning to their physical brick and mortar stores, ultimately allowing brands to maintain a strong omnichannel approach.
A big part of the creation of virtual stores is going to be the population of those stores with 3D assets that accurately reflect their real-world counterparts. Companies such as Avataar.me are providing solutions for brands that can replace 2D images with interactive life-size 3D models for use in VR and AR experiences, with an aim of supercharging online revenue for brands. The more straightforward it is for brands to convert their products to virtual assets, the more we can expect to see brands taking advantage of these sorts of offerings, and putting their entire catalogs online in an interactive, 3D format for users to engage with through features such as "see in my space" and virtual try on.


The actual virtual store building part of the journey is also being simplified, by companies such as Metadome, which provides a no-code platform that enables brands and enterprises to build immersive, responsive, interactive, and photorealistic 3D virtual showroom experiences for their audiences. It is through these virtual showrooms that brands will be able to extend their reach to potential customers, helping them to enhance the customer journey in order to boost sales and increase revenues.
On top of interacting with consumers in the virtual world via digital products, many brands are also incorporating XR experiences into their physical packaging, with product labels now acting as a portal through which customers can view a branded digital experience. By either scanning a QR code on packaging or simply a product itself through a custom app or browser interface, customers can discover branded AR experiences that teach them more about a product or company. Popular examples of this include in the food and beverage industry, where customers can easily scan a bottle or can to find out how a drink was made, or learn the best meal preparation instructions via an AR interaction.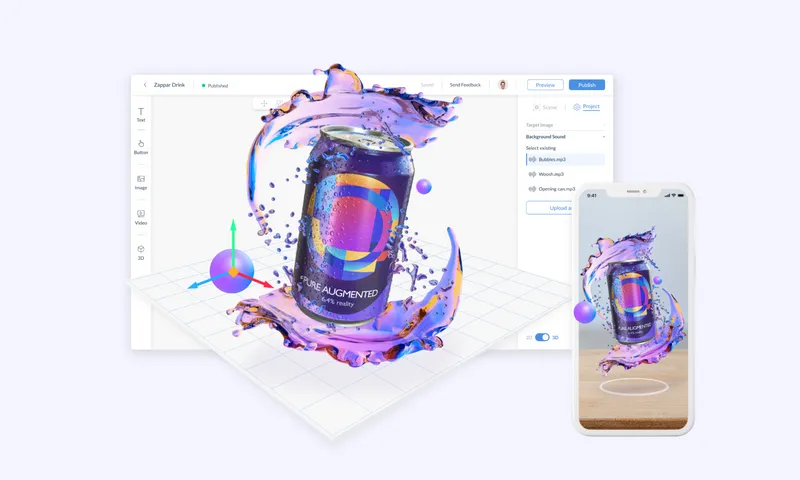 Augmented Reality packaging experiences using ZapWorks Designer from Zappar.

Companies such as Zappar have been working in the AR packaging space for some time now, helping brands to transform their passive packaging into a valuable media channel. According to Zappar, using AR in on-pack campaigns can increase sales by up to 15% through a combination of product education and revenue driving activities such as promotions, competitions and customer loyalty schemes.
With reaching the end consumer driving the majority of brand strategies, XR technology is definitely going to see an increase in uptake from brands as a result. The "Retail, eCommerce & Advertising" track at AWE USA 2022 is the best place to discover the latest XR brand and marketing trends, as well as proven XR branding case studies. Speakers from leading brands such as Walmart, P&G, Sony, Verizon, Audible and more will be exploring the ways that brands are leveraging XR for increased engagement, sales, and personalization in both eCommerce and brick-and-mortar operations.
Some of the best talks from this year's event that will cover branded XR experiences include:
Don't miss the world's leading AR/VR conference, taking place June 1-3 in Santa Clara, California.

Header image source: Metadome