The global XR community has enthusiastically responded to the call-to-action set by The XR Prize Challenge: Fight Climate Change (The XR Prize)—to fight climate change using augmented reality (AR) and virtual reality technologies. After receiving hundreds of incredible concept submissions, 150 projects have now been selected to advance to the next stage of the competition; and the chance to win a $100,000 cash prize. Read the press release here.
How can we fight climate change with AR and VR?
While the competition is just getting started, this overwhelming response from the greater metaverse and sustainability communities feels like a win in itself—validating the two core premises of The XR Prize.
Now is the time to act. Climate change is one of the most pressing issues of our time. Solving a problem of this scale requires all our engagement, expertise, and collaboration.

XR tools supercharge our impact. AR and VR tools have the potential, today, to transform every aspect of our lives; from reducing wasteful consumption to optimizing the way we work. Effective applications of metaverse tools can help us leap-frog traditional blockers and realize change, now.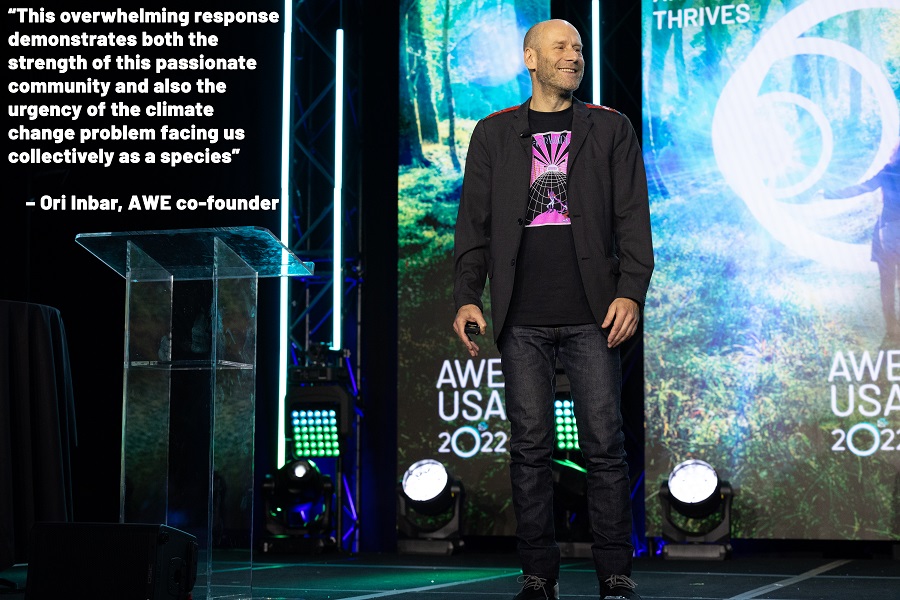 The XR community rises to the challenge.
"This overwhelming response demonstrates both the strength of this passionate community and also the urgency of the climate change problem facing us collectively as a species," said Ori Inbar, co-founder of AWE. "Our goal with this significant cash prize is to inspire XR developers, academics and companies alike to focus their talents towards humanity's number one existential threat: climate change. To have 150 teams participating at this level is a victory by itself - let a thousand flowers bloom!"
The XR Prize received an overwhelming response from hundreds of applications from incredible global teams. It warms our hearts to see the community's response to this urgent issue. The sheer volume of submissions is a clear indication that climate change is at the forefront of this community; which holds a genuine desire to take action and make a difference.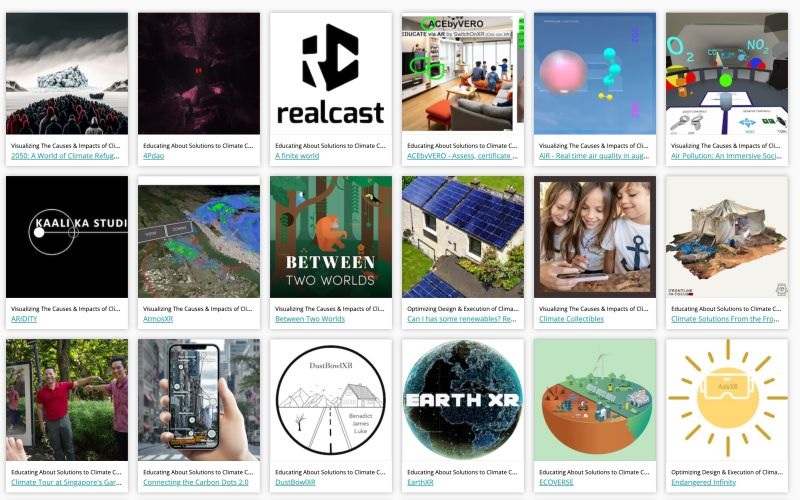 Some of the inspiring submissions in the XR Prize Challenge project gallery.
Localized, personal examples of XR impact
"It is inspiring and humbling to see so many creative and diverse concept proposals harnessing XR in the fight against climate change. We are looking forward to experiencing these ideas as competitors further develop them in the MVP round!" said Dace Campbell, XR Prize Challenge competition manager.
Examples of projects include topics ranging from:
Specific solutions for targeted regions & issues local to the teams

The role of indigenous populations in climate solutions

Optimizing industries such as manufacturing, design, construction

Clean energy solutions

Air & water quality initiatives

Biodiversity

Sustainability in farming, cooking, and shopping
Technology partners make The XR Prize accessible to non-technical teams.
The next stage of the competition will see teams demonstrate their projects, ideas, and solutions as a minimum viable product (MVP). In order to make the XR Prize as accessible as possible to a diverse population of participants, AWE has partnered with a host of leading-edge XR technical and platform partners. They will all be offering no-barrier access to their leading XR tools, hardware, and services for use in the MVP phase of the competition.
Thanks to these amazing partners who have all generously offered up their solutions and platforms, as the competition moves forward to this MVP stage, the 150 teams that have been selected to advance will now have the opportunity to receive support and resources to help bring their ideas to life from the following companies: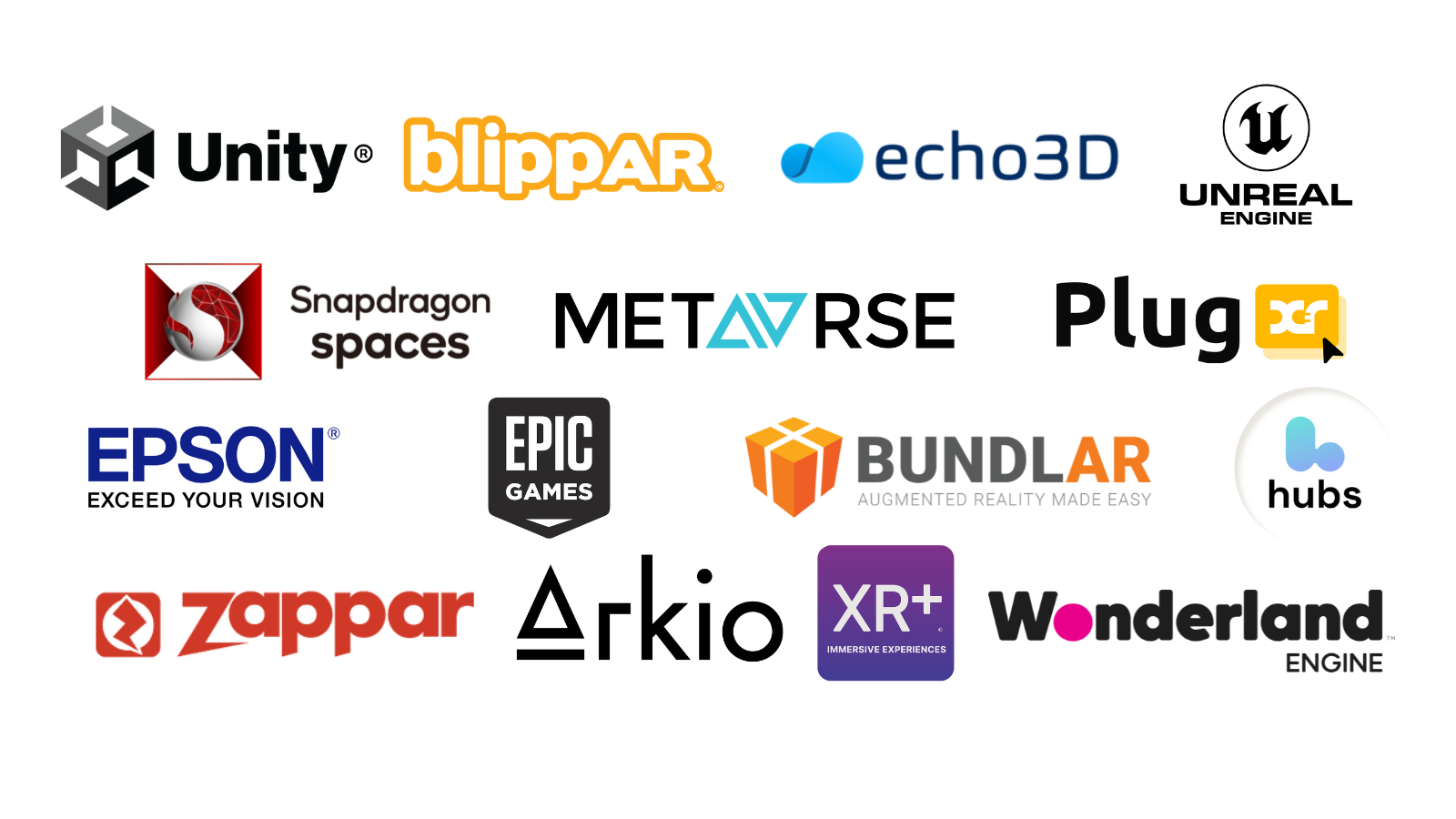 Next up in The XR Prize Challenge
Teams will ultimately submit their MVPs to AWE's expert panel of judges, made up of climate experts, XR technology specialists, marine biologists, conservationists, among others. Judges will be assessing submissions based on their creativity, functionality, and impact across the following four submission categories:
Replacing Wasteful Material Practices

Visualizing The Causes & Impacts Of Climate Change

Educating About Solutions To Climate Change

Optimizing Design & Execution Of Climate Solutions
This panel of judges features world-leading experts in immersive technology, sustainability and climate science, ensuring winning projects are both impactful and meaningful applications of XR.
Katerina Cizek, Peabody- and Emmy-winning Artistic Director and co-Founder of the Co-Creation Studio, MIT Open Documentary Lab


Robert Fine, Executive Director and Founder of IVRHA (International Virtual Reality and Healthcare Association)


Marina Psaros, Head of Sustainability at Unity Technologies and author of The Atlas of Disappearing Places: Our Coasts and Oceans in the Climate Crisis.
Learn more about our
XR Prize judges and coaches
.
Thanks to the XR community!
For those individuals and teams that did not make it through to the MVP stage, we would like to express our gratitude. We understand that a significant amount of dedication, hard work, and imagination were invested in your application, and we appreciate your efforts. We do encourage you to stay engaged with the AWE community, whether by sharing a proposal to talk at AWE events, or join us for year round content and events on awe.live.
To those 150 teams that did make it to the MVP phase, congratulations! It's now time to get to work and to start honing your MVP experience, which will be due April 16, for judging.
The success of the XR Prize Challenge is not just measured by the number of teams that advance, but by the impact that the competition has on the participants and the overall goal of addressing climate change. By providing a platform for creatives, developers, entrepreneurs and companies to share their ideas and solutions, we are not only fostering innovation but also helping to build a community of like-minded individuals and organizations working towards a common goal.