AWE Asia 2023 concluded on August 31st in Singapore after two days of bringing together Asia's top XR experts, companies, press, and enthusiasts. As our first ever AR and VR event hosted in Singapore, AWE Asia welcomed a global community with over 1,000 participants from 29 countries. The conference, one of AWE's year-round global XR events for business, highlighted the leadership role the Asia Pacific (APAC) market plays at the forefront of digital innovation, while creating space for AR and VR professionals and brands to learn, connect, and grow together.
Read on for highlights from the Expo Hall, panel discussions, keynote speeches from global leaders, Auggie Award-winners, and more!
An audience favorite, the AWE Asia Auggie Awards celebrated the best in AR and VR on display. LITA Studio's product "Lost World" won Best Application, MetaVista 3D was awarded Best Innovation, and Immersal won Best in Show for their unique approach to visual positioning and spatial mapping. A full recording of the Auggie Awards and event wrap-up can be accessed below:
Expo Hall highlights leading AR and VR hardware
The Expo Hall was full of dynamic developments in AR and VR technology, featuring a diverse range of stands, including those dedicated to hardware, components, peripherals, platforms, creative studios, end-users, and pavilions showcasing regional excellence.
Many exhibitors brought product announcements and releases, giving guests a first look at the future of spatial computing. Notably, VOY Glasses unveiled their new Tunable Lens Insert for Lenovo VRX, promising to enhance the immersive experience for users worldwide.
In addition to the enterprise solutions and start-ups on view in the AWE Asia Expo, global governmental organizations, like K-Metaverse (Korea) set up pavilions to showcase their country's leading XR innovations.The K-Metaverse pavilion featured six standout companies: LITA, Salin, Dataking, Emotionwave, DOORIBUN, and P&C Solution, all of which demonstrated how their technologies are enriching the entertainment, museum, and educational industries.
Exhibiting sponsors share global highlights, regional innovation
Thank you to all of our exhibitors, including silver sponsors XPANCEO, Dispelix, Immersal, and Niantic, as well as our gold sponsor the K-Metaverse pavilion, which was sponsored by the National IT Industry Promotion Agency (NIPA). Each of their support has been invaluable in making AWE Asia 2023 an enlightening experience.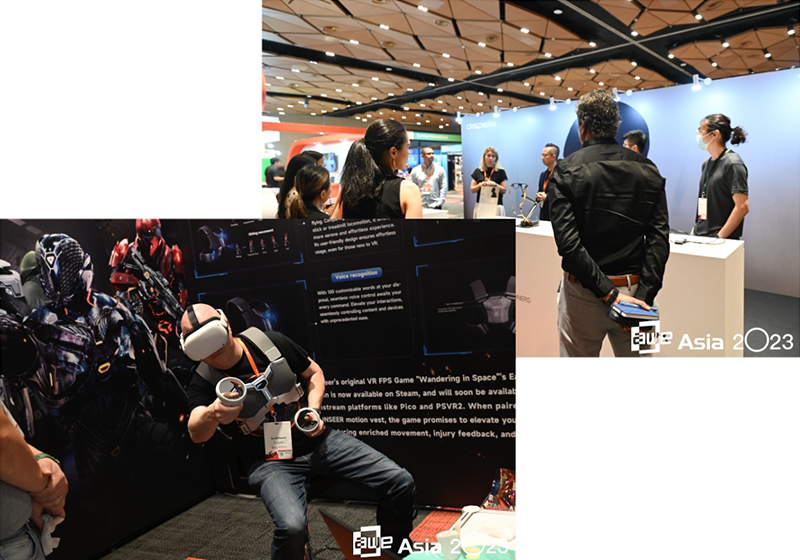 How AI, empathy, and enterprise collaboration are advancing XR
Ori Inbar, co-founder and global AWE CEO, kicked off the event with an overview of XR's substantial growth into a $38 billion industry in 2023. This was followed by intriguing research from Dr. Mark Billinghurst from the University of Australia, who shared his insights on empathic tele-existence, which allows users to experience another person's perspective physiologically, creating a shared understanding.
Alvin Wang Graylin, HTC's Global VP of Corporate Development, discussed AI's exponential capability growth to reach 1 billion parameters, nearing the number of synapses in the human brain. Wang Graylin noted how AI this complex will challenge workplace norms and possibly replace up to 60% of the workforce over time, but also has the potential to unite people globally.
IEEE Standards Association President, Yu Yuan, continued the conversation, describing the synergies between AI and the metaverse and highlighting how they are reshaping business ideas around digitalization.
Additionally, Ikhwan Cho and Terry Schussler from SK Telecom and Deutsche Telekom shared case study details about ifland, a global metaverse platform that has gained more than 40 million active users since its launch only two years ago. This study illustrates a successful enterprise collaboration between telcos and the XR space—demonstrating how AI and other technologies can create an innovative user experience.
Key XR developments explored in conference sessions
Venture capitalist Tipatat Chennavasi delved into the dynamics of investing in AR and VR, offering valuable insights into what sets startups on a path to success in the XR-driven landscape.
In another session, Dr. Yujia Gao, Assistant Group Chief Technology Officer at the National University Health System, shared his expertise in holo-medicine, a platform that blends augmented, mixed, and virtual reality to allow for the practice and delivery of medicine through sensory camera technology.
Further, panel discussions shed light on exceptional partnerships and ecosystems. In a session focused on the future of immersive experiences: navigating the world of XR, speakers Joanne Teh (IMDA), Michelle Khoo (Deloitte), Terence Loo (Serl.Io), and Benjamin Chen (SMRT Corporation) shared their perspectives on the challenges and opportunities that come with implementing XR projects in organizations today.
Is Now the Right Time to Build an XR Developer Ecosystem?, explored the collaborative efforts of OEMs, investors, and developer platforms in cultivating a thriving augmented and virtual reality ecosystem in Asia, featured: Effie Li (EnlightXR), Martand Srivastava (Lenovo), Yi Xu (OPPO), Arthur Chen (Ameba Capital), and T K Ng (SFX Corporation).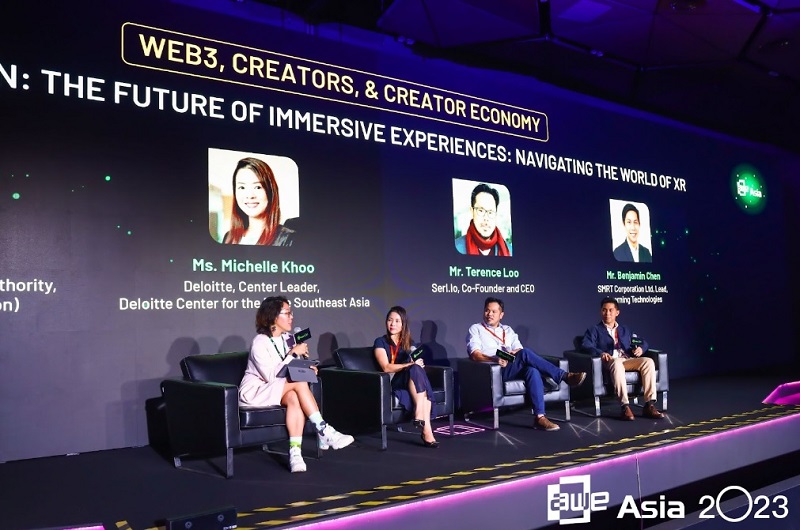 For those of you who were not able to attend, you may access the photo library and AWE Youtube channel for session recaps and event highlights.
A big thank you to our partners!
We would like to thank all of our partners for their valuable contributions to AWE Asia 2023. Their unwavering support, expertise, and collaborative spirit played a pivotal role in enriching the conference's content, creating a vibrant platform for the XR community to thrive.

Save the date for upcoming global AWE events
Coming together at events like AWE Asia reminds us of how far we've come as an industry. It calls attention to the crucial conversations and standards needed to support a robust innovation ecosystem, and illustrates how important international cooperation and sharing of ideas are to the future of XR. Don't miss out!
While you stay tuned for more details on AWE Asia 2024, mark your calendars for one of our upcoming global events! Next, AWE EU heads to Vienna, Austria, October 24-25, 2023. Then in 2024, AWE USA will take over scenic Long Beach, CA from June 18-20.