We are only one week away from AWE EU and the excitement is building for what will be an incredible face to face gathering of the European XR community in Lisbon, Portugal. However, there will certainly be many people who would like to be a part of AWE's augmented and virtual reality event, but are unable to attend in person. If you are one of those people, then you'll be pleased to know that you'll be able to participate in AWE EU virtually, through the awe.live platform.

The 24/7/365 awe.live platform is an always-on hub for the XR industry and provides a place where XR and technology enthusiasts can explore all that augmented, virtual and mixed reality has to offer. When it comes to AWE's live events and conferences, awe.live is your virtual portal to the real thing. For AWE EU, as with all of our other major in-person AR/VR events throughout the year, you'll be able to watch the Main Stage sessions live, as well as interact with other attendees in the chatroom, all in real time and from the comfort of your own home.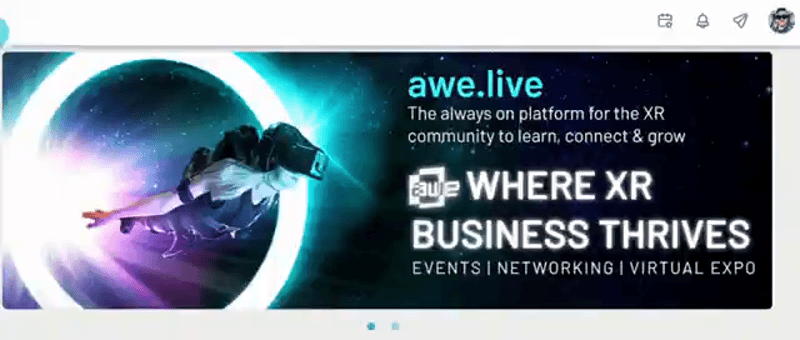 With several leading companies sure to be sharing key product announcements and spatial computing insights at the event this year from the Main Stage, you'll be able to stay up to date with all the latest news from AWE EU through the awe.live platform.
Plus, as well as enabling you to watch Main Stage talks live this year, the awe.live platform is also packed with a wide variety of AR/VR-related video and podcast content for you to watch and listen to. You can also connect with other XR industry professionals and enthusiasts, and discover some of the leading companies from across the space by viewing their virtual booths and product offerings.
What's more, while the live streamed content will only cover the Main Stage talks, one week after AWE EU, content from all other tracks will be available to watch on awe.live, meaning you'll be able to catch up on everything that happened from the event. Videos of track talks will be available to both people who are attending the event this year but perhaps couldn't make a talk they wanted to see on the day, as well as AWE community members who are only able to attend virtually.


There IS still time to get tickets to attend in person though, with prices starting as low as €295 thanks to AWE's affordable Friday Only pass.

Whether we will see you in person next week in Lisbon, or you'll be joining in virtually through the event chat, make sure that you don't miss out on Europe's leading XR event by getting involved with the AWE community through awe.live, our always on platform for the XR community to keep the industry growing every day of the year.