After an AWEsome opening day to the XR community's favorite Augmented, Virtual and Mixed Reality conference on Wednesday, we've now come to the end of a fantastic day 2 at AWE USA 2022. Everyone seemed fresh-faced and excited for today's agenda after some great poolside socializing at the post-day 1 Welcome Party yesterday evening (sponsored by Zappar), as today marked the opening of the Expo floor, as well as the AWE Playground.
Starting things off for the Main Stage this morning was Magic Leap, with the company's Head of Product Management, James Meskill providing attendees with an overview of Magic Leap 2 and how it will power the next leap forward in enterprise AR. The company's latest "WildFire Demo" was also shown off on stage, and attendees were able to see and experience this at the Magic Leap booth on the expo floor later in the day. Hundreds of attendees waited patiently throughout the day in order to get their chance to finally try out the device.

"Magic Leap's vision is a world where the physical and digital are one," Meskill said. "We're focused on businesses who need to solve real problems and who have essential work to get done - and that's going to continue to drive the industry forward. We're in the early access period with Magic Leap 2 and we've had some amazing developers come in and experiment, and learn what they can do with Magic Leap 2."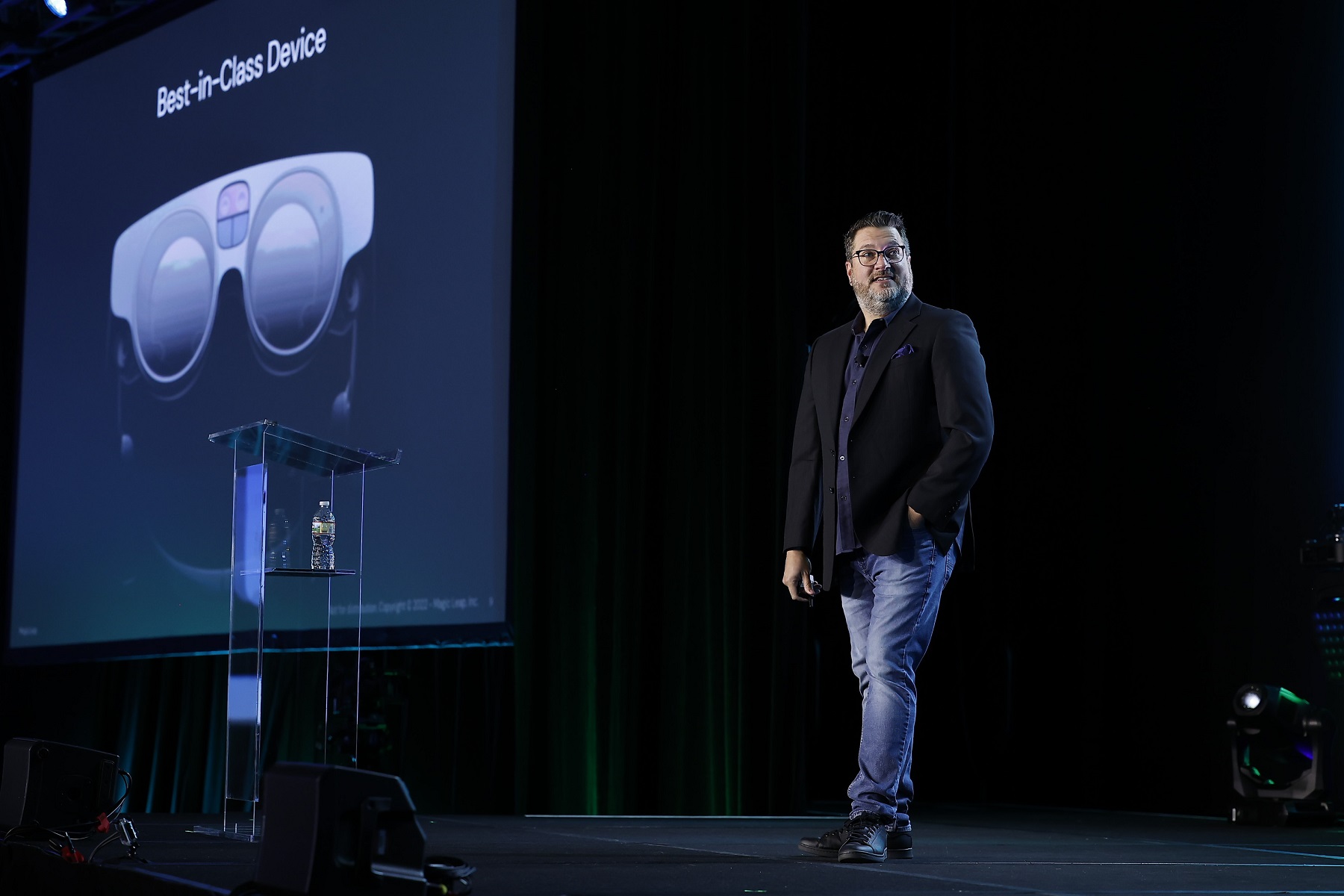 Magic Leap's presentation was followed by Sravanth Aluru, Founder & CEO of Avataar, with a great talk on how the camera has evolved as a key tool for eliminating friction for consumers on their shopping journeys, since it enables people to browse, search & discover products in the context of their own space thanks to the wonders of Augmented Reality (AR).

"Digital reality is merely an illusion, albeit a very persistent one," said Aluru. "Avataar's out-of-the-box AR solution signifies the continuous growth of AR innovation in the e-commerce industry."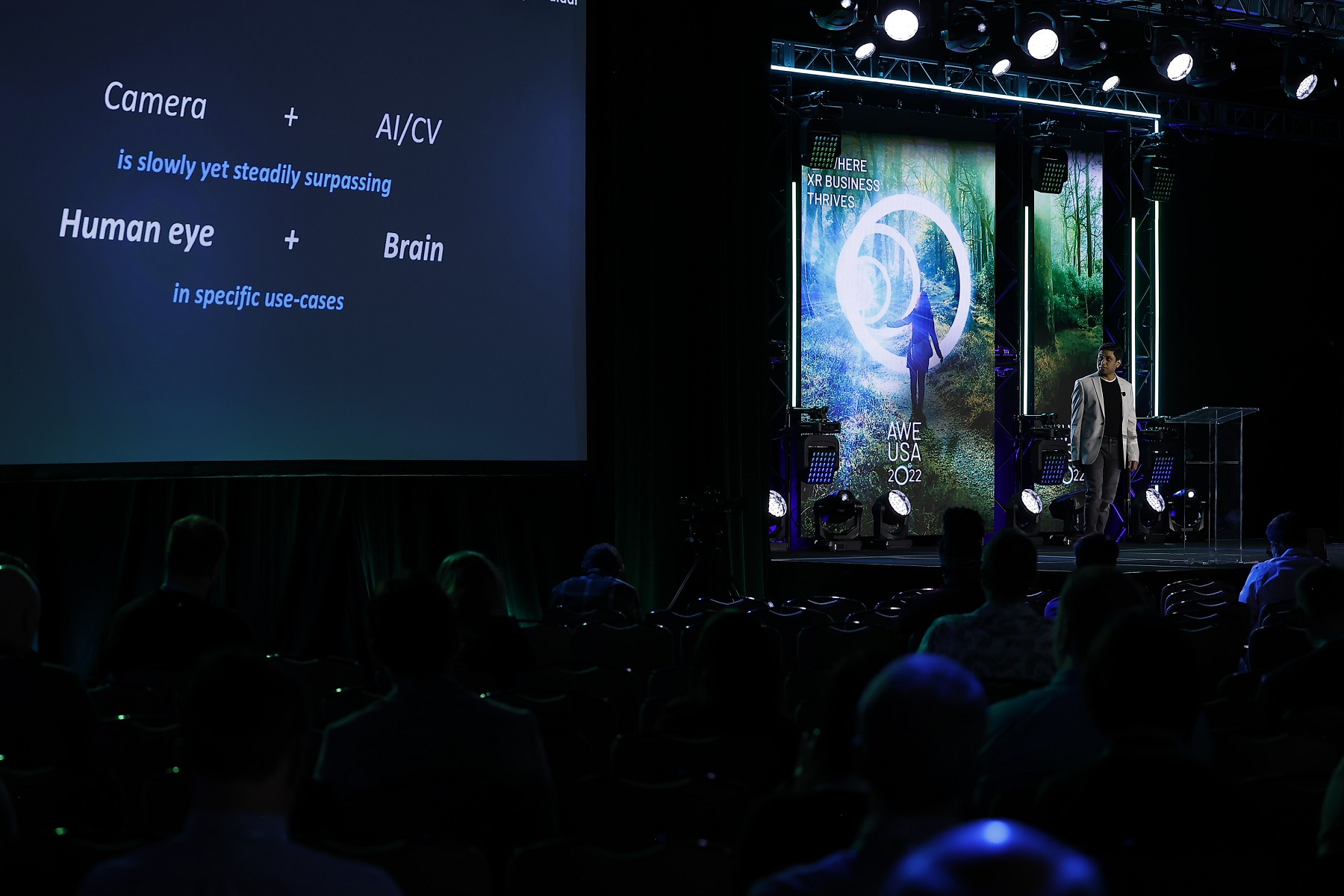 Of course, running alongside the Main Stage track today were all the other agenda tracks, including the Retail, eCommerce and Advertising stage, where Metadome's Founder and CEO, Kanav Singla, discussed the Transition from eCommerce to Virtual Commerce and demonstrated how the company's 3D Virtual Showroom Platform can be integrated with all major eCommerce platforms (such as Shopify) to enable brands to create their own virtual stores in order to engage with consumers.
In a way this focus on the consumer helped to nicely frame things for day 2, as of course, the Expo Floor and AWE Playground are all about letting users and consumers experience and try out the latest XR hardware and software solutions from a range of leading OEM's, businesses, developers and start-ups who are all operating across the immersive technology industry. Plus, with the huge variety of exhibitors at this year's event, there was something on display for everyone, from individual consumers, to business and enterprise end-users.


For many people, the Expo Floor and the Playground represent the most exciting part of AWE conferences, as they provide attendees with what is truly the best opportunity to get hands-on with the newest technology from leading XR companies.
The Press Walkthrough tour, which took place before the expo floor doors opened this morning, can be viewed below, as this gives a great glimpse into the amazing companies exhibiting this year at AWE, plus, it may give you a hint of the scale of the event here. The combined space of the Expo Floor and AWE Playground is 120,000 sq ft, and feels absolutely enormous. Yet, all of this space is absolutely jam packed with some of the most exciting XR tech that is around at the moment, and really does demonstrate how AWE is the place to be for anyone who has an interest in this industry.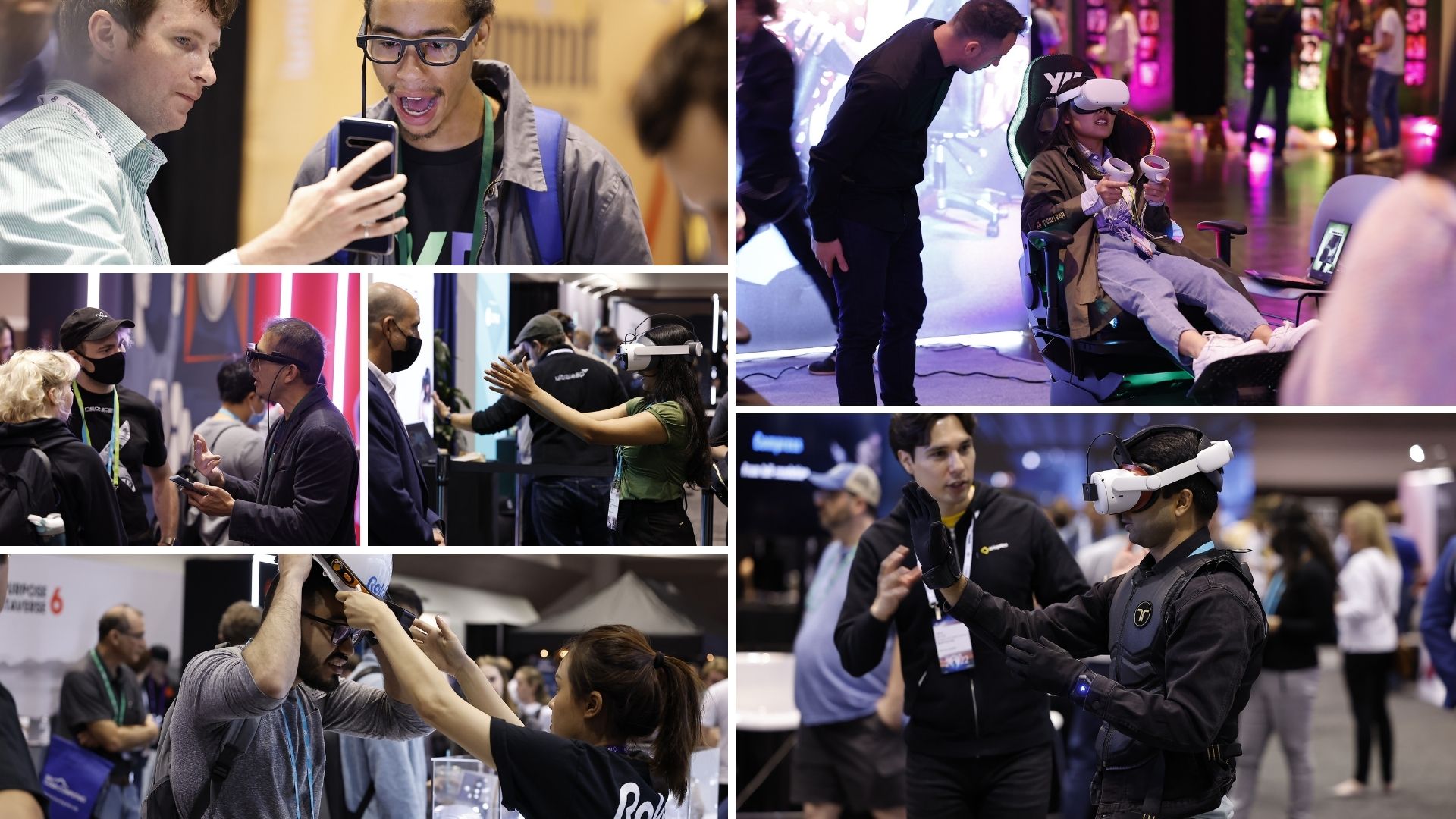 Another highlight of today was AWE's Start-up Pitch Competition, where 16 finalists consisting of AR/VR start-ups, pitched in front of a group of judges made up of industry executives and venture capitalists. The winning start-up takes home a grand prize and was honored on the main stage at AWE USA 2022 with the winning title of "Start-up to Watch". This year's winner was Croquet.

Auggie Awards Ceremony
Of course, this brings us to what is probably the main highlight of day 2, with the 13th Annual Auggie Awards Ceremony. For those who don't know, the Auggie Awards, also known as "The Auggies," are the XR industry's most prestigious awards that celebrate the innovative XR solutions that both companies and individuals have put out over the past year.
This year's awards ceremony was once again a huge success, with several incredible finalists all vying for the coveted Auggie Award trophy. A full list of all the finalists can be found here, and well done to them all for making the cut. But there could only be one winner for each category. You can watch the full ceremony in the video below to see the results and speeches, but winners have also been listed below. Huge congratulations again to all the winners, your creations and solutions stood out and impressed the judges panel, and you can all now proudly display the title "Auggie Award Winner 2022".
AWE USA 2022 Auggie Awards Ceremony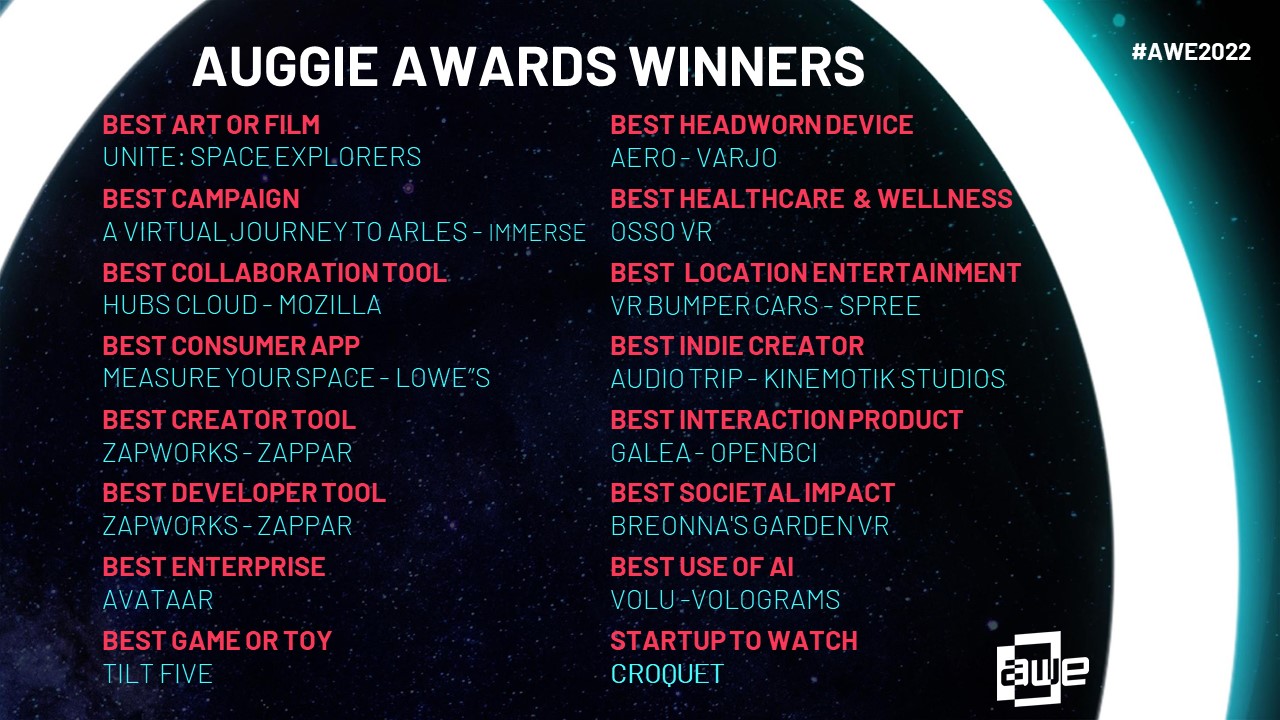 With that, we'll wrap things up for today, as we still have one final day left tomorrow packed full of fresh announcements, new faces to see around the conference, and so many more opportunities to learn, connect and grow. Plus, there is the Official AWE Afterparty sponsored by TikTok that we need to get to at Sushi Confidential and we don't want to miss out on the snacks and celebrations.
S(ushi)ee you tomorrow!