AWE USA 2022 is less than a month away and we can't wait to welcome attendees to the Santa Clara Convention Center at the start of June. Just in case you needed a reminder of some of the best reasons for you to attend the world's leading AR/VR conference, we've put together a summary of the most exciting aspects of the Expo Floor that you'll be able to experience this year.
First off, the AWE USA conference covers more than 120,000 sq ft of floor space, jam-packed full of exhibitors and sponsors who are leading the way in the areas of Augmented, Virtual and Mixed Reality and the Metaverse. Each exhibitor comes to the event with an aim to impress, and every year we see some of the best innovations in the XR space, all available for attendees to try out and experience hands-on demonstrations.
The full expo floor plan can be viewed here, but we've summarized below some of the best bits of what is on offer to attendees at AWE USA 2022.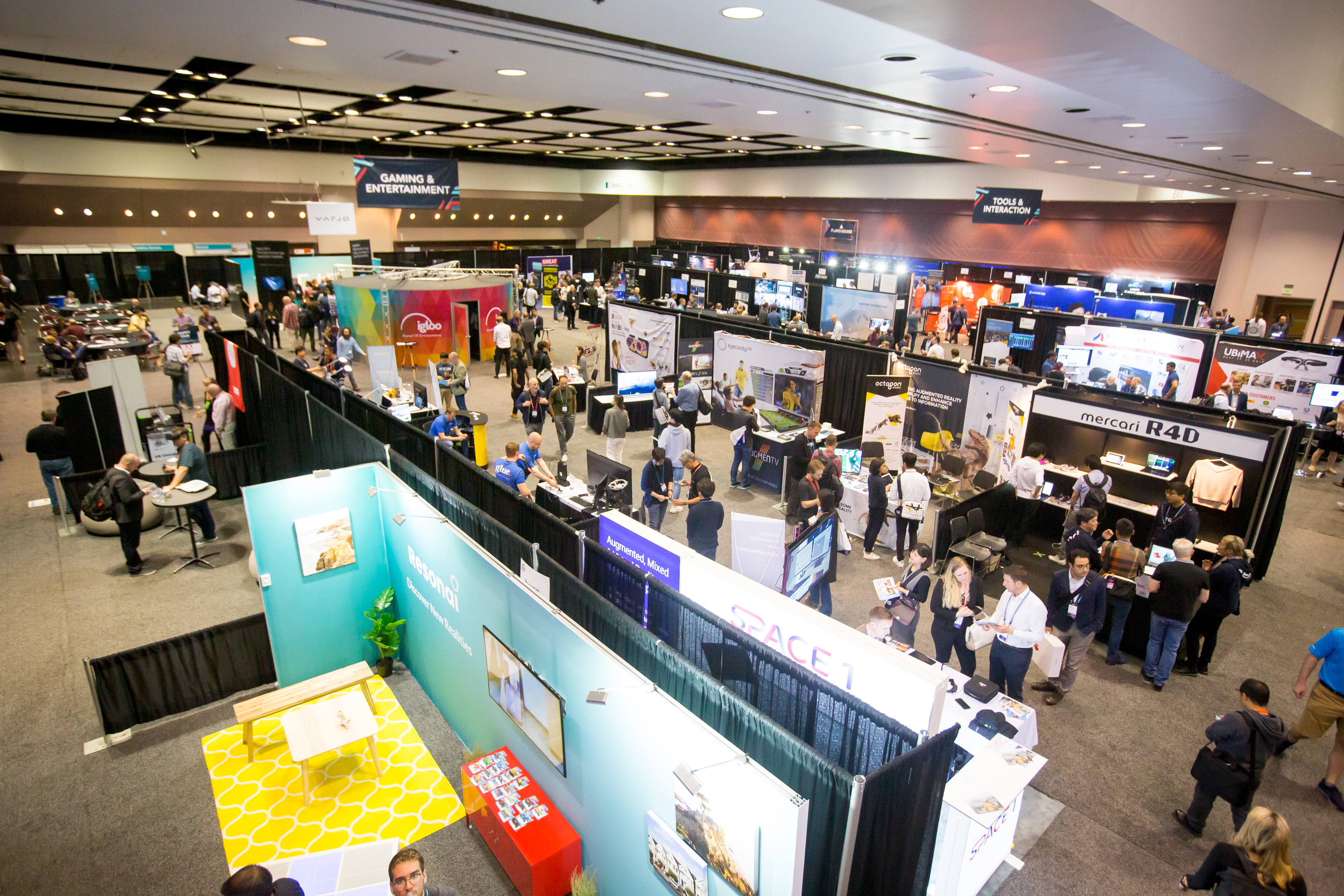 A busy Expo Floor at AWE USA.


Enterprise and Consumer AR/VR Hardware
As always, this year's event will have another impressive mix of technology providers all showcasing their latest AR/VR/MR hardware solutions. Everything from Augmented Reality and Mixed Reality smart glasses to the best Virtual Reality headsets will be on display and available for attendees to try out. Covering everything from enterprise solutions that are designed for business collaboration and backed up by real life use cases, to consumer XR devices for immersive gaming, there will be something for professionals and enthusiasts alike.
Major device manufacturers including HP, Lenovo, Magic Leap, Meta, RealWear, Varjo, and many more will be present and demonstrating their leading XR products. Plus, several companies that are pushing the boundaries of innovation will be at AWE USA and displaying their bleeding-edge solutions. A few more of our favorites that we definitely think you don't want to miss out on include:
Campfire – Creators of a new generation of devices and applications that enable globally distributed teams to work with 3D models as if sharing a central holographic projector.
HaptX – A haptic technology company that is behind the HaptX Gloves DK2, which provide realistic touch sensation for delivering industrial-grade performance required for professional applications that require advanced haptic feedback.
Mojo Vision – Developers of the Mojo Lens Augmented Reality smart contact lens and inventors of what they refer to as "Invisible Computing."
OVR Technology – Creators of a platform that marries our olfactory sense (smell) with Virtual and Augmented Reality for use in the health, therapy, training, education and military markets.
Tilt Five – Creators of a tabletop Augmented Reality system that uses innovative projection technology for video games, board games and tabletop RPGs. If Dungeons and Dragons could be played as an AR board game, Tilt Five would be how you do it!
As well as the numerous AR/VR devices on display, there is also a chance for attendees to see some of the underlying hardware that forms the foundation of the XR ecosystem and is helping to drive the industry forward. Companies such as Qualcomm will be showcasing their leading semiconductor technology and Snapdragon XR platforms, whereas Meta Materials will be showcasing their functional materials, nanocomposites and optical components that have applications across the AR wearables market for example.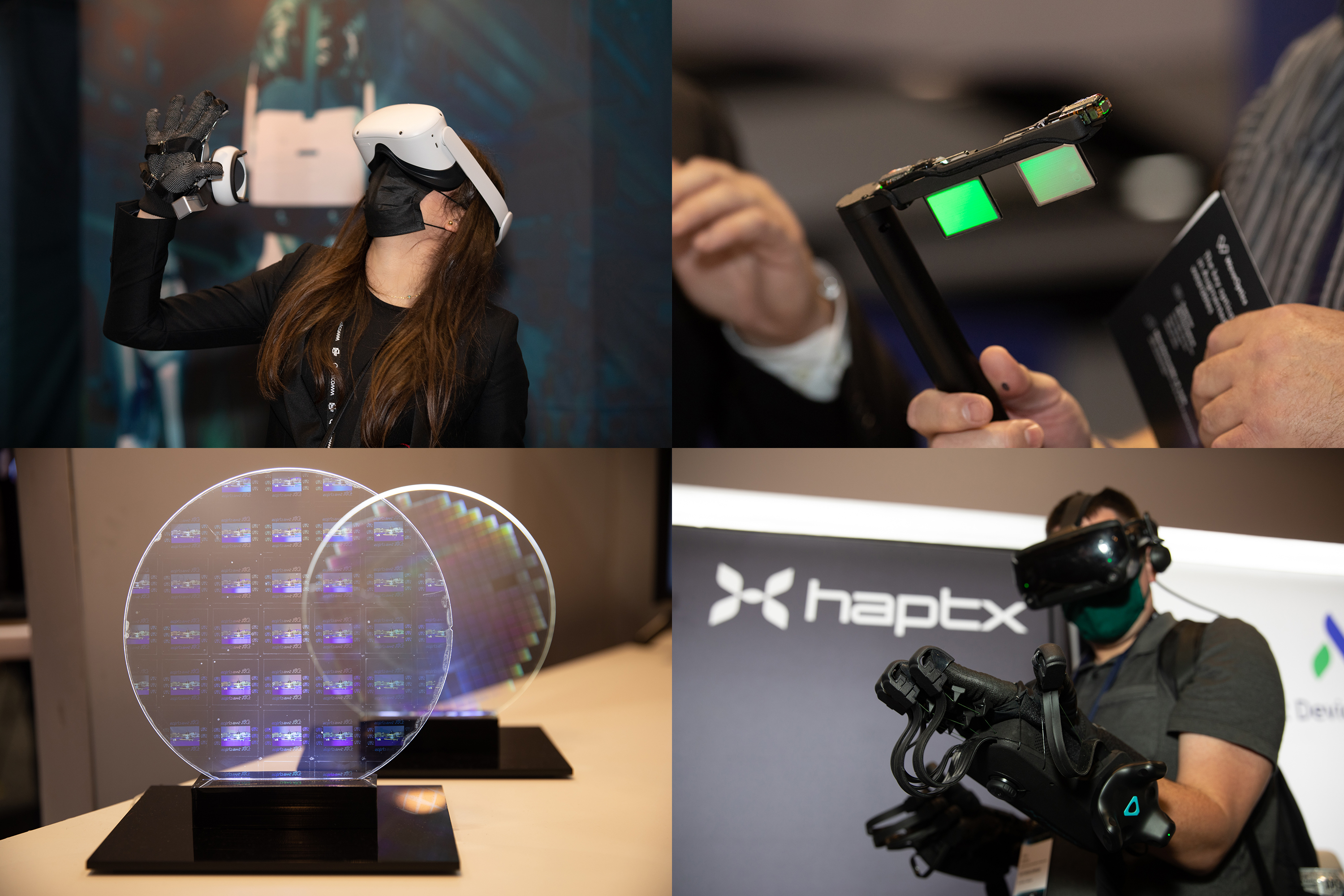 AWE USA always offers the opportunitiy to get hands-on with the latest Virtual and Augmented Reality hardware before anyone else.


Software and Tools
It's not just hardware that attendees can experience at AWE USA 2022. Plenty of exhibitors are software providers and will be more than happy to demonstrate their latest XR offerings. Software solutions on display will include the latest AR/VR games, XR developer tools and no-code AR development platforms, e-commerce solutions for immersive shopping experiences, Artificial Intelligence (AI) and virtual beings, remote collaboration and knowledge sharing platforms for enterprise, and many more.
Some of the big names you'll know and recognize who are exhibiting at this year's event include Niantic, creators of Pokémon GO and the Lightship Augmented Reality development platform, and Tobii, leaders in eye tracking technology that is utilized in a range of leading XR devices. Some more of our favorite AR/VR/MR software solutions on display that you will definitely want to see include:
Ultraleap – Creators of hand tracking and haptics solutions that can project virtual tactile sensations onto a user's hands through the use of a small speaker that emits ultrasound waves.
BadVR – Provider of an immersive analytics platform that allows enterprise teams to - quite literally - step inside their data and view it in a range of XR devices.
Avataar – An XR technology platform that uses AI to convert product videos & images into life-size 3D models for immersive shopping experiences.
Holo-Light – Creating the "Netflix for AR/VR apps," Holo-Light is building a global Streaming-as-a-Service platform to host and stream every XR application.
Blippar – Offers two tools that allow for the creation of immersive AR experiencs: Blippbuilder, an easy-to-use AR creation platform; and WebAR SDK, an advanced developer toolkit for enterprise users.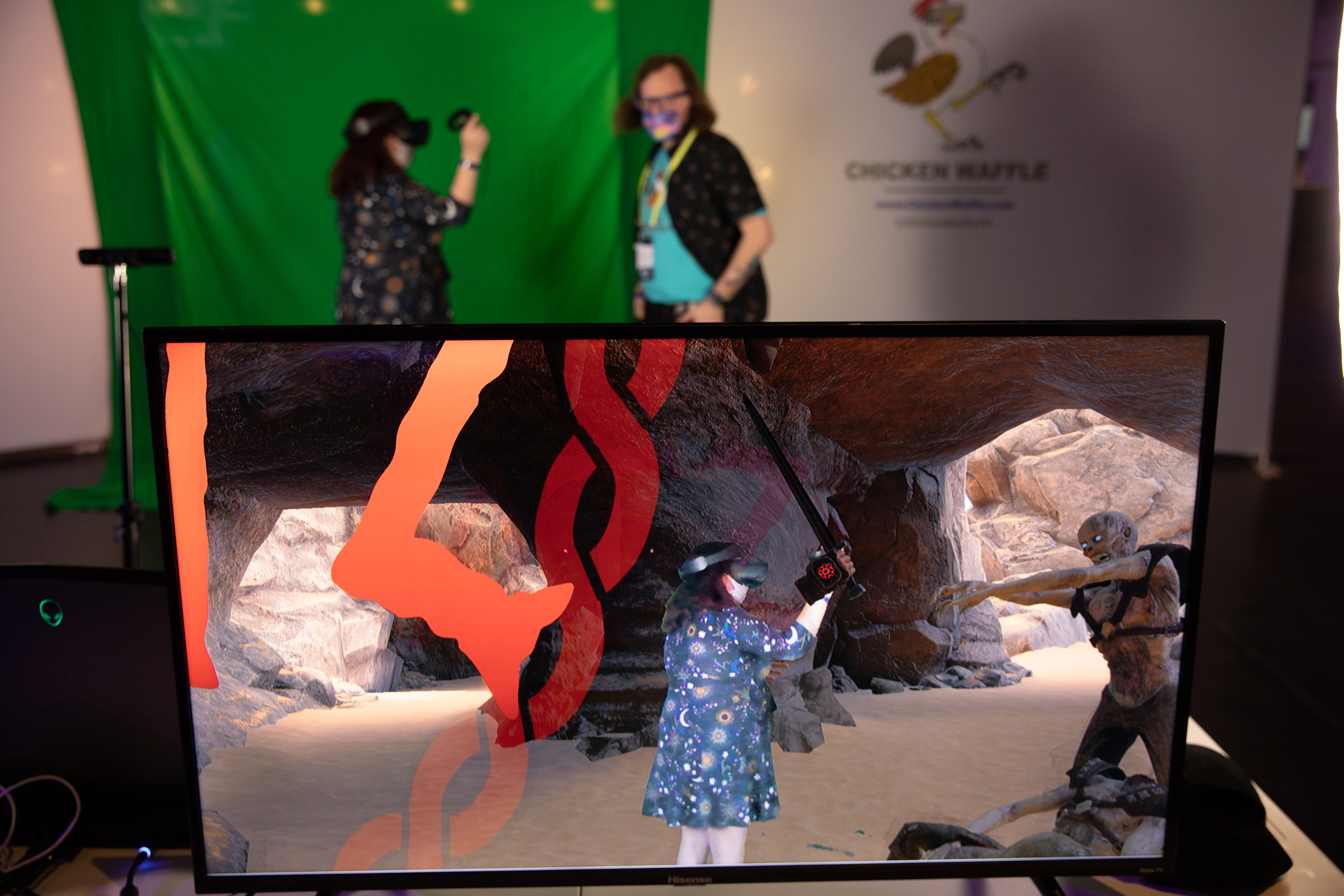 Try out the latest VR software solutions and games at AWE USA.


The Expo Floor at AWE USA 2022 will feature established global technology brands, leading XR innovators, and up and coming AR & VR startups. Plus, on top of all that the Expo Floor has to offer by way of product demonstrations, there is of course the opportunity for attendees to meet, ask questions, and share contact information with key employees from every company exhibiting, not to mention the possibilities for networking with the wider conference community and grow your professional XR connections.

AWE Playground


Finally, one of the most entertaining parts of the Expo Floor at this year's event is the AWE Playground. More theme park than trade show expo, the AWE Playground is a 20,000 square foot Augmented and Virtual Reality experience center featuring jaw-dropping, highly immersive and interactive demos not seen under one roof anywhere else.
All installations in the Playground are either a premiere, launch or an exclusive creation for the event and will offer an experience that leverages working technology in an engaging and fun fashion. With thousands of attendees confirmed for the event already, the AWE Playground is ready for a high throughput, meaning all guests will have a chance to experience the exclusive demos on offer.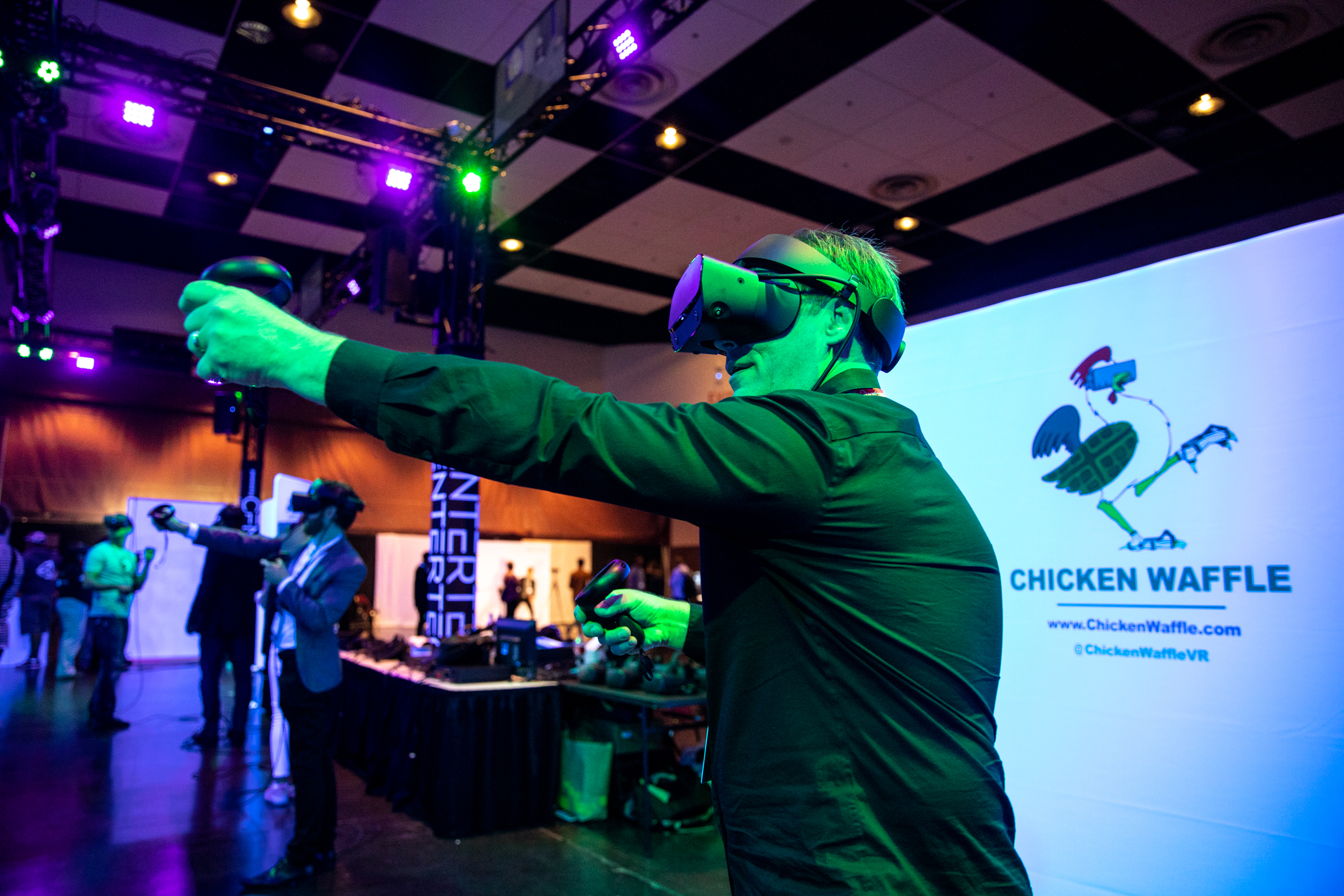 Enjoy a range of exclusive VR and AR experiences at the AWE Playground.

Playground experiences that you'll definitely want to try out include:
Flight Simulator by Varjo – Varjo is bringing its human-eye resolution VR and MR technology to AWE once again, this time as a Playground exclusive in the form of a flight simulator.
Haptic clothing from OWO – OWO has developed a haptic system that allows users to feel over 30 different sensations whilst in video games and immersive experiences, from a gunshot wound to feeling the wind on your skin.
Vortex simulator system from Talon Simulations – The Talon Vortex is an arcade cabinet of the future that features over 30 competitive experiences including race cars, roller coasters and fighter jets, and incorporates a full motion simulator and wind system.
The Expo Floor is only just one aspect of AWE USA 2022 and there will be loads more for pass holders to do at this year's leading XR industry event. Whether it is listening to the hundreds of industry leaders speaking across AWE's vast selection of talks and panel discussions, or socializing with other XR professionals from across the AR and VR industry at AWE's networking and happy hour events, there will be something for everyone. You really don't want to miss out, so make sure you grab your tickets now if you haven't already!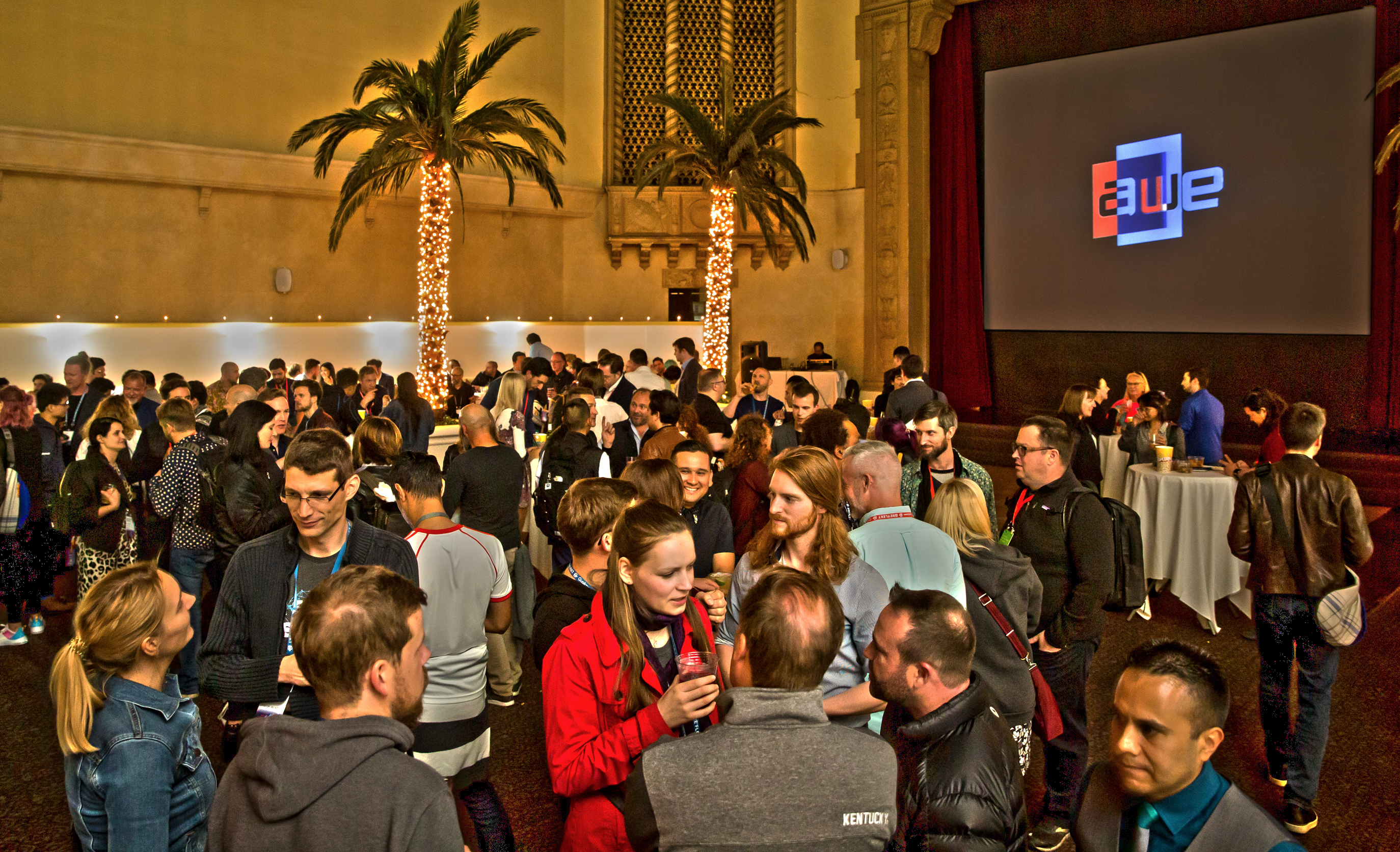 Networking and Happy Hour drinks at AWE.

AWE USA 2022 is taking place from June 1-3, 2022 at the Santa Clara Convention Center in Santa Clara, California, USA.