This session is presented by Vive X. Join to find out more about what companies Vive X is currently looking to fund in Europe

AWE Nite Boston:





AR Roundup October 2020


Check out October's AR Roundup by AWE Advisory Council Member Tom Emrich
XR4ALL Annual Events 2020 — Online
XR4ALL will hold two XR4ALL Annual Events this December. These events are an opportunity to develop one's professional networks in the XR sector, to discover new XR applications as well as the perspectives for the years to come, and (for start-ups) to find the financing needed for their development.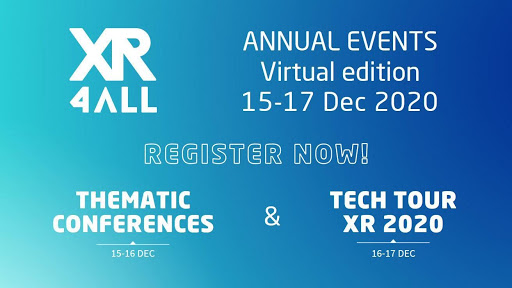 by Stereopsia
Pick your avatar and walk through the Agora to check out animations, networking, booths, and easily reach one of the three conference rooms. Conferences, keynotes, and presentations taking place Dec. 15-16. (Stereopsia)


Tech Tour XR 2020
Tech Tour XR brings together entrepreneurs, investors, corporates, & other stakeholders interested in immersive-technology products & services. The forum will select up to 30 entrepreneurs that have a relevant project with sufficient maturity and seek an additional 0.5 to 2 million € funding to reach the market. (TechTour)




Upcoming Events
AWE Nite Global: Fundraising for XR Startups (EU): Nov. 24, 12 PM EST (Online)
Virtual Reality Toronto Conference and Expo: Through Nov. (Online)
XR4All Thematic Conferences: Dec 15-16 (Online)
XR4All Tech Tour XR 2020: Dec. 16 – 17 (Online)
AWE Nites



Want to hear more from AWE? Follow us on Social Media!