The top three people who collect the most avatars at the end of AWE USA will receive a free full conference pass to their next AWE event!
(booth S22) will email you group photos of all the avatar friends you've made after the conference.
Use any iOS device to view XR content and labels that help you find your way to sponsors, amenities, and other attractions throughout the Expo Hall. Scanning any of the 70 QR codes placed about the hall will get you back into the experience anytime you need to find your way. iOS users can be ready to scan in on arrival at AWE by grabbing the app here.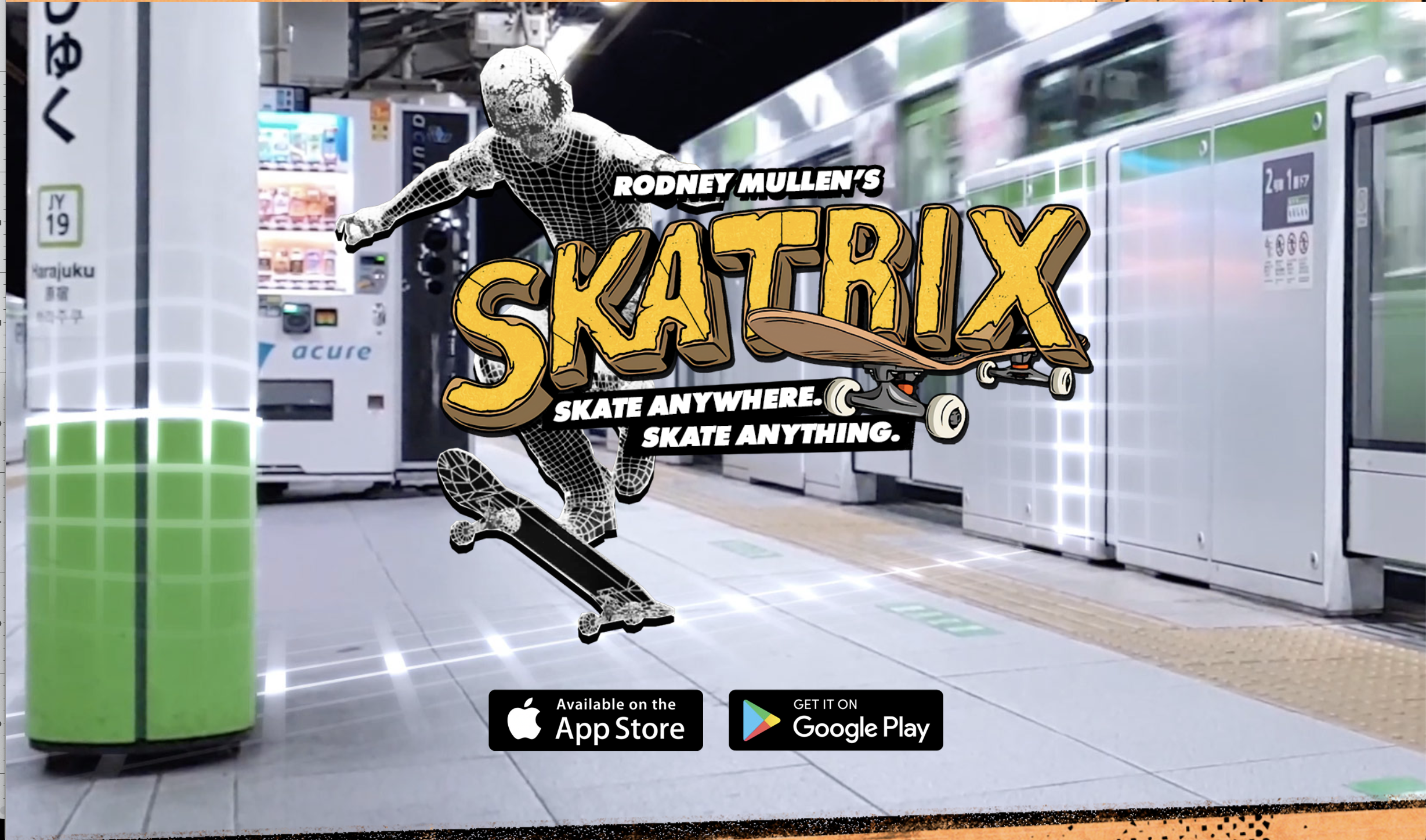 Skate the AWE campus grounds with pro skater Rodney Mullen's Skatrix AR app.
"From the Inventor of the Ollie, Kickflip and Impossible (plus a few talented game developers) comes a new breed of skate game SKATRIX." Turn any surface into a skatepark with the cross-platform Skatrix app.


On-site Activities

Take a load off and visit the Snap AR Lounge.
The Snap AR lounge is back at AWE! Each day of the conference you can chill out and connect with other guests in the stylish lounge that's located right in front of our Main Stage; the Mission City Ballroom. This chic lounge is a great spot for networking and recharging with both indoor and outdoor options.

Connect with the 8th Wall and Lightship developer communities in the Niantic Lounge.
AR developers and fans are in for a special treat at the Niantic Lounge where they can expect three full days of office hours, special programming and announcements, and fun. Check out the Niantic Lounge in Great America Ballroom, or the Niantic landing page for more information and scheduling details.
All AWE attendees will also receive tickets attached to their name tags for a special Niantic happy hour in their space, from 3-5pm on Thursday, June 1, and a complimentary sustainable swag gift.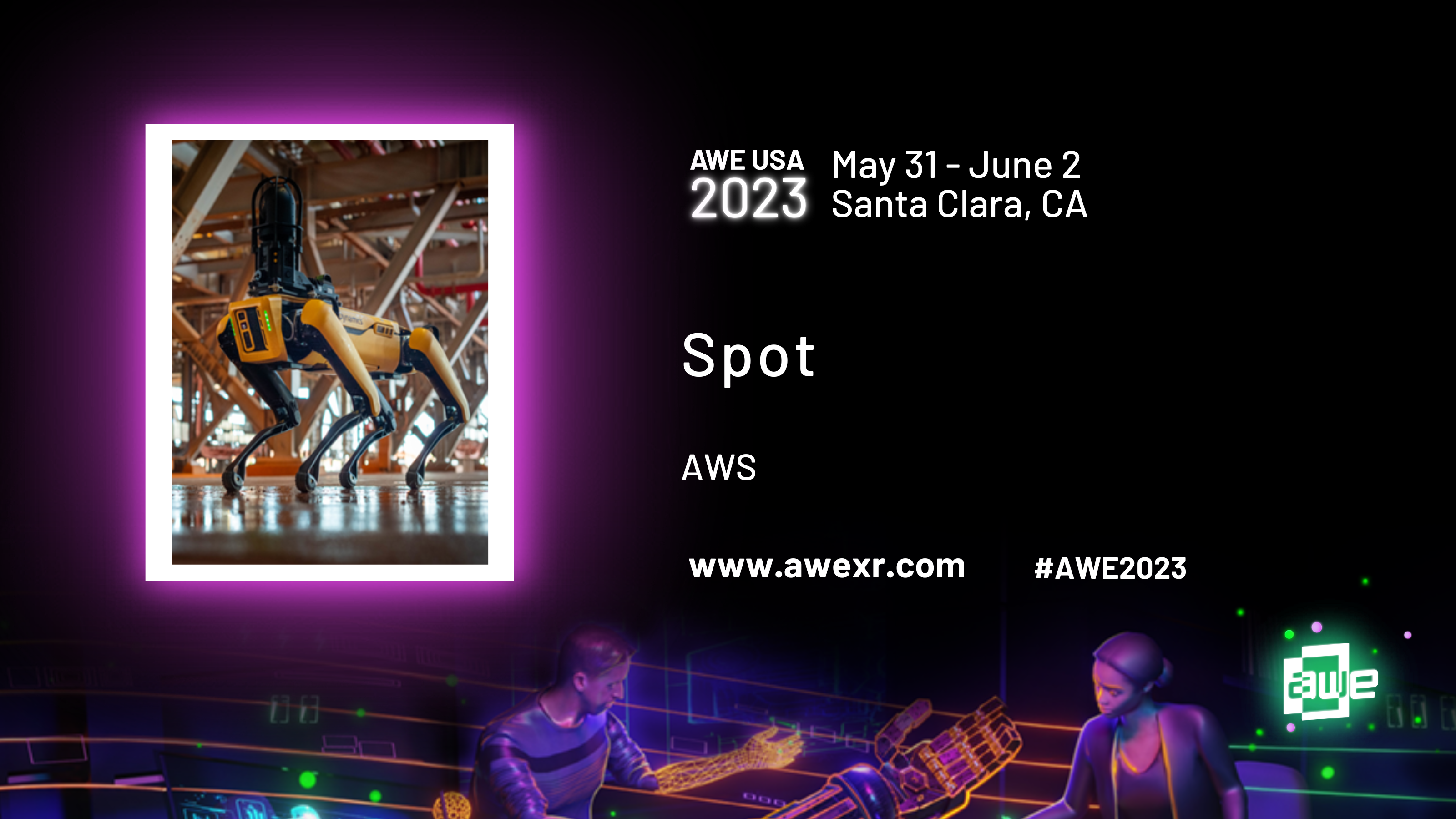 Play with a robot dog, from AWS.
For their talk, Scan Today, Build Tomorrow, the team from AWS will be joined by a Boston Dynamics Spot Robot to showcase how AWS's cutting-edge technology can help users visualize live robot telemetry and much more.
Spot will be exploring the conference grounds and Expo Hall with their handlers—don't miss this opportunity to meet this tech sensation up close.


Community connections
The XR Women Awards and networking event
Join the XR Women as they honor the accomplishments of women in the XR industry with their yearly XR Women Awards in the categories of Innovation, Trailblazer, and Real World Impact.
The Awards will take place Thursday, June 1, at 11am, on the Main Stage with networking to follow.
XR Guild meetup
"Meet the XR Guild at AWE 2023, from 1-3pm upstairs outside the Great America rooms, just above the Niantic Lounge. We'll discuss how ethics can help make better XR products by focusing on real-world issues and mitigations like child safety, generative AI, use of personal data, privacy, avatars and identity, and more," invites Avi Bar Zeev of the XR Guild.
"Every voice matters. We believe that making ethical products takes all of us in the field pitching in, not just a few experts. Our goal is to provide as much knowledge and mentoring as possible to make all of our work successful and ethical."
AWE Pride happy hour and networking
This year the Thursday night happy hour on June 1, will be spread across the conference grounds with multiple bars and meet-up locations to choose from; 5:30-6:45pm.
AWE's Chief Marketing Officer, Nathan C, invites you to celebrate the first day of Pride Month with good times and networking for the LGBTQ+ community and allies at the top of the escalators above registration. All are welcome. Bold and gold attire recommended.
XR Job Fair, powered by XR Bootcamp
Join XR Bootcamp as they host a 2 hour job fair in the AWE Expo Hall at booth #1251! On Thursday, June 1 from 2pm to 4pm, come meet other XR job seekers and companies with open positions. Space is limited, so please reserve your spot on the Eventbrite form.
UX Meetup
A gathering of UX researchers, developers, and designers from across the globe will meet to chat about some of the great examples of UX they've seen throughout the conference. Meet at 10:30am for a meet and greet, then head over to catch Finn Staber's Interactive XR Design Standards in room D, returning to The Great America Meeting Room Foyer & Terrace at 12pm to complete the conversation about great UX for XR that we learned at AWE 2023.

Friday 10:30am to 12pm, The Great America Meeting Room Foyer & Terrace
Something for everyone
Whether you log-in to awe.live to review the agenda and set up meetings in advance or if you follow inspiration to spontaneous meetups in the lobbies and lounges around the conference; your days are bound to be filled with innovative ideas and conversations.
At AWE USA, there are so many ways for you to connect with other passionate XR professionals, learn from the best in the industry, and grow your craft, product, or business.
We can't wait to see you in two weeks!

And if you're reading this and still don't have a ticket, you can save 20% when you use the code CMO20 to purchase tickets.