Interview with Lenovo's Jon Pershke, VP Strategy and
Emerging Business, Lenovo, and AWE USA 2019 Thought Leader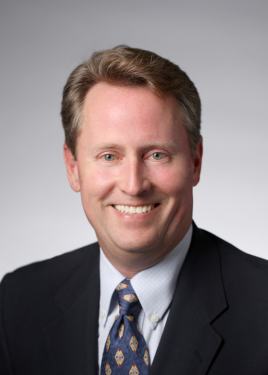 Emily: To begin, could you provide a little background on yourself and your career? What is your role at Lenovo and what was your first encounter with AR/VR?

Jon: I'm responsible for global strategy across Lenovo's PC's and Smart Devices business. In my role, I also oversee the incubation of emerging business opportunities including AR/VR, IoT, and vertical solutions.

Nearly three years ago, we saw a market opportunity and decided to create a commercial AR/VR project. During that time our R&D teams were innovating a lot in the AR/VR field. It all started with the development of the Lenovo PHAB2 Pro, the world's first Tango-enabled smartphone that enabled AR experiences. We then went on to collaborate with other industry players including Disney on Star Wars: Jedi Challenges and with Google Daydream on the Mirage Solo. While our broader teams were making these AR/VR experiences available to consumers, my team began developing software-led AR/VR solutions specifically for businesses, commercial/enterprise developers and select verticals.

Emily: What are you most excited for at the 10th AWE USA?

Jon: As part of our global strategy, I believe that cross pollinating ideas fosters meaningful innovations and solutions. At Lenovo, we take a very open and collaborative approach to innovation with industry partners and developers. We believe that strategic partnerships can take us far, especially in AR/VR just like you've seen us with Disney for consumer experiences and with public schools for VR in education. So I'm excited to not only share Lenovo's vision in AR/VR but also to listen, to exchange, and possibly to build futures solutions with others.

Emily: Do you have any AR/VR predictions for 2019 and beyond?

Jon: 2019 will be the year that we start to see broad based commercial adoption. The volumes and scale may require a bit more time but the development activity will begin to accelerate. As leading companies deploy and see value, further acceleration will come. This is why we have focused on a platform first approach as that is critical to get app deployment off the ground.

Emily: Your mainstage presentation is titled "Maximizing Intelligent Transformation with AR/VR." What is "Intelligent Transformation," and can you tell us a little about Lenovo's transformation initiatives?

Jon:'Intelligent Transformation' is our way of describing how work and life around us are getting better thanks to technology. IT used to be confined to 'office work,' but now we can leverage new technologies like AI, cloud computing, advanced connectivity and apply the power of IT beyond the office environment. We now have smart doorbells, smart speakers and smart displays in our homes. A similar transformation is happening in the workplace. AR will be a very important tool in that transformation. In embracing this bigger picture that we call 'Smarter Business', we're making AR/VR very relevant to helping customers achieve their goals.

We know that Lenovo did not achieve #1 global PC market share on our own. It's through customer councils, user community groups, and advanced user experience tools that have enabled us to build a range of PCs and smart devices inspired by our customers' experiences. And we continue to embrace this customer-centric culture in exploring solutions for AR/VR.

Emily: What is Lenovo's take on the future of AR/VR and how is the company advancing adoption of the technology?

Jon: When you look at it from a 'Smarter Business' perspective, AR/VR can transform the workforce and enable efficiencies in training, maintenance, and knowledge transfer.

From decades of leadership (under the Think brand), we're using our insights into commercial customer pain points to equip our AR/VR solutions with the manageability and security they need for commercial specific use cases. But we also recognize unique AR/VR pain points, like app development as well as taking an agnostic view to support people using any device on any OS.

Emily: What industries do you think have the most to gain from the widespread adoption of AR/VR?

Jon: AR and VR differ based on use cases and experience. VR is great when you isolate yourself from the real world (e.g. gaming, entertainment). AR is focused on merging the physical and digital worlds in useful ways – and that's key to realizing the 'intelligent transformation' vision of driving 'Smarter Business.' Ultimately, it has to add value.

In addition to commercial use cases like training, maintenance and knowledge transfer that I mentioned earlier, AR/VR has great potential in education, healthcare, manufacturing and retail. Lenovo's VR Classroom solution and how Lenovo Mirage Solo VR headsets are being implemented in hospitals are good examples of that.

Emily: If you could give a sneak peek at your upcoming main stage presentation, what would you share in advance to ensure AWE attendees don't miss it?

Jon: We understand that traditional and emerging technologies in a business are no longer two separate things – they are all interconnected to a larger IT infrastructure as an extension of one thing that may leverage AI or a more skilled, experienced workforce. It's important to innovate in the workplace (Lenovo is already a leader in office IT) by exploring new opportunities that emerging technologies like AR/VR can bring companies - to better design, manufacture, operate and maintain their products or to train their people. These can be solutions and experiences beyond the office and onto the factory floors and fields. I try to help people think outside the box for commercial possibilities to do 'Smarter Business.' I'll address how best to streamline AR and VR software, hardware and content so that it creates significant ROI for the business and delights its workforce and customer base. And I'm looking forward to exchanging ideas with one of the world's largest concentration of thought leaders on AR/VR at AWE.