Interview with Joel Breton, Executive VP of Development and President of Sixense Studios, Sixense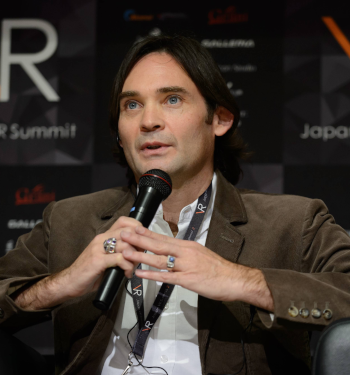 Emily (AWE)

: To begin, could you provide a little background on yourself and your career? What is your role at Sixense and what was your very first encounter with AR/VR?
Joel:

I am a veteran of the video game industry, having directed the development of more than 200 video games throughout my career. For the past 4 years, I have been working to pioneer virtual reality content as VP of global content at HTC Vive. While at HTC, my team and I partnered with global content creators to develop and publish showcase content across all categories of VR, including Ready Player One: Oasis Beta, Knockout League, MakeVR Pro, TrueScale, Amazon Odyssey, Jam Studio VR, Operation Apex, Skyworld Kingdom Brawl, Arcade Saga, & Virtual Sports. I then led Vive Studio's pioneering enterprise software initiative to develop and deploy immersive software solutions for global partnerships in the healthcare, entertainment, education, and design industries. I spent 4 years at MTV Networks, where I served as Director of Content and worked with developers around the world to launch online, mobile and console games. I recently produced 7 Miracles, the world's first feature-length VR film and winner of VR Film of the Festival at the 2018 Raindance Film Festival. I have now joined Sixense as President of Sixense Studios and EVP of product development, and I will lead our software development strategy and team.


---

Emily: What are you most excited for at the 10th AWE USA?

Joel: Every year AWE surpasses its previous year with more exciting and groundbreaking technology on display, along with more insightful presentations. In particular, I look forward to finding new and unique immersive computing technologies that can be applied to the enterprise space, and to sharing our own experiences of applying AR/VR solutions to the enterprise space.


---

Emily: Do you have any AR/VR predictions for 2019 and beyond?

Joel: While it's hard to predict specific events in 2019, it is a little easier to think about where the market is headed and make predictions about that. We believe that VR, in particular, will move closer to mass adoption as hardware prices drop into the $299 USD range, and when hardware becomes more convenient and user-friendly (for example, wireless or all-in-one devices with inside-out tracking). Power needs to be increased by at least 4x over today's PC computing power, and we need to see some killer apps emerge. We're getting closer but aren't there yet. The convergence of these 4 factors is more likely in late 2020 or early 2021 and will likely also involve a 5G wireless streaming of content to headsets from powerful PC's, in order to bridge the all-in-one power gap to PC processing power. We also feel that before consumers adopt VR massively, we'll see greater adoption in the enterprise space.


---

Emily: Your presentation at AWE 2019 is titled "Innovating the Product Experience with VR/AR." How is Sixense transforming the product experience and how are VR/AR leading the 5th industrial revolution?

Joel: From healthcare and training/education, to LBE and retail, VR and AR can be used to increase customer and employee engagement, satisfaction and retention, and reduce cost and risk. Sixense has a long history of providing effective and successful immersive computing solutions and we enjoy helping companies expand their goals through the use of this cutting-edge technology.


---

Emily: How are AR and VR shaping the business climate of today? How will this change in the future?

Joel: Speaking strictly from a Sixense point-of-view, AR/VR technology - or as we like to call it, immersive computing technology - is helping a wide array of markets offer safer, more effective training, with deeper and better real-time feedback, all while greatly reducing the associated costs. These clear advantages will only become more widespread and reach entirely new markets as the hardware platforms, both AR and VR, become less expensive and more accessible.


---

Emily: What is Sixense's take on the future of AR/VR and how are you advancing adoption of the technology?

Joel: Our take is the future of AR/VR is one of unlimited potential and our platform is opening pathways for the use of this technology to markets and individuals who probably never imagined using AR/VR technology as part of their everyday lives.


---

Emily: What industries do you think have the most to gain from widespread adoption of AR/VR?

Joel: Areas such as flight sim, military and medical/surgical training have long taken advantage of the benefits of AR/VR technologies, but the industries that have the most to gain are those with which we're currently working: The trades. For example, welding and industrial spray painting training applications are beginning to see rapid adoption of this technology. When AR glasses become more ubiquitous, you'll see them used in a number of 'blue collar' areas: AEC, HVAC, electrical, plumbing, mechanical, etc. The possibilities for this technology in these areas are immense.


---
Emily: If you could give a sneak peek at your upcoming main stage presentation, what would you share in advance to ensure AWE attendees don't miss it?
Joel: Attendees will reap the benefits of a guide to the VR/AR landscape for enterprises, hear key examples of successful VR/AR enterprise solutions, and discover a framework to guarantee ROI from a VR/AR solution for any application, in any market.