The finalists for the 2023 Auggie Awards competition have been announced! This year, we received a record number of nominations, all of which recently went through a public voting period. Well, the votes are now in, and the hundreds of submissions that were received have now been narrowed down to a record number of finalists as a result.
The Auggie Awards (aka "The Auggies") are the XR industry's most prestigious awards, and celebrate all of the innovative solutions submitted by the breadth and depth of companies and individuals from across the augmented and virtual reality industry, from all across the world.
The great thing about the Auggies is that the competition is open to anyone, from the largest technology providers in the world, to indie developers and creators, all of whom are seeking some much deserved recognition for their hard work from across the XR space in the past year.
The Auggie Awards are an incredible melting pot of XR innovations and experiences, and are a place where small start-ups can have their nominations showcased alongside those of well established XR businesses, Fortune 500 companies and leading brands.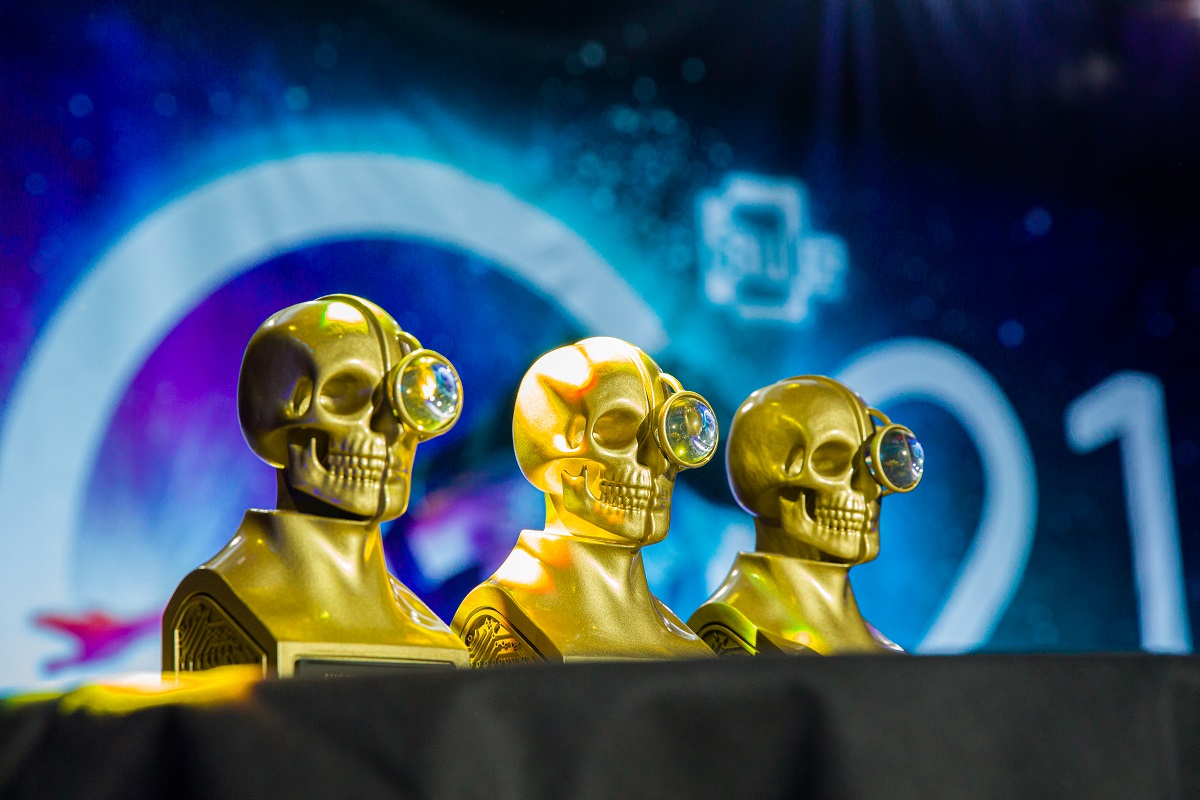 The finalists' submissions will now go through a judging process, where AWE's expert panel of impartial judges will assess each entry based on quality, impact, and overall user experience. The winners will be announced on stage at AWE USA on June 1st during the second day of the world's leading AR and VR conference and event. As well as being crowned winner of their respective category, winners will also receive their very own Auggie Award trophy, a highly-coveted, one of a kind piece of art created by artist Sigal Arad Inbar.
Winning an Auggie Award is not only a recognition of an organization's (or individual's) hard work and innovation, but it also helps promote their XR solutions to a wider audience. The increased exposure that comes with winning an auggie award, and even from simply making it to the final round, can help to put a company's augmented or virtual reality product or solution on the XR map, attracting the attention of industry leaders and customers alike.

For the select few that make it through to the final judging round, their submissions will be under scrutiny from AWE's expert panel of Auggie Award judges, made up of XR industry experts, thought leaders, investors, innovators, and visionaries from around the world. Add to that the fact that a clip of each finalist's nomination will be shown in front of an audience of hundreds of attendees that will include XR professionals, members of the press, investors, and more, making it through to the final round is certainly an achievement worth shouting about.
For any companies or individuals that didn't make the finals this year, there is still an opportunity to be in with a chance of claiming an Auggie Award, as there are additional categories that are only chosen during the AWE USA event itself. These include a 'Best in Show' category, as well as the title of 'Startup to Watch,' which is awarded to the winner of AWE's Start-up Pitch Competition. Finally, there is the 'AWEsome Award,' which can be awarded for anything from a spectacular exhibitor booth or Playground experience, to an incredible presentation or talk that blows the judges away whilst at the event.
A huge congratulations goes out to all of the finalists, and a massive thank you also goes out to everyone that submitted their nominations this year, as well as to everyone who voted for their favorite entries. You can view the finalist gallery for the 2023 Auggie Awards competition here.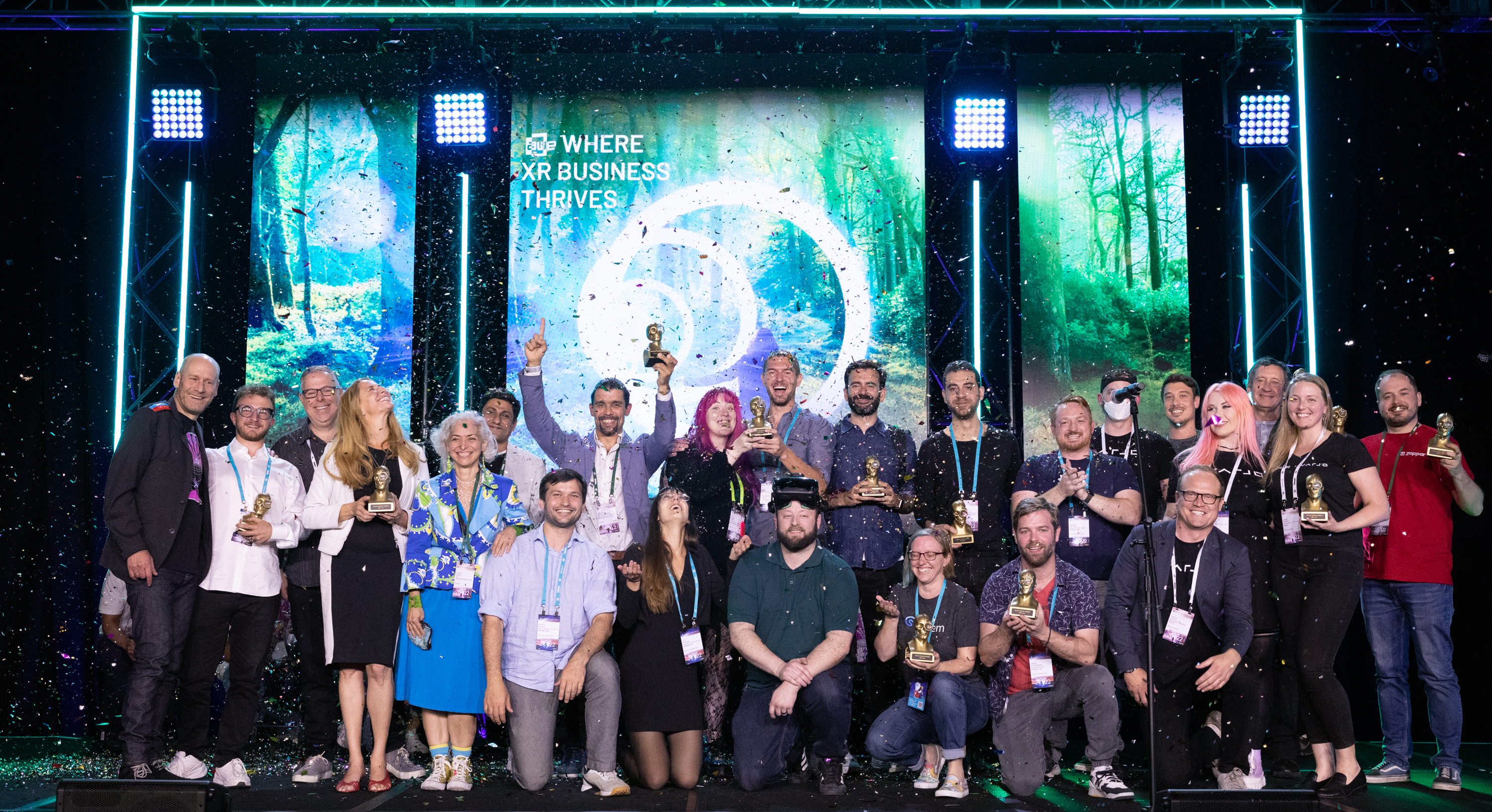 Last year's winners
Categories and Finalists
There are now a total of 16 categories for which companies and individuals can be nominated, covering a range of different aspects of the XR industry. The categories for the Auggie Awards, along with this year's finalists are as follows:
Best Art or Film
AR Wonder Maze - Mutienliao
Gumball Dreams - Ferryman Collective
Museum of Digital Life - Delta Reality
Quills Fest - Oregon Shakespeare Festival
The Metaverse Park - Delta Reality


Best Campaign
Amstel Matchpaint - CamOn XR
Coca-Cola World Cup 2022 - CamOn XR
Countdown: Bricks Farm - Zappar
H&M: 3rd Layer Sustainability - Zappar
KIA The Limitless Brochure - Viewtoo


Best Collaboration Tool
AR 3S (Augmented Reality Engineering Space) - Holo-Light
Arthur - Arthur Technologies
Morpheus - Morpheus XR Inc
VR at Pfizer – Creating the Covid Vaccine at lightspeed! - Pfizer
XR-EASY VR STUDIO - R3DT GmbH


Best Consumer App
Central Library of Düsseldorf App - Exponential Dimensions
Figmin XR - Overlay LLC
Measuranimal - Designium
MUGHEN - ALAKI
Snapchat - Snap Inc.


Best Creator & Authoring Tool
EYEFLOW - ARSOFT
Figmin XR - Overlay LLC
Lens Studio - Snap Inc.
RTA - DEEPFINE
XR Guru 360 XR Tour - Holopundits
Zapworks: The all-in-one AR Platform - Zappar


Best Developer Tool
8th Wall - 8th Wall
Cloud Platform for 3D Asset Management - echo3D
ISAR SDK - Holo-Light
Snapdragon Spaces XR Developer Platform - Qualcomm Technologies, Inc.
WebAR SDK - Blippar
Zapworks: Universal AR SDKs - Zappar


Best Enterprise Solution
AjnaVidya - AjnaLens by Dimension NXG
Augmented Associate/Digital Twin - Lowe's Innovation Labs
Empower Now Program - Sisu VR
Linde Virtual Academy - Delta Reality
MRCS for Construction - PlanB. GmbH
XR Guru Marketplace - HoloPundits


Best Game or Toy
Among Us VR - Innersloth, Schell Games, Robot Teddy
Demeo in Mixed Reality - Resolution Games
Spatial Ops - Resolution Games
Star Wars: Tales from the Galaxy's Edge – Enhanced Edition - ILMxLAB
Table Trenches: Operation Living Room - DB Creations, Inc


Best Headworn Device
AjnaXR - AjnaLens by Dimension NXG
ARGO - DigiLens Inc.
ML2 - Magic Leap
Nreal Air - Nreal
PlayStation VR2 - Sony Interactive Entertainment
Varjo XR-3 Focal Edition - Varjo
VIVE XR Elite - HTC VIVE
Zapbox: The World's Most Affordable Mixed Reality Headset - Zappar


Best Healthcare & Wellness Solution
"Seeing the Problem" The Extended Reality (XR) Ophthalmology Macular Disease Simulation - Lucid Reality Labs
Augment Therapy - Augment Therapy
NEXTMED - ARSOFT
SimX VR - SimX VR
University of Mississippi Medical Center VR - Groove Jones


Best in Location-Based Entertainment
ARcade Sports - Videogames in the real world - ONTOP
BŌSŌ SCRAMBLE powered by STYLY - Psychic VR Lab
Imvizar - Imvizar
LEGOLAND Windsor Resort: LEGO MYTHICA Magical Forest - Zappar
The Life of an Olive - Delta Reality


Best Indie Creator(s)
Big Rock Creative - Big Rock Creative
OnBoardXR - OnBoardXR
Table Towers - DB Creations
Tampere xRT - Gamification Group - Tampere University
The MetaMovie Presents: Alien Rescue - The MetaMovie


Best Interaction Product
HTC VIVE Self-Tracking Tracker - HTC VIVE
Inseye camera-free eye-tracking - Inseye INC
Lume Pad 2 - Leia Inc.
Maestro EP - Contact CI
SenseGlove Nova - SenseGlove
Trixel 3 - TriLite
W.Ear.01 - Wisear


Best Snapdragon™ Spaces App – Sponsored by Qualcomm Technologies, Inc.
hVerse - Hevolus Srl
PhiBonacci Solutions - PhiBonacci Solutions Pvt. Ltd.
StickiesXR - Nomtek
The Future of Training - Verizon
XRAI Glass - Life. Subtitled - XRAI Glass


Best Societal Impact
"Seeing the Problem" The Extended Reality (XR) Ophthalmology Macular Disease Simulation - Lucid Reality Labs
ECOVERSE - HCLTech
Inspiring Hope - Hope for Haiti
Lifeguard VR: Lucid Reality Labs Training Innovation for the American Red Cross - Lucid Reality Labs
Mindglow Active Shooter Preparation Training - Sisu VR
Zapvision: Accessible QR codes for people who are blind or partially sighted - Zappar


Best Use of AI
Alpha3D - Alpha3D
Avataar's Neural (AI) Renderer - Avataar
Inseye camera-free eye-tracking - Inseye INC
Move.ai - Move.ai
SYNTH3D - Maxar Technologies
The winners of the 2023 Auggie Awards will be announced on the Main Stage on June 1st at AWE 2023. Be a part of the excitement, witness the announcement of this year's Auggies winners and experience hands-on demos of the latest XR technology at the world's leading XR community gathering and industry event.