The day has arrived and AWE USA 2023 is finally here, and what an incredible opening day it has been at the XR industry's favorite reunion in Santa Clara. The excitement of being present face-to-face could be felt by everyone, and the energy has been electric since the doors opened to the Santa Clara Convention Center this morning.
Kicking things off on the Main Stage with his keynote and opening speech was AWE CEO and Co-founder…'s hologram – Holo Ori, an AI generated holo-host to start the event that was eventually joined on stage by the real Ori Inbar, who reminded the audience that despite recent skepticism surrounding the metaverse, the truth is, it's here to say, and that XR is in fact EVERYWHERE.
Dropping a lot of classics references, Inbar set up this year's event to be a true classic of its own. Highlighting all of the achievements that the XR industry has accomplished so far, his opening speech noted that aside from AI, XR is the fastest growing sector in tech. With an industry brag-reel that reminded everyone in the room exactly why they are a part of this incredibly exciting, expanding and constantly evolving industry, the day was off to an amazing start.



Keynote Talks and Presentations
Without skipping a beat on the Main Stage, the first talk of the day was from Neal Stephenson - the legendary author who coined the term "Metaverse." Stephenson, also the founder of Lamina1, led a super-fan conversation with Ori Inbar, covering the topic of the Metaverse. Mentioning various themes from his book Snow Crash, Stephenson touched on the sophistication of game engines and the tool chains that feed assets into those engines:

"Even a few years ago you'd be looking at dropping thousands of dollars on licenses for software packages, but now you can pick up Blender for free, and you can learn to use it for free. It is interesting to look back 3, 4, or 5 years and see how much has changed in that time and to see the essential building blocks of the metaverse are all snapping into place and all becoming available to us."

Stephenson also discussed his company, Lamina1, to which he said: "If we're going to have a Metaverse that is being used all the time by millions or billions of people, we have to have experiences that are worth having."

However, according to Stephenson, there is a glaring lack of support for the kinds of people who make those experiences. Right now, the skillset that is needed in order to create Metaverse experiences is basically related to the games industry – and the people with those skills are mostly all employed. As a result, we need to create the economic basis for these people to get rewarded, especially if they succeed in creating metaverse experiences that people enjoy.

"There are lots of ways that you can do that, that tend to follow a centralized model," said Stephenson. "At lamina1, there is a big overlap in things like blockchain, and the requirements for content creators to actually get paid for what they do. That in a nutshell is what were building at Lamina1."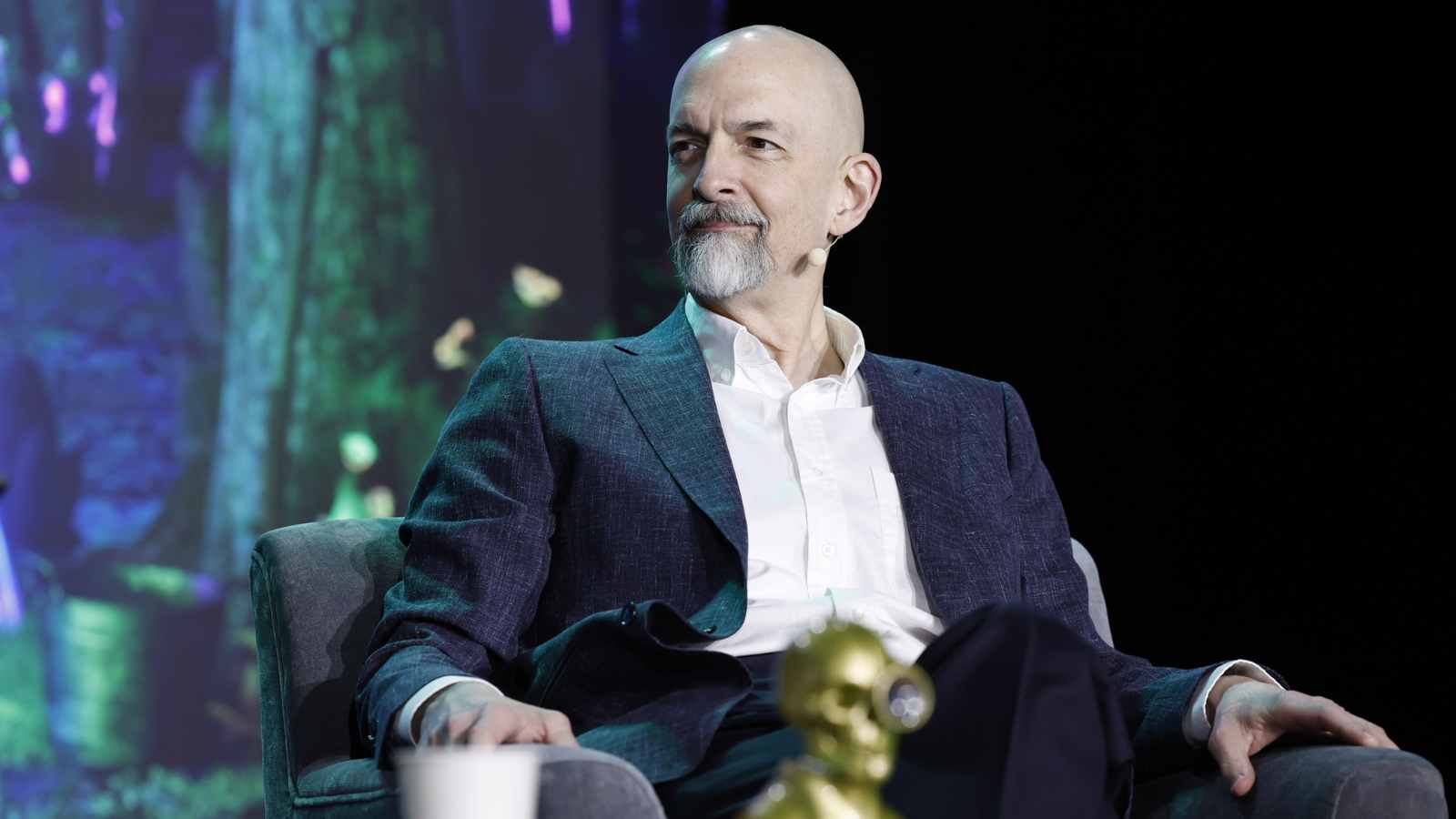 Following Stephenson was Hugo Swart, VP & GM, XR at Qualcomm, who revealed the latest developments with Qualcomm's Snapdragon XR platforms and Snapdragon Spaces developer SDK, and how they are shaping the next generation of AR, VR, and MR experiences.
Hugo Swart presented the new Dual Render Fusion feature on Snapdragon Spaces. This innovation enables users to engage with a 2D touchscreen while simultaneously experiencing a spatially rendered AR environment that corresponds to the elements displayed on the 2D interface.

"I'm excited to share a new feature of spaces that we have been working on for a year. We have been working very hard to reimagine smartphone AR when in combination with AR glasses. How do you combine the two? How do you fuse the two? Today we are excited to unveil a new space feature that will take smartphone AR to the next level. We call it dual render fusion. With fusion, the idea is that mobile developers extend their apps made for screens into world spatial experiences without any XR knowledge" said Hugo Swart in today's keynote.

He also announced that Qualcomm is partnering with companies like Microsoft, Adobe and Niantic to make tools for XR development more open (including MRTK).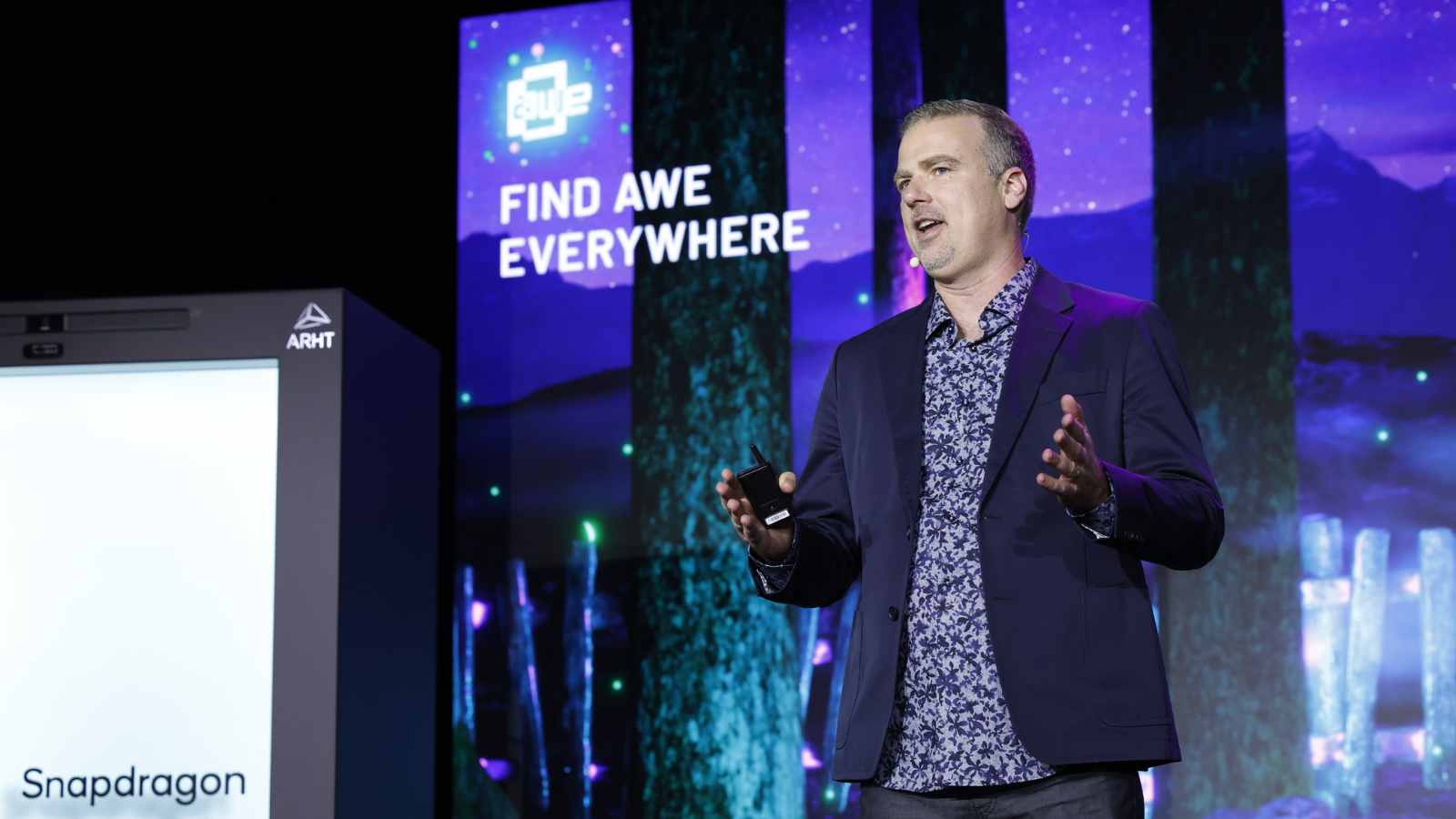 Continuing this back-to-back impressive lineup of speakers on the Main Stage was Chi Xu, CEO at XREAL (formerly Nreal), who discussed his company's journey with its XREAL Light (formerly Nreal Light) and XREAL Air (formerly Nreal Air) devices, and how XREAL has been working to unleash the potential of consumer AR.

Xu showcased the company's recently announced XREAL Beam device, to which the CEO remarked: "We have cool technology, we have a laser focused product definition, and we are working hard with our partners. We have announced XREAL beam. This device will enable a portable spatial display for more devices!"

Chu added: "The XREAL Beam is the best TV innovation since TV." Referred to by the company as 'Spatial Display,' with the XREAL Beam, users can now enjoy features such as smooth follow, 3DoF, side view and screen size adjustments - all included on-device.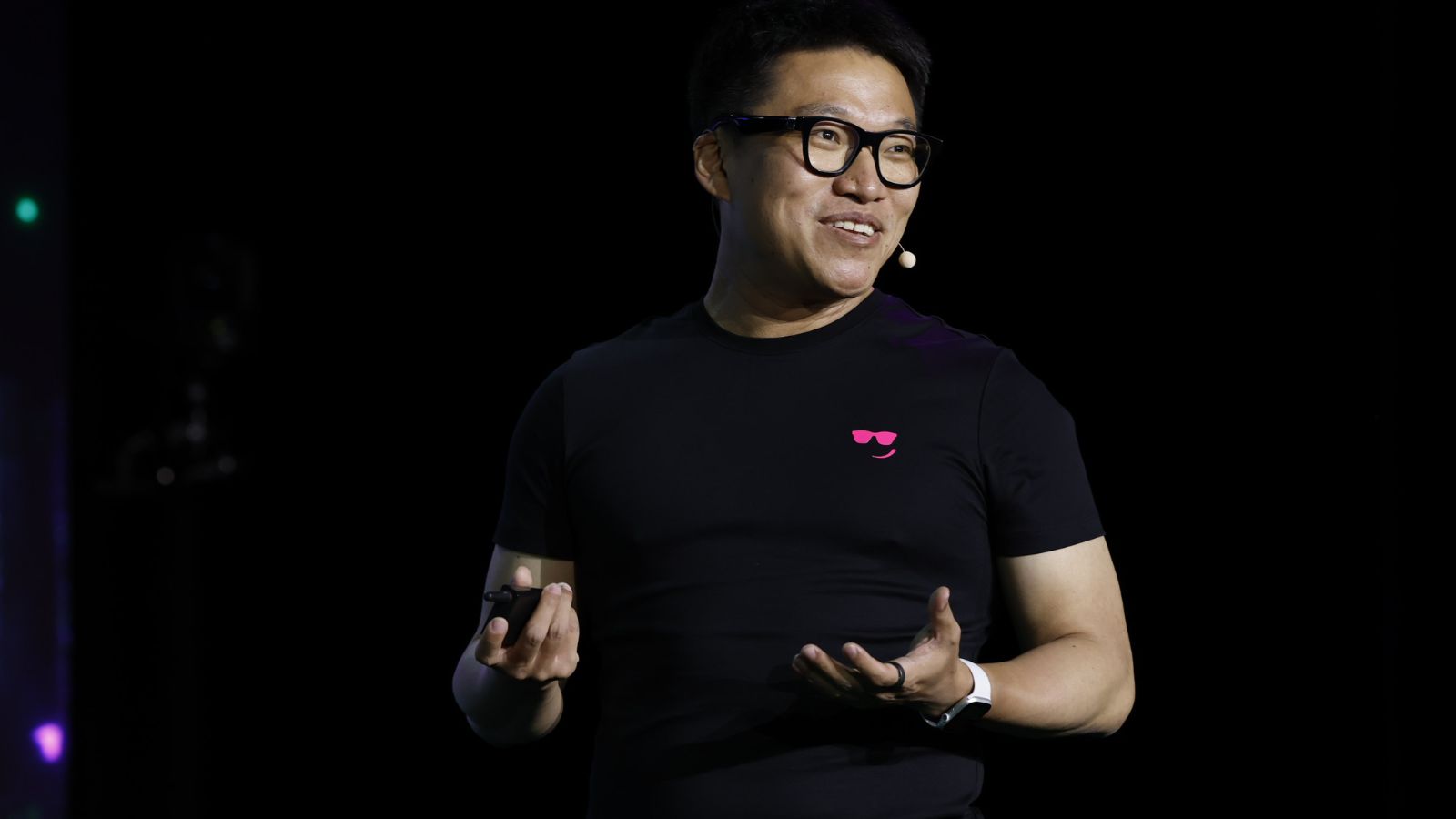 Next up was a fireside chat with Rony Abovitz, CEO of Sun and Thunder (founder of Magic Leap and MAKO Surgical), and his podcast co-host, Forbes tech columnist Charlie Fink. For this talk, Abovitz was actually beamed in direct from Miami, thanks to the incredible technology provided by ARHT, which allowed for real-time, lifesize telepresence, and facilitated an absolutely seamless fireside chat. The technology was truly impressive, and received an incredible response from all in the audience.

Abovitz referred to NASA's space program during the talk and used it as a metaphor for the phases of the XR industry, specifically in relation to the moon landings, which went through three spaceflight programs – namely "Mercury" (i.e. the beginning phase), "Gemini" (i.e. the middle phase), and "Apollo" (i.e. - we made it to the moon, mission accomplished).

The two discussed how the XR industry is likely in the difficult but necessary middle Gemini phase, before it enters a deeper convergence of multiple technologies that will enable a full flowering of the XR seeds that the industry has been planting for the past ten years (and the five decades before that).

According to Abovitz: "No company is out of Gemini, even the best players in the space. They all see the mountaintop, they understand the pathway to get there, but there is simply a slowness to human innovation. My guess is that we are in the early period of Gemini. If everyone works hard, and the investments and the scaling don't stop, we'll get to the top of the mountain" (metaphors were abound in this talk, with Abovitz clearly liking the mountain analogy today too).

On a closing remark, Fink brought up the subject of a new Apple XR headset potentially being announced next week, to which he stated: "I'm extremely excited about Apple's new device. I'm as excited as i am about attending AWE every year!" He then ended things with a real fist bump with his holographic stage partner.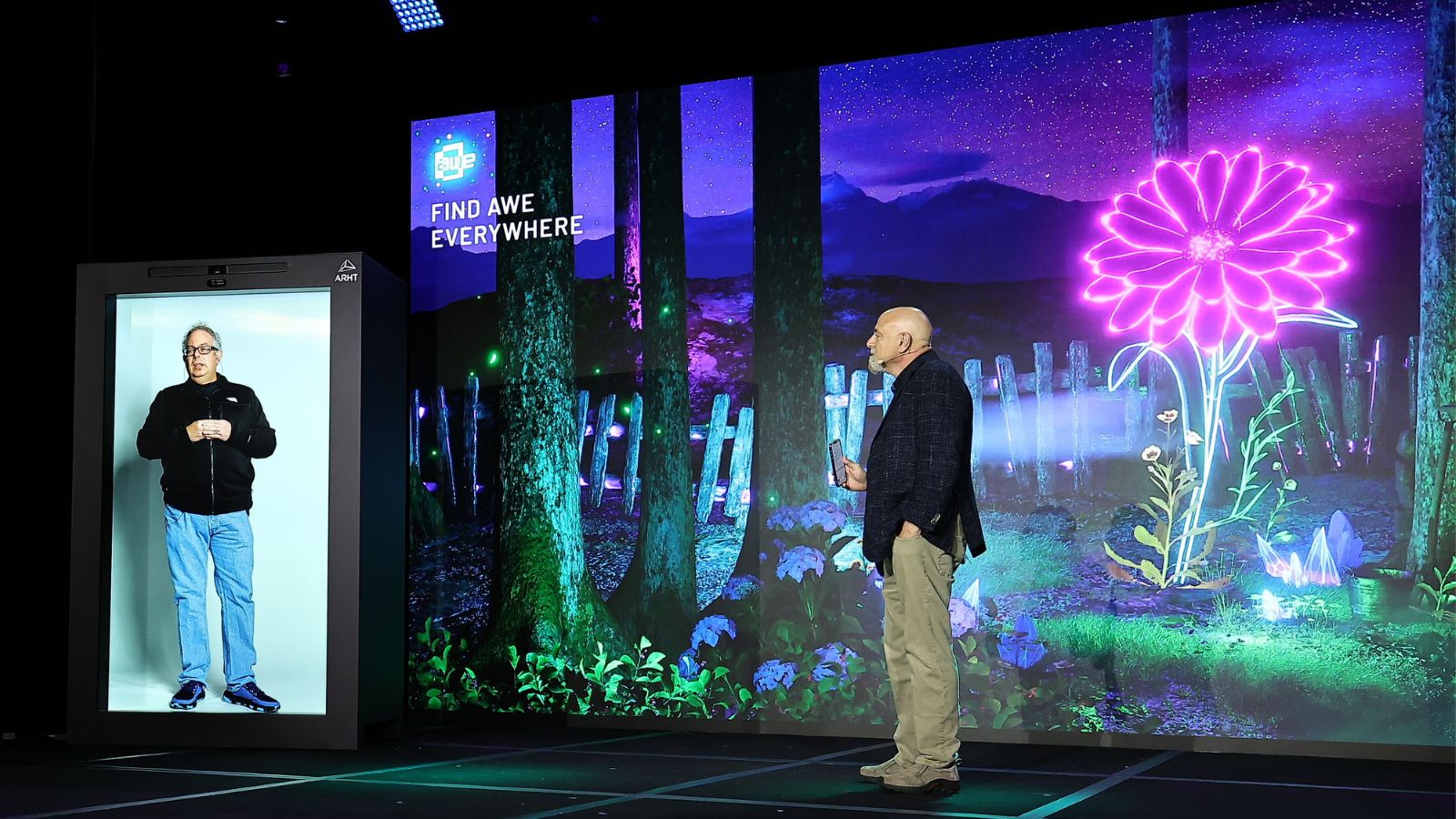 Last (as in last of the sessions before the lunch break), but certainly not least in this morning's highlights was a great talk from Ben Feuerstein, Head of Business, Ops & Innovation, and Resh Sidhu, Global Director at Arcadia Creative Studio and Snap, Inc., who covered some of the key principles for building industry-leading AR experiences with the Snap AR platform. During the talk, they shared principles for AR development on Lens Studio backed by real-world examples of experiences that have captivated festival-goers with Live Nation at EDC festival, transformed fashion with Vogue, and brought wonder to Coca-Cola vending machines.
"We are already seeing an incredible impact that augmented reality is having on the world. This isn't just a future dream, it's happening today, and we believe that once fully unleashed from the mobile phone, AR will become a lens through which we all experience the world together," said Feuerstein. For the first time, the duo shared the company's five key principles today, starting with:
Find solutions for problems – start from a place of adding value to real people.

Art and tech in equal measures – operate at the nexus of creative and technology.

Use process as your platform – elevate work through a streamlined workflow.

Easier said than done – Put action over words.

Diversity rules, embrace it – Unlock greatness through diverse perspectives.

And this doesn't even scratch the surface of the rest of the morning's talks across all of the other various track rooms. All of the above mentioned sessions are available to watch NOW on the AWE.LIVE platform. Track sessions will be available next week.
After a well deserved coffee and lunch break, guests filed out from the Mission City Ballroom directly into the Snap AR Lounge, which provided attendees with the perfect place to make connections, chat with fellow attendees, and simply take a break from the hustle and bustle of the event for a few minutes. First featured for just one day at AWE USA last year, the Snap AR Lounge was such a hit, that Snap decided to bring it back this year for the full three days, so if you missed connecting in the lounge on Day 1, there will be plenty of opportunities to do so over the next couple of days of the conference.
Another lounge for attendees that also kicked off today (and that is also running throughout the course of the conference from 8am-5pm each day) was the Niantic Lounge, which gave attendees the opportunity to learn more about Niantic's 8th Wall and Lightship platforms, as well as enjoy special programming and announcements from the company. The atmosphere in the Niantic Lounge was extremely inviting, with the enthusiasm for XR clear to see from both the Niantic team and attendees alike. So for attendees that didn't make it along today, make sure you check it out on Thursday or Friday (located in the Great America Ballroom).
Nearing the end of the day, with the penultimate talk on the Main Stage was an inspiring presentation from professional skater (and idol to many who grew up playing the Tony Hawk's pro-skater series), Rodney Mullen, who was joined by Kasimir Lehto of Reality Crisis, and Bill Higgins of IBM. The trio touched on the Tony Hawk's Pro Skater series and the cultural phenomenon that it became, but noted that for all its success, THPS only scratched the surface of one of the most intrinsic parts of skateboarding—the ability to skate the world itself.
Augmented Reality changes that, and with Skatrix, a new skate game created by Mullen, Lehto, and Higgins that leverages AR, players are able to skate the actual world around us—at any scale.

In a nutshell, the game works by detecting real world surfaces and drawing a digital mesh over them, which players can then skate on with their augmented reality skater characters.

Drawing parallels between the world of skateboarding and the world of augmented reality, Mullen said: "Skateboarding has always been way more about creative freedom than any other sport could offer. It is about how creatively you can adapt to the environment around you, and how you can relate it to who you are and what you do."

One message from the talk that serves as a key takeaway for the entire XR industry is perfectly summarized in Mullen's quote: "The vast majority of what we do is fall and get back up again." Part of the journey of inventing new tricks in skating is falling down, and just as a skateboarder has to fall before they can learn how to execute a trick successfully, so too does the XR industry in its journey to further its progress. There will be stumbling blocks, and those are the instances that the industry can learn from, pick itself up, dust itself off, and carry on moving forward, towards improvements and bettering the entire spatial computing ecosystem as a whole.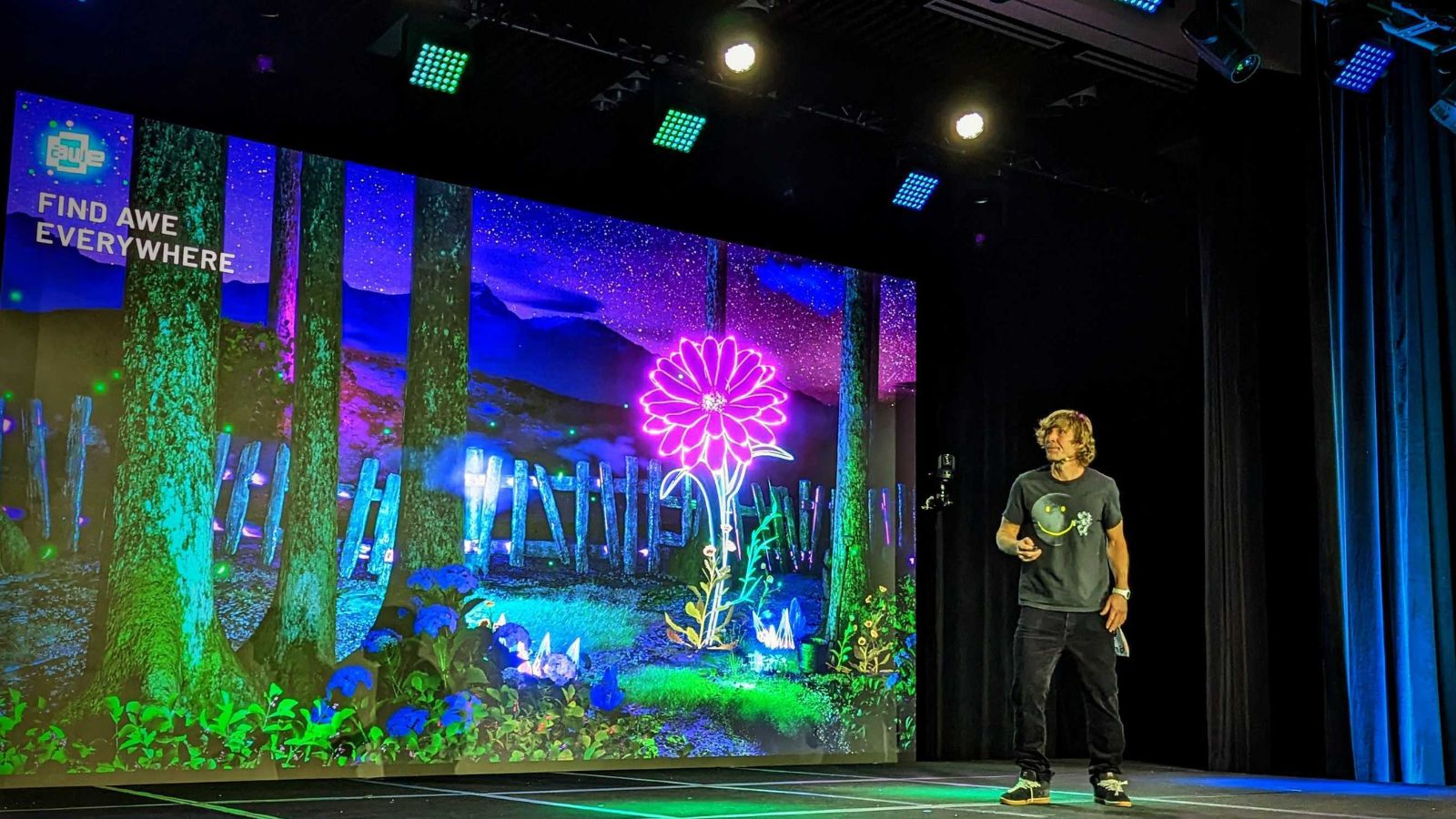 Now that talks have wound down for the day, so too will our blog coverage on Day 1's events and highlights. The fun doesn't stop now though – next up are both the VIP Welcome Party for our VIP attendees, as well as the Welcome Party, sponsored by Zappar, which will be taking place at the Hyatt Santa Clara Ballroom, Cypress Room & Mezzanine. We're looking forward to catching up with everyone shortly, and winding down after a busy first day of talks.
We'll continue coverage throughout each day this week on the AWE social channels (
Twitter
,
LinkedIn
,
Instagram
, and
Facebook
), so make sure you join in the commentary and use the hashtag
#AWE2023
. Right now though, a 'Zappar-ol Spritz' and light snacks are definitely on the cards. See you tomorrow!