Welcome back to our AWE USA 2023 highlights blog series. If you missed things yesterday, you can find out all that went on Day 1 in our summary post here. After what was an incredibly successful Day 1, things shifted gears with it being the first day that the expo floor was open today, and what an amazing floor it was for attendees!
Firstly though, kicking things off on the Main Stage this morning was Peggy Johnson, CEO at Magic Leap, who delivered a keynote alongside Maret Thatcher of Argyle.build, and Kimberly Powell from NVIDIA.
Johnson touched on the importance of an open ecosystem in order to help accelerate the growth of the XR ecosystem, and noted that it is all well and good for companies to put out industry leading devices, but if the solutions that enable these devices are restricted by a closed platform, that does not help to further the wider adoption of XR. Therefore, an open platform is what is needed in order to foster the adoption and integration of new technologies, such as AR and VR for example.
Discussing the future of AR, Johnson stated that with Magic Leap, the future is already here:
"The world's been told that AR is the future and that it's going to change our lives: the way we work, the way we play, but it's always been just a few years out, just over the horizon. At Magic Leap we got tired of waiting. A decade ago the company got to work building the future. The vision of AR that some legacy tech companies are still promising 'is years out,' is not years out. It's not months out, it's not days out – it is here right now."
She added: "The future we all keep being promised isn't distant. Businesses have begun to realize that it's actually here today. And we've delivered it."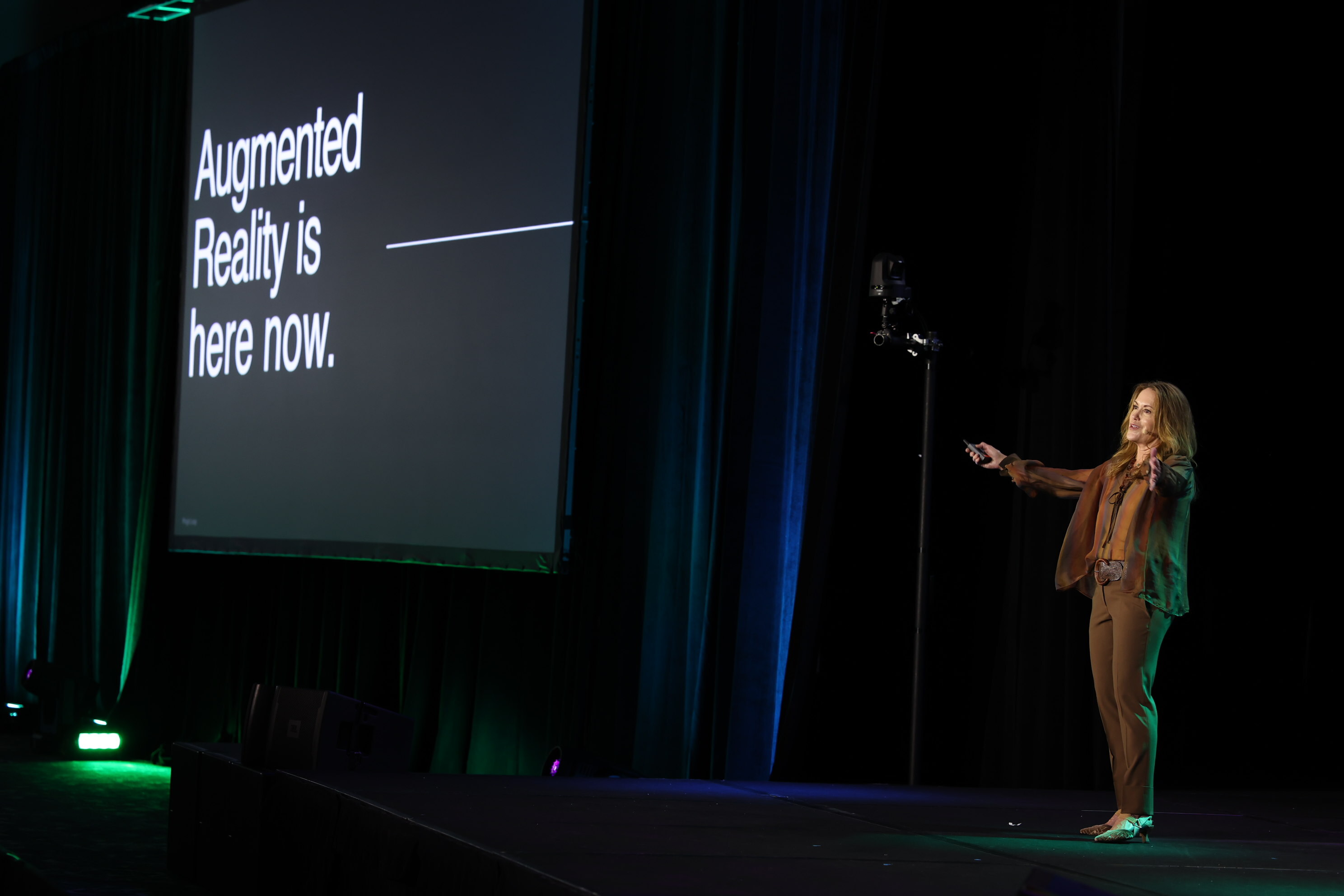 Moving back to the exhibition floor, before things officially opened to the public, members of the press were given a quick preview of a few exhibitor booths this morning, where they were greeted by a hand-picked selection of companies showcasing some truly impressive XR technology.
Of course, if we could, then every exhibitor would get their time in the spotlight for members of the press, but because there are so many amazing booths this year, it would probably make the press walkthrough about 15 hours long in total (300 exhibitors, each given 2 minutes each, plus 1 minute of walking between booths – we did the math and it checks out). So, to save our esteemed members of the press in attendance from having to walk a half marathon first thing Thursday morning, 19 companies had the chance to make their own mini-presentation. Companies showcased on the press walkthrough this year included (in order of appearance): Niantic, Port 6, RP1, Sony Music, SenseGlove, Fundamental VR, Holo-Light, Tilt Five, InterDigital & Philips, Microoled, DigiLens, Porotech, Sightful, echo3D, Leia Inc, Ant Reality Optics, HaptX & Lowes, Magic Leap, and XREAL.
You can watch the full press preview and walkthrough below, and view some of the highlights of each company's technology on the AWE Instagram story highlights here.
Timed perfectly, the conclusion of the press walkthrough meant that it was time for the main show floor doors to open to the public. Thousands of attendees poured onto the expo floor, to check out the very latest and best hardware and software solutions that the augmented, virtual and mixed reality industry has to offer. With simply too many companies to go over in detail in this post, we're saving a more in-depth look at the expo floor for tomorrow. But, rest assured, this year was the busiest it has ever been, both in terms of exhibitor booths and attendees. The excitement and buzz could be felt all across the show floor today.
Outside of the main exhibitor hall, there were plenty of other events going on. The XR Women awards took place on the Main Stage this morning. The yearly XR Women Awards celebrate and honor the efforts and accomplishments of women in the XR industry across the categories of Innovation, Trailblazer, and Real World Impact.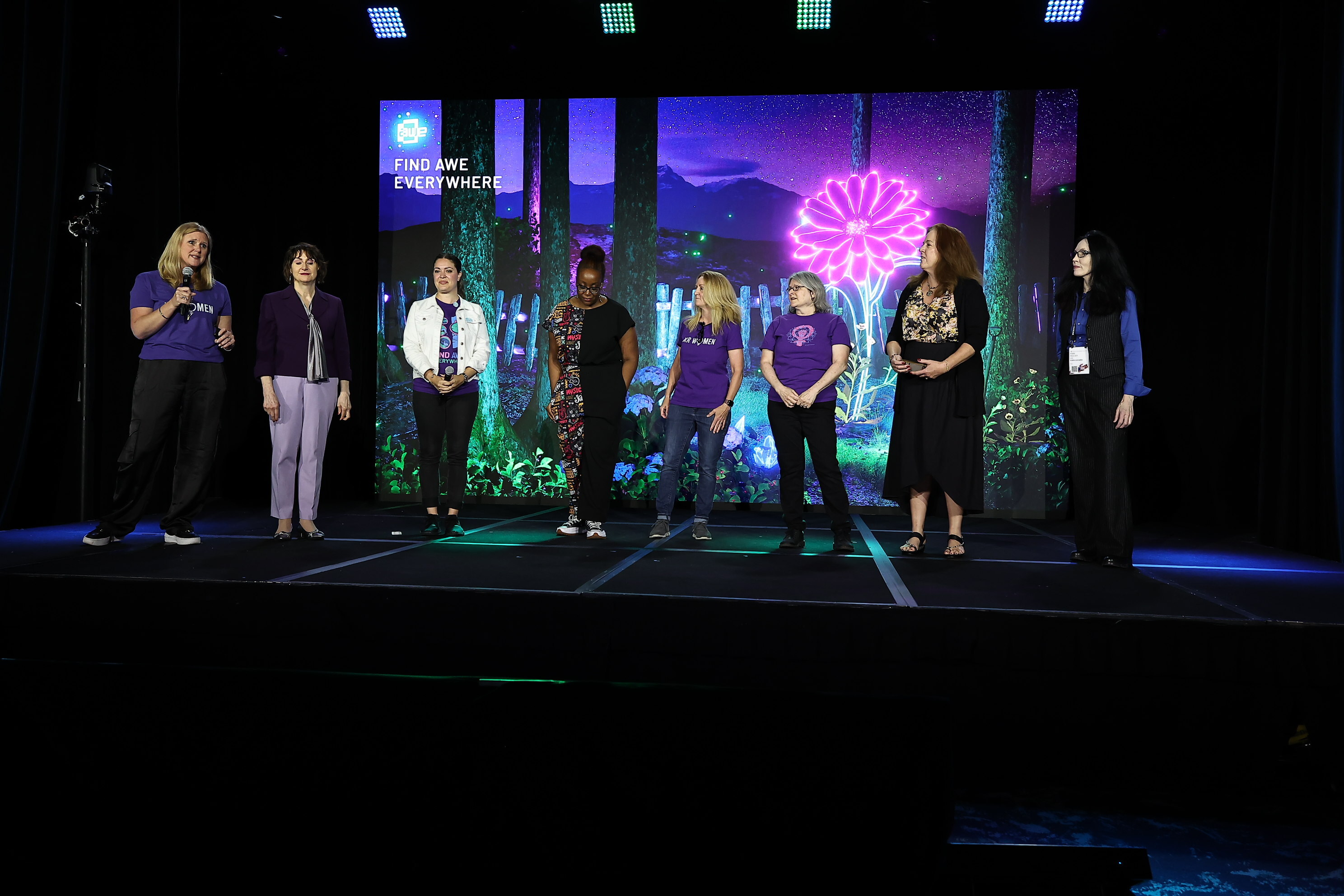 The winners were:
Real world impact award: Paige dansinger Innovation award: Deirdre V Lyons Trailblazer award: Athena Demos
Congratulations to all of today's awardees!

Over on the Start-ups and Investors stage, the Start-up Pitch Competition took place from 2-5pm. 13 finalists presented their pitches to a panel of investors, with each start-up hoping to win an Auggie Award (we'll get to those shortly) and be crowned "Start-up To Watch" for AWE 2023.
The winner of this year's Start-up Competition was Atopia, for their metaverse solution for the arts and culture. Atopia's platform makes museums, galleries, concert houses, operas and theaters immersively accessible in VR or from a desktop device. A huge congratulations goes out to all of the other teams that made it to this final stage of the competition.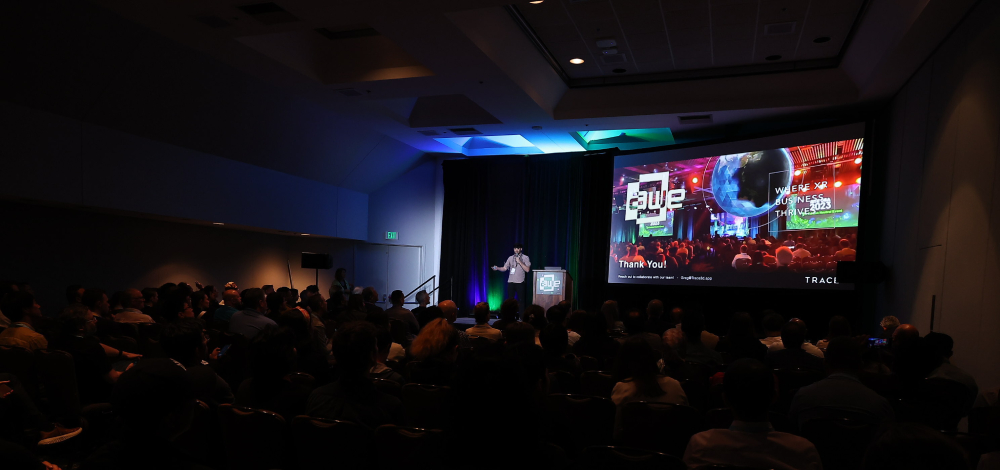 Later in the afternoon was happy hour, which gave guests the opportunity to network over some cocktails. However, there were also a few other break-off happy hours taking place around the convention center too, including the Pride happy hour, a Niantic happy hour, and a happy hour for AWE Nite organizers. These were by no means separate to the main networking going on, but more of an opportunity for smaller groups to meet and welcome newcomers to their communities.
With happy hour over, that brings things to the main event at the end of Day 2 here in Santa clara. As the closing paragraphs of this blog were being typed, the majority of the AWE team were sitting backstage at the Augie awards ceremony, armed with confetti cannons and waiting for the finalists to be announced.
The Auggie Awards are the XR industry's most renowned awards ceremony, with the title of "Auggies Winner" a much sought after accolade by companies big and small throughout the AR and VR industry, and across the globe.
This year has seen a record number of Auggies submissions, with a record number of finalists making it through to the last stages of the competition. The finalists were announced earlier this month, and all of their hard work culminates in the Auggie Awards prize ceremony that takes place on the Main Stage at the end of this second day of AWE.
This year featured 16 Auggie Award categories, plus some additional categories that are chosen on-site, which include the Start-up To Watch, Best in Show, and the AWEsome Award (note: the Best in Show and AWEsome Awards will be announced tomorrow during the Event Wrap-up on the Main Stage).
A huge thank you to every single team that submitted a nomination to this year's Auggies. A massive thank you also goes out to our AWE judges, who helped pick the cream of the crop for this year's finalists. Finally, congratulations to every single finalist, but there can only be one winner for each category - and to those winners, you can now wear your Auggies badges with pride - bravo!
Without further ado, you can view the winners for the 2023 Auggie Awards here.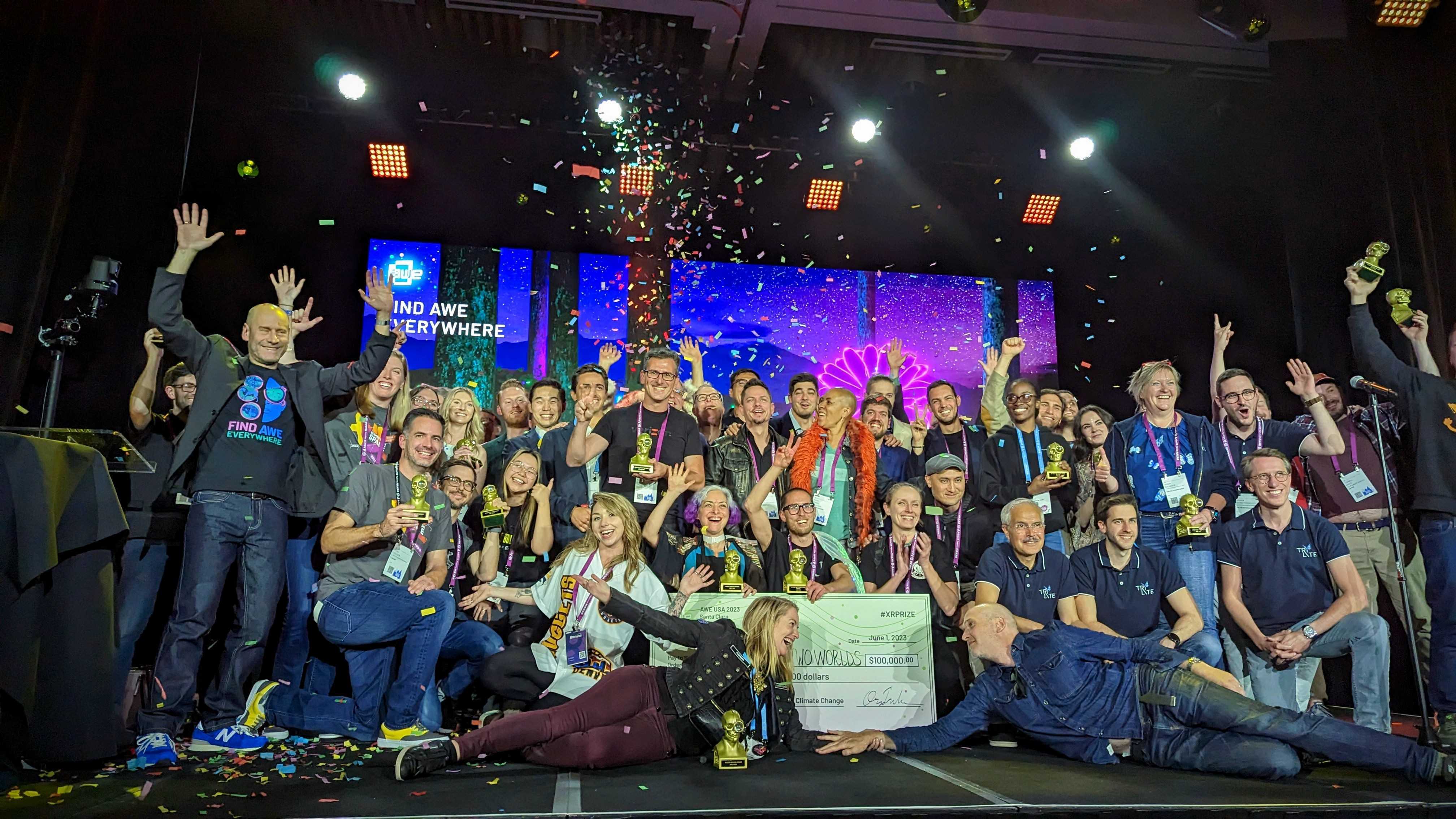 After the Auggies winners were announced, the winner of AWE's XR Prize Challenge: Fight Climate Change was also awarded their $100,000 cash prize. 11 finalists had to make their final pitches and presentations to the XR Prize Challenge judging panel earlier this week. Although there was only one winner of the grand prize, the were honorable mentions for each team that ended up top of their respective category. The top teams for the following categories were:
Visualizing The Causes & Impacts of Climate Change – Qikiqtaruk by Qikiqtaruk VR Team, produced in collaboration with IVAR Studios
Educating About Solutions to Climate Change – Mangrove City by University of Miami
Optimizing Design & Execution of Climate Solutions – InCitu by InCitu
The grand prize winner for the AWE XR Prize Challenge: Fight Climate Change was:
Between Two Worlds by Under The Skin X Virtualosus
Enormous praise and congratulations to the Between Two Worlds team, whose efforts to harness the power of XR to fight climate change made an impression on our judging panel. And well done to the other 10 finalists, who although didn't walk away with the prize money, certainly made an impact in the XR community, and hopefully will have inspired the rest of the XR industry to act now to fight climate change. We are certain that your efforts will no doubt also have an impact on climate change too, and we encourage all those that took part in the XR Prize Challenge to continue the important work of harnessing the power of virtual, augmented and mixed reality technology to combat the climate crisis.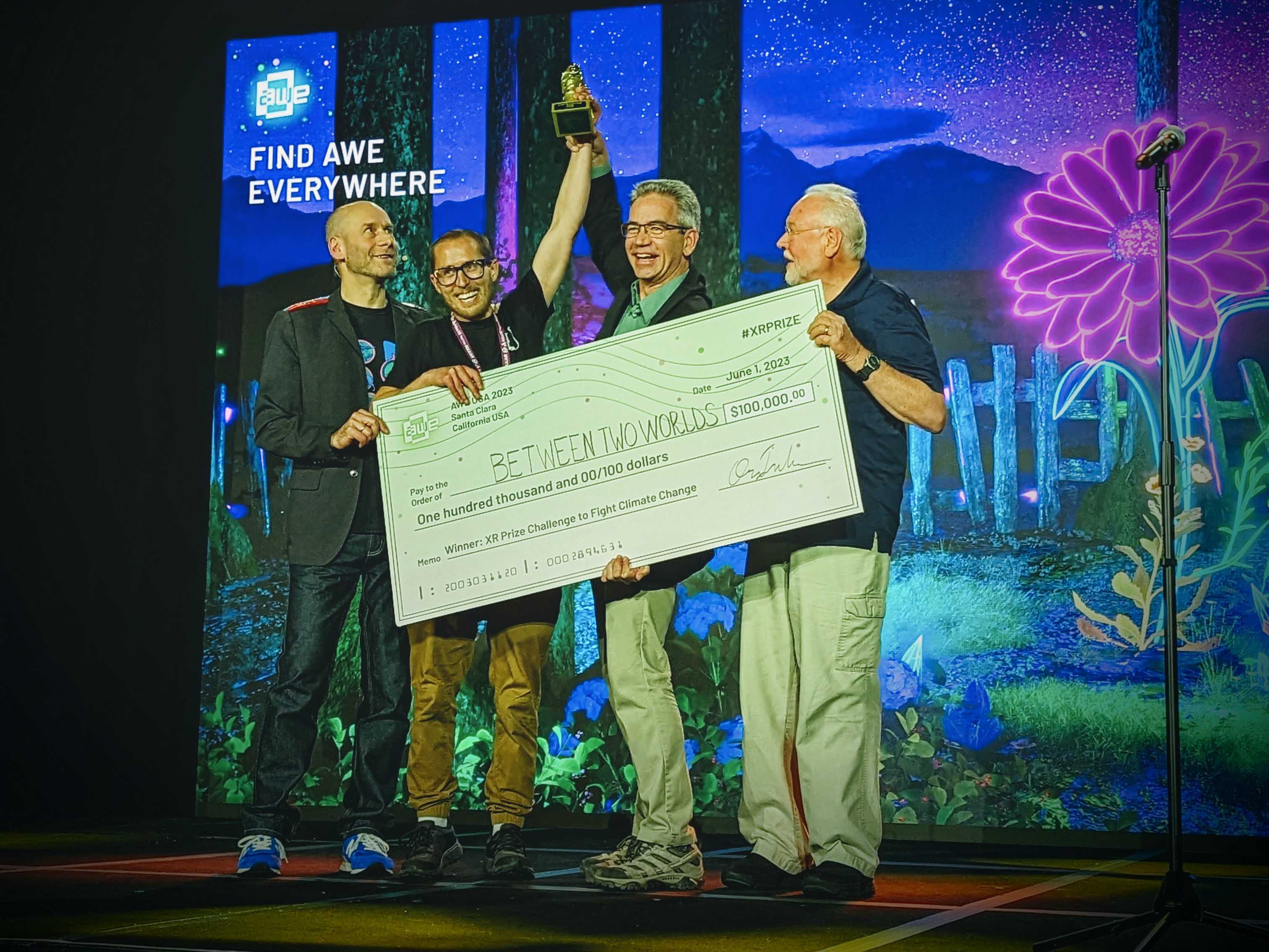 With the Auggie Awards ceremony wrapped though, so too is this blog, because now it is time for the AWE Afterparty.. No buses to downtown San Jose needed this year though, as the party is taking place right across the street from us at the Hilton Hotel Santa Clara.
Produced by visionary immersive producer, Michael Ronen, the official 'Future Selves Unleashed Afterparty,' is an eco-friendly, tailgate-style AWE party located within walking distance from the Santa Clara Convention Center. So, come and join your fellow XR industry professionals as we collectively raise a toast to the future and groove to some beats while indulging in a sumptuous spread of food. If you're joining us, don't forget your AWE badge, as you'll need that to get in, and you wouldn't want to miss on one of the best XR industry networking opportunities of the year!
Plus, once things wrap up at 11pm, the bars at both the Hilton and the Hyatt will be staying open as late as they can to accommodate any guests that want to keep the party going. But don't get too carried away - there's still an entire day left tomorrow, and we can't wait to see you eager and ready to go for the final day of AWE USA on Friday June 2nd.