Every year, AWE hosts its Start-up Pitch Competition, which sees a group of finalists made up of various AR and VR start-ups try to convince an expert judging panel that their AR/VR start-up idea is worthy of winning the Auggie Award title of "Start-up To Watch."
The Auggie Awards (aka "The Auggies") are the XR industry's most prestigious awards that highlight and celebrate the most innovative and impressive AR/VR solutions and products from around the world. The finalists for the Auggies were recently announced, but within the overarching Auggie Awards is the Start-up To Watch category – the winner of which is chosen on site during the Start-up Pitch Competition itself, and announced on the Main Stage on June 1 during the main Auggie Awards ceremony.
The Start-up Pitch Competition process provides finalists with an incredible opportunity to showcase their ideas in front of:
Leading XR industry executives and venture capitalists that make up the judging panel;

An audience packed full of AR/VR industry leaders, experts, talented attendees who may well be looking for their next XR role; and

XR investors looking to discover the next addition to their investment portfolio.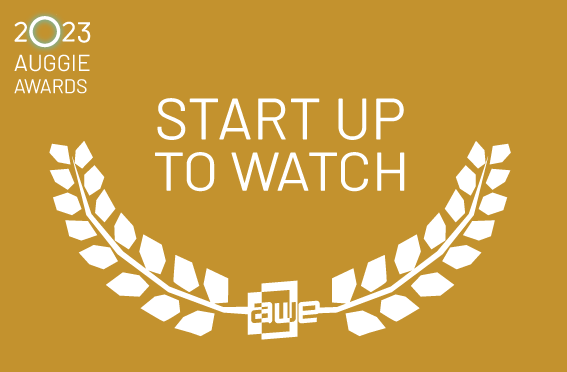 Who are the AWE 2023 Start-up Pitch Finalists?
This year, 13 start-ups have been selected as finalists for the 2023 Start-up Pitch Competition. They include:
Trace is a creation platform for location-based AR experiences and 3D recordings.


VRWorkout is a fitness-tech VR application that engages individuals and communities in physical activity and education for a healthy body, mind, and planet. Founded over a year ago, the company was funded by a Meta grant of $350,000. XRWorkout is now raising funds to improve its product for better wearable links, agnostic hardware and platform experience, and the hiring of an execution team.


Swave Photonics is a fabless semiconductor company that designs, and markets holographic chips based on its breakthrough diffractive photonics technology. Its mission is to bring the metaverse to life and enable display manufacturers and content creators to disrupt the visualization market with immersive, ultra-high-resolution, lifelike, true holographic displays. Swave envisions a world where holographic displays give everyone the power to visualize the impossible, collaborate and accomplish more.


Doublepoint is a touch interface company that enables touch-based interactions for next generation computing platforms.


Shader is a tool for creating AR effects on your phone. It takes just 20-40 seconds to generate an AR experience, and all that is needed is a smartphone and the Shader app. Shader provinces a new way to make videos with its AR-first video creation tool that anyone can use.


EducationXR is a platform that addresses the creation, deployment, and distribution of immersive training and education content for all phones, tablets, desktops, and VR headsets. All content created with EducationXR is automatically multiplayer. Simple interactive experiences can be created with the company's no-code/low-code tools, while more complex interactions can be created with its visual scripting language, Flow. EducationXR is available for enterprise license subscription, so customers can create their own content.


Aexia from Strawberry Fields Interactive Inc. is a VR platform (accessible via PC) that allows game masters to host live action role-playing games without the need for physical locations or costumes. With Aexia, players can role play as if they were actual actors in a movie set and game masters can create unique sets in minutes. The company's modular authoring tool allows users to build customized games or remix existing games, making it easy to continually offer unique gameplay experiences. Its platform is perfect for gamers who enjoy social, story driven role-playing games and who crave playing nuanced characters as if in a movie script.


Benvision is a revolutionary navigation software using machine learning that transforms landscapes into soundscapes, allowing the visually impaired an elevated experience navigating their surroundings.


Atopia creates the metaverse for arts & culture.


ABXR Engine is the first subscription-based, comprehensive, easy to use, and affordable XR (AR/VR) content creation platform that democratizes access to Web 3.0 by empowering non-engineers to create sophisticated XR content for the Metaverse. ABXR Engine is the first full-featured no-code solution directly aimed at allowing creatives, with a few hours of orientation, to build from very simple to highly sophisticated content in a fraction of the time, from ideation and development to testing and deployment. The ABXR Platform, incubated at Columbia University, is to Web 3.0 creation what Wix, Shopify and Squarespace are to website development.


Lemur.ai provides a three-step solution to accelerate learning from XR spaces. Using the company's unique SDK, video is seamlessly extracted from XR experiences via virtual cameras placed anywhere in the environment. AI "Bot" microservices generate automated feedback on the videoed performance. Insight from this video is then combined into learner and organization-wide intelligence via configurable reports. Partnering directly with XR companies, Lemur.ai leverages its experience in education and AI to deliver an easily embedded feedback tool that not only empowers learning, but provides valuable insight on XR content effectiveness for future optimization.


Augmented Fantasy is an augmented reality gaming solutions provider and content publisher that is revolutionizing tabletop gaming with mobile, multiplayer/voice chat enabled, markerless SLAM AR (simultaneous localization and mapping) experiences.


Afference, Inc. consists of neuroscientists who do not need your skin to create the feeling of touch. The company's solution stimulates nerves to create artificial tactile sensations, which improves dexterity of 3D digital content. Afference's first products will be mobile, wearable devices that stream data from XR content to create the sensation of touch.
These 13 finalists will be showcasing their XR solutions and ideas at AWE 2023 from 1:55-5:10 PM on June 1, in Grand Ballroom A.
Are you an investor looking to attend AWE 2023?
If you are an investor interested in attending this year's event, AWE is offering conference passes for eligible investors in exchange for a couple of hours 1:1 mentoring for AR/VR startups.
Learn more about why AWE's AR/VR events represent an incredible opportunity for investors here.