Little over a week has passed since the AWE community gathered in Lisbon for AWE EU 2022, and we are still buzzing from what an incredible event it was. We've received so much feedback and kind words about the conference as a whole, which showcased the best of European XR innovation, talent, and thought leadership, and we are extremely grateful to everyone who participated in Europe's largest AR and VR event this year.
Another huge congratulations and shout out must go to this year's AWE EU Auggie Award winners, whose XR solutions truly impressed our judges, as well as the thousands of attendees that got to experience them first hand. We've provided a roundup of the winners of each award below.
AWEsome Award at AWE EU 2022
One of the most iconic booths on the expo floor this year belonged to Vitruvian VR, whose gyroscopic VR flight simulator turned heads the second you walked through the doors. The experience saw attendees strapped into a giant LED-lit hardware rig, where they donned a headset and jumped into a simulation that had them falling through the sky as they navigated their way through a series of virtual checkpoints. Think more VR wingsuit experience than actual aircraft simulator. The experience was fully booked up within the first 20 minutes of doors opening on day 1 at AWE EU this year, which is of course another part of why they were the recipient of this year's AWEsome Award.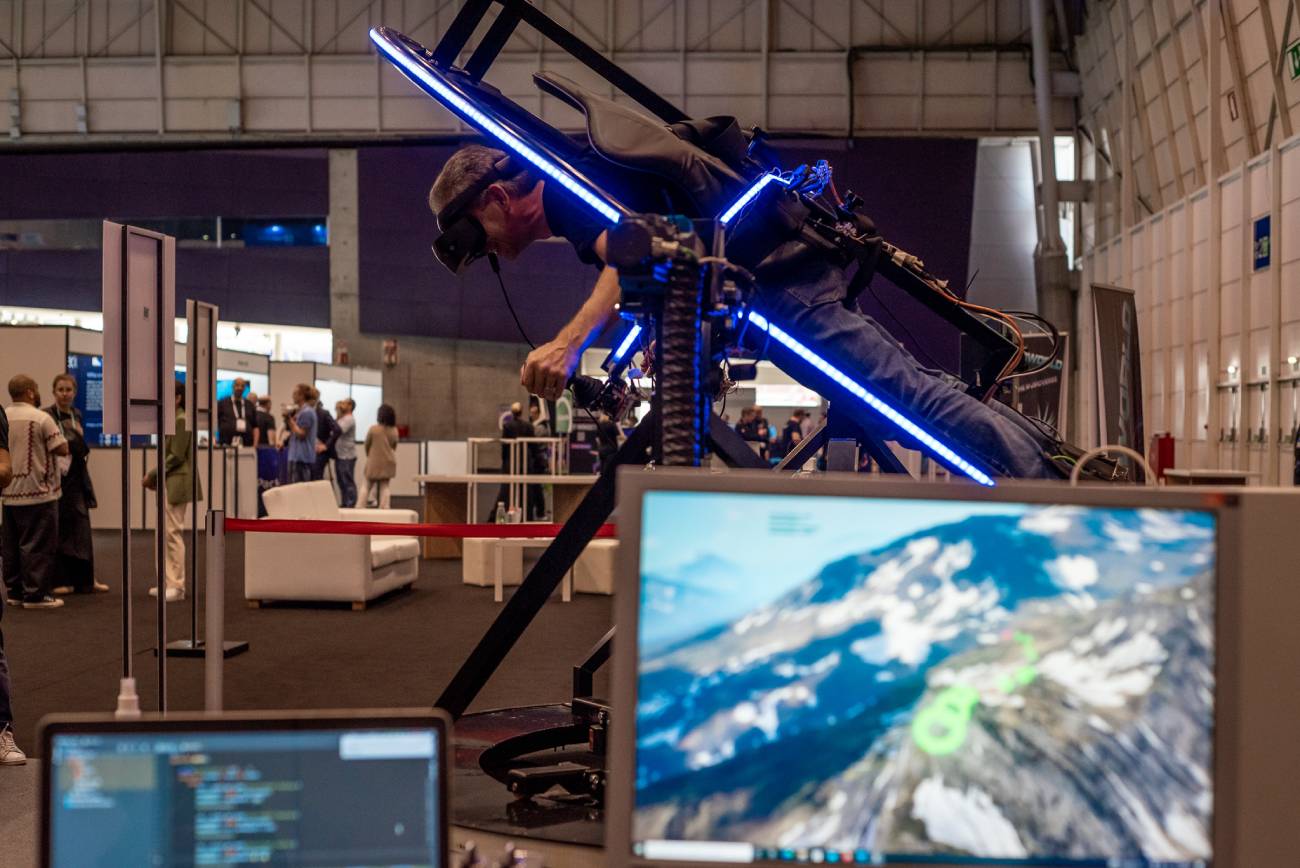 Vitruvian VR's experience put users into an immersive wingsuit-style flight simulator experience.

Best in Show Award at AWE EU 2022
For the best in show award, the winner was of course none other than Pico, for their incredible new Pico 4 Enterprise device. The Pico 4 consumer VR headset has already been dubbed by many as the "Meta Quest killer," and it is easy to see why Pico is giving Meta a run for their money at the moment. Hot on the heels of Meta's Quest Pro announcement earlier this month, Pico has now entered the ring to contend in the enterprise mixed reality space. The company is already seeing a huge demand for its consumer Pico 4 device, which can only be a good thing. Hands on with the Pico 4 Enterprise did not disappoint either. With full color passthrough functionality, eye and face tracking, pancake optics for a slimmer profile, 4K+ visuals, all powered by Qualcomm's Snapdragon XR2 chipset, the Pico 4 Enterprise was an impressive piece of kit, and clear to see why it won the company this year's Best in Show Auggie Award. You can see more on the Pico 4 Enterprise device below.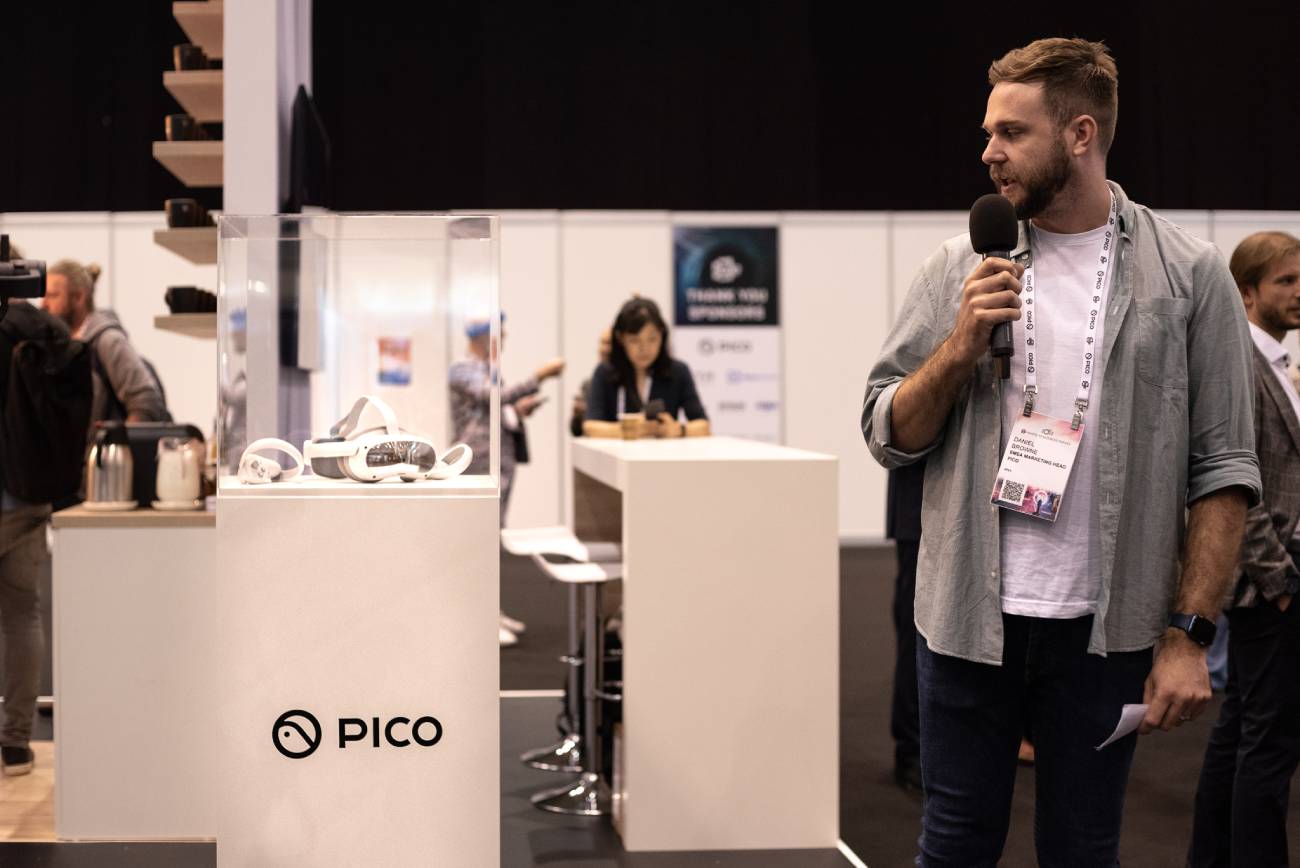 Pico showing members of the press their new Pico 4 Enterprise device at AWE EU 2022.

Start-up to Watch at AWE EU 2022
Finally, for the Start-up to Watch award, this year's winner was PatchXR, whose 'PatchWorld' music creator platform for the metaverse impressed our panel of judges in this year's AWE EU Start-up Pitch Competition. PatchXR's platform is for anyone who wants to create musical worlds, produce or attend virtual concerts, build custom instruments and jam together with friends. Their booth (which was also situated in the same corner of the expo floor as Vitruvian VR's) had a constant stream of participants throughout the event, who were all able to enjoy PatchXR's demo. Neighboring exhibitors also got to enjoy the virtual musical abilities of AWE attendees too, as well as the enthusiastic Elmo-style voice of the PatchXR demo guide.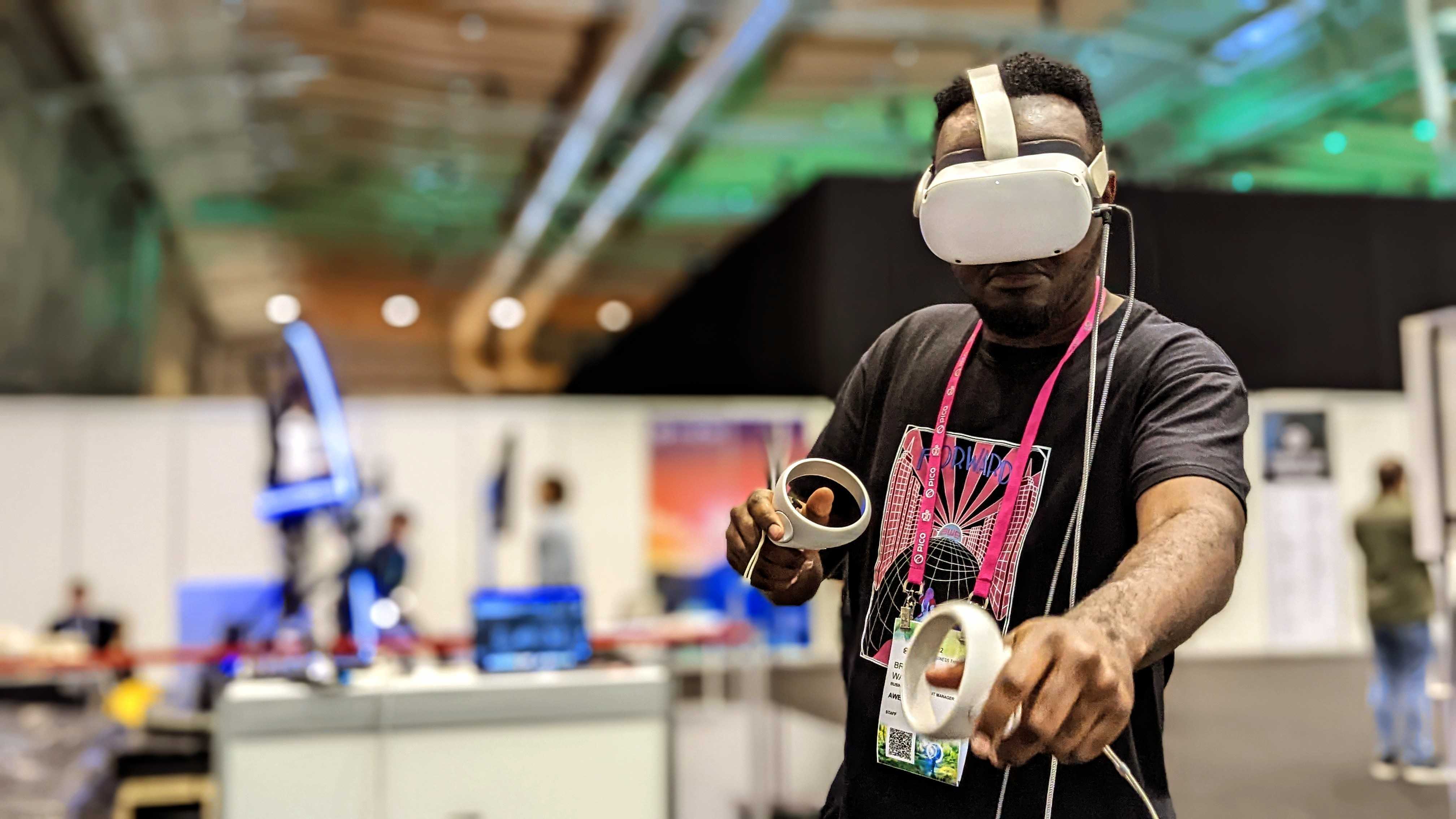 AWE's very own Brian Wainaina getting hands-on with the PatchWorld platform and VR experience.

Huge congratulations again to all of this year's Auggie Award winners! We've put together a video (below) of some of the best bits of AWE EU 2022, which includes footage of these prize-winning experiences and solutions. What's more, all sessions from AWE EU are now available to watch for free on the AWE YouTube channel.
As well as our own coverage of the event, there were several press and media partners in attendance this year, who all put out some amazing content that focused on all of the AR/VR talks and exhibits that were on display throughout the week. To see all of the various articles on AWE EU in the press this year, click here.
Below you can watch an interview featuring AWE's co-founder, Ori Inbar, talking to Mixed Reality TV's Sebastian Ang on How To Build A Thriving XR Ecosystem. Make sure you check out the MRTV YouTube channel for more exclusive content from AWE EU this year too.

#AWE2022 on Social
Social media was abuzz with posts from the FIL in Lisbon, as well as the surrounding city sights in general, with AWE attendees all documenting their time at the event using the #AWE2022 hashtag. It is great to see that so many people had such a great time this year, and it was fantastic to be the catalyst event that brought attendees together in this part of the world to enjoy the best that the augmented and virtual reality industry has to offer, as well as to take in and experience the local sights of the beautiful city of Lisbon. You can see some of the most popular Tweets below:

AWE's XR Prize Challenge
AWE EU also saw Ori announce more details on AWE's $100,000 XR Prize Challenge. Designed to inspire the AR and VR community to come up with innovative solutions to help tackle the climate crisis, the XR Prize Challenge is now open for submissions. So, if you are an individual or a company working in the XR industry and have a potential solution to fight one of the most pressing challenges that faces humanity to date, then click on the link below to find out how you can submit your ideas in order to be in with a chance of claiming the prize fund.
Start-ups at AWE EU 2022
There was a lot of focus on Start-ups this year in Lisbon, with booths and representatives from the Korean Metaverse and start-up delegation, including 3i, AIPARK, Extriple (MetaVu), Haegin, Marvrus, Studio W, Wide Brain, Woongjun Thinkbig, Xrisp, and Zion Network.
There was also a presence from Startup Wise Guys, an accelerator that helps start-ups by focusing primarily on sales and scaling, and offers fundraising guidance to help teams be in a position to raise their next funding round within six months.
Finally, there was the aforementioned Start-up Pitch Competition, which featured nine amazing finalists, all putting their start-up ideas out there in front of AWE's panel of industry executives and venture capitalists. For more information on the nine finalists, you can check out our AWE Blog post on it here.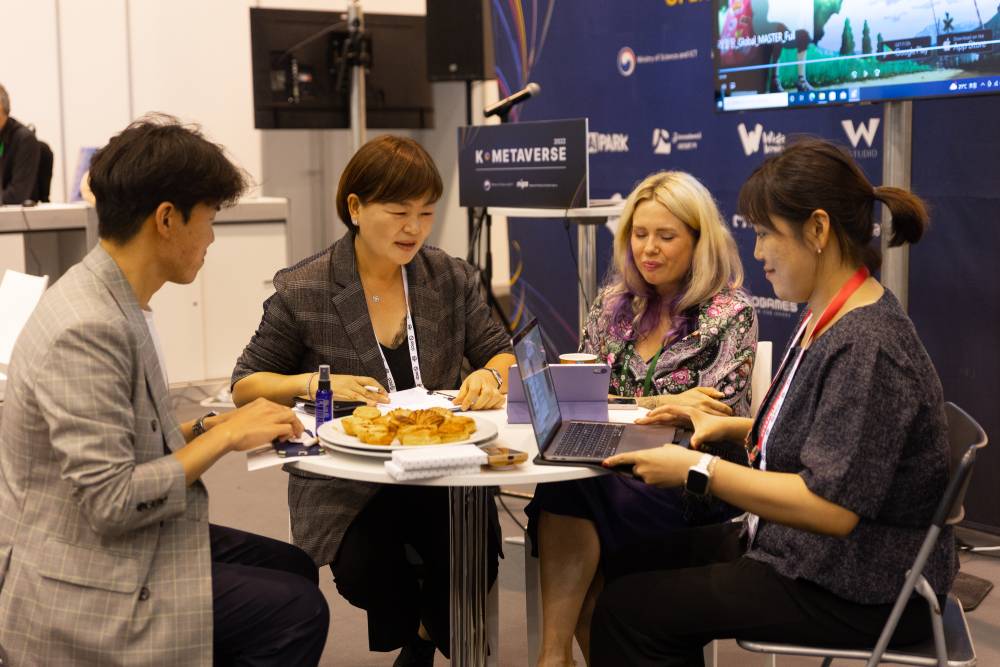 Networking sessions taking place over at the Korean Metaverse booth on the expo floor at AWE EU.

Watch AWE EU talks online at

awe.live
AWE EU featured talks and panel discussions on the Main Stage, as well as across ten separate track rooms this year, which covered topics ranging from gaming, entertainment and media, to collaboration, training and education within the XR sector. All Main Stage sessions were available for online attendees to stream live (and for free) whilst the event was taking place. However, track stages were not available in real-time, but instead were uploaded after the event. Well, the good news is that all videos from all stages have now been uploaded and can be watched on the awe.live platform, as well as on the AWE YouTube channel.
To view on awe.live, AWE's always-on platform for the XR community, simply navigate to the date of the talk you want to watch from the EU agenda, and select the talk from there – for AWE EU 2022, talks can be found under the October 20 & 21 dates.

Some of our top talks and presentations from this year's virtual and augmented reality event in Lisbon included:
What's next from AWE?
With the three major AWE milestone events in the USA, Asia and Europe now behind us for the year, you might be wondering "what's next?" Well, the answer is that there is always something going on with AWE, whether it is in the form of online talks hosted on the 24/7/365 awe.live platform, or in the form of in-person meetups and gatherings across the globe as part of the AWE Nites series. AWE is always aiming to facilitate conversation, learning, connections and growth across the XR industry, and we have made it our mission to become a true year-round ecosystem for XR industry businesses and professionals.
If you are already excited for our next large scale event though, then you should be setting your sights on AWE USA 2023, which is already promising to be an absolutely amazing event. We have already been taking bookings for exhibitors off the back of a massively successful AWE USA 2022 event, and we are expecting things to fill up quickly for our next event in Santa Clara.
There are so many opportunities available to individuals and businesses alike for next year. Whether you are looking to exhibit on the expo floor, speak on one of our expertly curated agenda tracks, or come to the event as an attendee or volunteer to broaden your XR horizons, there will truly be something for everyone at AWE 2023! Super Early Bird tickets are already on sale for those super enthusiastic people who don't want to miss out on what will be yet another incredible event and gathering for the augmented and virtual reality industry.
We are already setting our sights to next year and will be hard at work planning and putting together 2023's leading XR event. Until then, make sure you stay up to date with the latest AR and VR industry news by subscribing to the AWE Weekly Spatial Newsletter, and don't forget to keep checking the awe.live platform for the latest virtual talks from across the XR space.