Day 1 of AWE EU, Europe's leading augmented and virtual reality conference, has come to a close, and what a fantastic day it has been so far. We've summarized the highlights from the day (don't forget though that there is still the after party to attend – and there is no chance we're even attempting to put a blog piece together after that!)
As is standard with AWE events, things were kicked off today by AWE co-founder, Ori Inbar, whose opening keynote explored how XR technology has a proven track record of making dreams a reality for people all over the world. Whether it is in the form of a virtual reality experience enabling people to see places they would never otherwise get the chance to visit, or augmented reality bringing Pokemon to life and fulfilling the lifelong dream of becoming a real Pokemon trainer for many people, XR really does seem to have an answer for everything.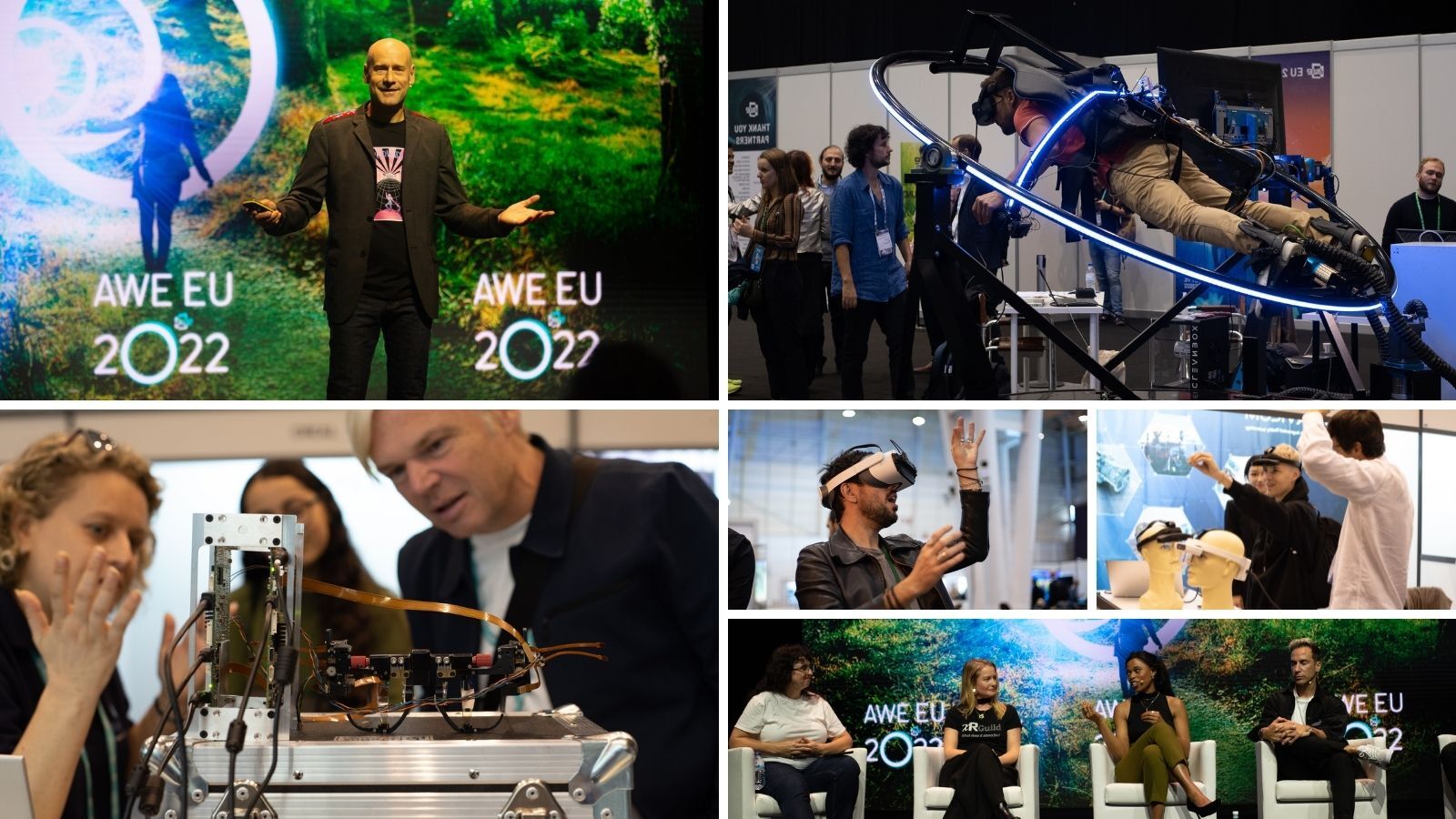 XR Prize Challenge: Fight Climate Change
Well, that is the hope anyway, as Ori went into more detail in today's keynote about the AWE XR Prize Challenge, which is aimed at finding XR's answer to one of the most critical problems facing humanity today – that of climate change. The 'XR Prize Challenge: Fight Climate Change' was first announced at AWE USA 2022, and is designed to encourage companies to come up with AR and VR innovations and solutions that can help to tackle the issue of climate change.

As was noted in our blog earlier this year when the competition was first announced, if we don't work to tackle climate change now, chances are, the dreams of future generations will be much harder to accomplish. So with that in mind, Ori announced that as of today, the XR Prize Challenge is now open for submissions. To find out more information and to submit your proposal to be considered for the Challenge's $100,000 prize, click below.
Pico's Newest Enterprise Offering
Straight after Ori's keynote address to kick things off at the year's biggest European AR/VR event, Oliver Wohler, Head of Enterprise EMEA at Pico, and Alize Amrani, Enterprise Marketing Manager EMEA at Pico took to the Main Stage to introduce the newest offering for global businesses from Pico.
Pico has of course been making headlines in recent weeks with the announcement of their newest 'Pico 4' VR headset for consumers (and also making further headlines due to the extremely high global demand for what some are labeling the "Quest Killer"). However, today's Main Stage address from the company is certainly going to add to their ability to generate headlines, as they announced the launch of Pico 4 Enterprise all-in-one VR headset.
You can watch Pico's full Main Stage presentation, which is already up on the AWE YouTube channel, below.
Other Main Stage Speeches
Throughout the day we've also had Main Stage talks from companies such as TeamViewer and META Materials. TeamViewer, who of course are known for their remote connectivity and workplace digitalization solutions, were today discussing the industrial metaverse and ways in which augmented reality and AI can help to redefine the nature of frontline work in the 21st century.
From AR-related software to the hardware side of things, we had META Materials talking about the processes and platforms involved in lens fabrication, and how the company provides AR wearable developers with a platform for seamlessly integrating lens nanostructures into thin lightweight prescription glasses.
Expo Walkthrough
In between all of the Main Stage action today, starting things off on the expo floor was the press walkthrough, which gave select members of the press the opportunity to tour the vast floorspace at the FIL exhibition centre in advance of the doors opening to the rest of the AWE EU 2022 attendees.
This year's press walkthrough stopped by a total of twelve booths of companies showcasing some very impressive AR and VR hardware and software solutions, including: Vitruvian VR, Panasonic, Wonderland Engine, Dispelix, Squars, InterDigital, Epson, TeamViewer, SyncReality, Pico, Dolby and representatives from the Korean metaverse and start-up delegation. You can view the walkthrough livestream below.
Track rooms
Over in the track rooms, there has been an incredible amount of excitement across all of the stages throughout the day. There have been lots of happy spectators, all having fun connecting with colleagues and seeing friends whilst enjoying all of the engaging topics that have been covered. There has been a lot of traffic too, and in some cases talks have been so busy that there has only been standing room left.
On the Enterprise stage HaptX' co-founder Bob Crockett discussed some of the hurdles that the company has faced on its journey from developing its first single glove prototype, to the incredibly complex haptics system that it offers today. According to Crockett, two of the biggest obstacles that exist when it comes to the enterprise adoption of haptics technology include the cost, and also the fact that enterprises themselves are still actually trying to figure out the best way in which to implement the technology.
Another thing that Crockett highlighted was that there is a very big difference between "nice to have" versus "need to have" when it comes to building a product. There is a cost to every single feature that goes into a product, and with something as complex as haptics hardware, this cost can quickly skyrocket. Therefore, it is extremely important for start-ups and organizations looking to grow their product offering to be mindful of where company money is going and to focus only on the necessary, according to Crockett.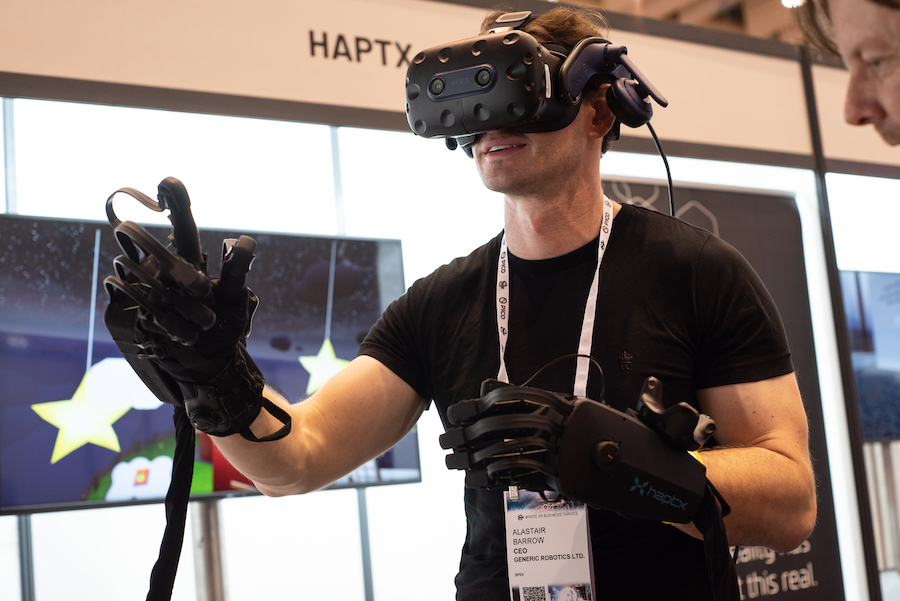 Afterparty
And with that emphasis on the necessary, our focus switches to the AWE EU after party – which is both nice to have but also, absolutely necessary. Afterall, we all need a party to celebrate what has been such an amazing first day! Tomorrow, we'll go into all the latest from the expo floor, the AWE EU Playground, as well as the winners of the Start-up Pitch Competition and local Auggie Awards.
Until then, if you're reading this from Lisbon, make sure you join us for happy hour Sponsored by META Materials, which is taking place on the expo floor from 5pm until 7pm, and then for the AWE EU after party sponsored by Pico, which is taking place on the rooftop bar at FIL from 8pm until 11pm. For our readers elsewhere, make sure you join in with the chat for tomorrow's Main Stage talks through the awe.live platform, and keep your eyes peeled for our Day 2 summary.
And remember, we still have an entire day left of AWE EU and there is always still time to get tickets to attend Friday's event in person, with prices starting at €295 thanks to AWE's affordable Friday Only pass.