It has been another amazing XR-packed day of AR and VR talks, entertainment and experiences at AWE EU on the final day of the event in Lisbon, Portugal. After what was a hugely successful and busy afterparty last night on the rooftop bar at the FIL Exhibition and Congress Centre, there were many fresh faced attendees eager and ready to go first thing this morning, with rooms once again being packed full to capacity for several of the talks.
On the Main Stage today,
Dispelix
' Chief Product Officer, Jussi Rahomaki showcased the company's DPX Selva product line and explained how defractive waveguide technology has answers to the needs of worldwide leaders looking to launch solutions that leverage Dispelix' augmented reality single layer, full color lightweight waveguide. You can watch the full talk on the awe.live platform here.
Over on the Retail, E-commerce and Advertising stage,
FFFACE.ME
's co-founder and CEO, Dmitry Kornilov analyzed some of the significant changes in the consumer persona, explored how to find viable digital fashion and metaverse use-cases that start from virtual try-on, and also analyzed how to connect digital fashion and metaverse projects to revenue growth. FFFACE.ME were also the company behind AWE's Instagram filter for this year's event, so if you haven't tried that yet, click
here
to give it a go.
Playground & Expo Floor
Today we managed to fit in our extensive tour of the exhibition floor where we got to check out all of the incredible XR experiences on offer. First up on the AWE Playground we got to finally try out the Vitruvian VR immersive flight simulator, which has had queues for demos the entire time. In fact, they actually ran out of slots on day one after the first 20 minutes of the show floor opening up to attendees!
Other Playground experiences included a fun AR sci-fi mobile game from LightClash AR, which gave users a multiplayer shooter game experience. We also got some early morning exercise in at VRWorkout's space, which helped to burn off some of last night's after party canapés (although doing a tonne of burpees less than 12 hours after eating several small shrimp cocktail bites was not overly conducive to feeling fabulous).

And of course, there was the Pico 4 Enterprise VR headset. Needless to say – the device is absolutely incredible, with full color passthrough and a super lightweight design that honestly felt effortless to put on. Meta definitely has something to contend with now that this device is on the market.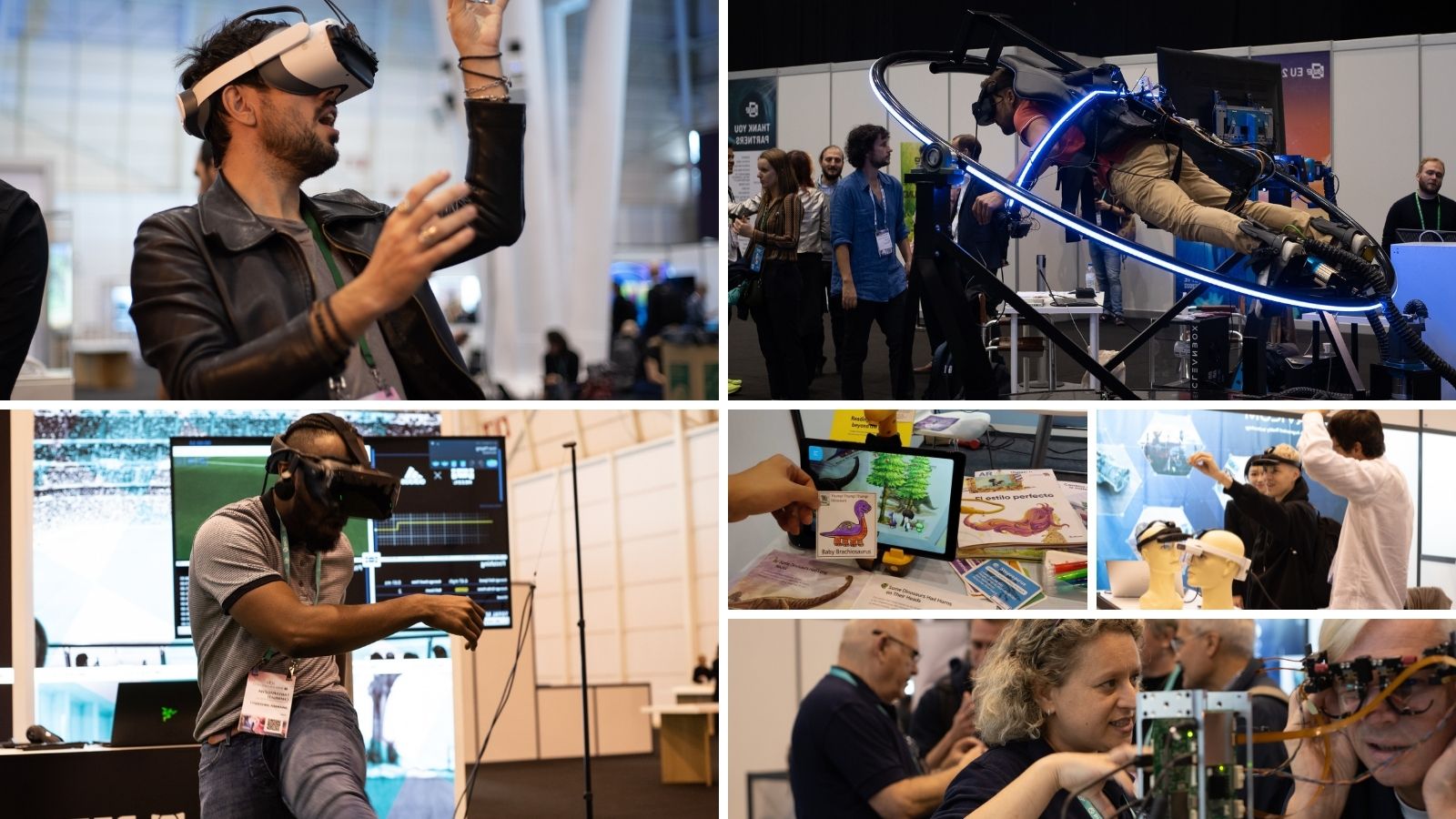 Voices of AWE
As well as touring the expo floor, filming for AWE's 'Voices of AWE' content series was also wrapped up today. Several exhibitors graciously offered up their time to talk about their experiences at AWE EU this week, sharing with us all of the ways in which AWE events have helped to facilitate networking, as well as assist AR and VR companies on their growth journeys. The full videos will be available later in the year.
Start-up Pitch Competition
Today was also the day that the Start-up Pitch Competition took place, which saw our eight fantastic finalists pitch their ideas in order to convince our leading panel of judges made up of industry executives and venture capitalists that their AR/VR start-up idea should be awarded the title of "Start-up To Watch."
The winner of the Start-up Pitch Competition for AWE EU 2022 was PatchXR, whose PatchWorld music creator platform for the metaverse blew the judges away this year. PatchXR's platform is for anyone who wants to create musical worlds, produce or attend virtual concerts, build custom instruments and jam together with friends. Congratulations to the entire PatchXR team!
Auggie Awards and Event Wrap Up
This year's AWE EU Auggie Awards ceremony took place on the Main Stage at the end of the day, with AWE co-founder Ori Inbar wrapping things up to a full crowd in the Main Stage auditorium.
The first award was the "AWEsome Award," which is given to any exhibitor or speaker who has showcased something truly awesome at the event. Alizé Amrani, Pico's Enterprise Marketing Manager EMEA, took to the Main Stage again at AWE EU to present the Auggie Award trophy. The winner was Vitruvian VR, whose incredible aforementioned VR flight simulator experience stole the show for many.
Next up were three prizes from 3i, presented by the company's CEO Ken Kim. Three lucky attendees were each awarded a Pivo Pod Black motion tracking device for content creators. After the 3i prizes were awarded, Kim then presented the award for "Best in Show". It was absolutely no surprise to see that Pico was crowned the winner, thanks to its amazing Pico 4 Enterprise device, which the company has been showcasing to attendees all week from their booth.
Finally, the award for "Start-up To Watch" was presented by angel investor Faye Maidement, and Cansu Çınar of Ludus Ventures, who were both panelists in the Start-up Competition earlier today. The winner of course, as mentioned earlier was PatchXR.
You can watch the full event Wrap-Up on YouTube below:
And with that, we'll leave things there. We hope you all enjoyed this year's event as much as we have, and as we look forward in our XR calendar, there are plenty of upcoming events where we hope to see many of you again, whether at a local AWE Nite event, or an online meetup or event we hope to see you at some of our upcoming in-person and online events.