One question that has been on the minds of everyone in the XR industry, for the last couple of years at least, has been "when will Apple release its AR/VR headset?" Although the company is typically very secretive about new projects, there have been several indications and rumors circulating in recent years that hint at a not-so-far-off release date of a possible augmented, virtual or mixed reality headset from the world's most valuable company.
Starting with the obvious signs, it is no secret that Apple has been filing and winning patents related to XR technology, including:
Add to this growing list of XR-related patents the fact that the company may also have submitted trademark applications for the names "Reality One," "Reality Pro" and "Reality Processor" (according to a report by Bloomberg's Mark Gurman), it seems plausible that Apple is gearing up to launch something in the XR space.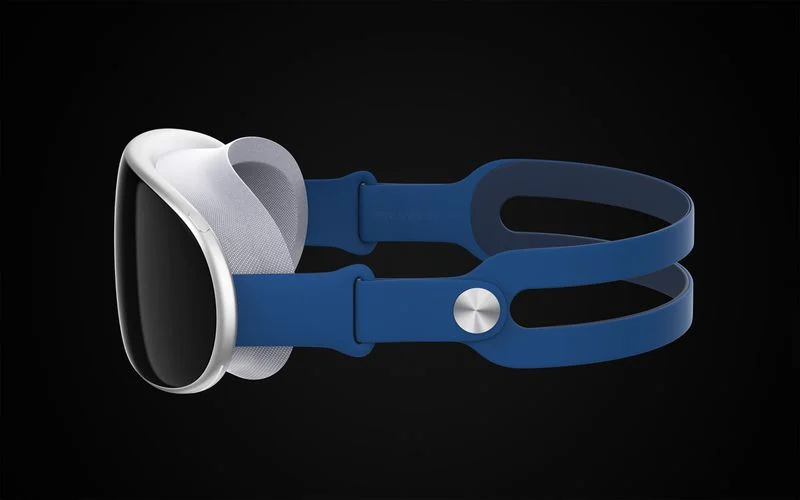 A concept render based on purported leaked information by Ian Zelbo - Image source: MacRumors
Apple also has a history of using shell corporations to hide future products and development plans, and some believe that a 2022 trademark filing for the "realityOS" trademark by a supposed shell company called "Realityo Systems LLC" is in fact Apple acting from behind the scenes to secure the name for an upcoming OS for its XR line of products.
In fact, Parker Ortolani of Vox Media linked the Realityo Systems LLC company to previous Apple activity, stating: "The corporation 'Realityo Systems LLC' has the exact same address as the shell corporations Apple used to hold onto the macOS California names. It is the Corporation Trust Center of which Apple is in fact a client."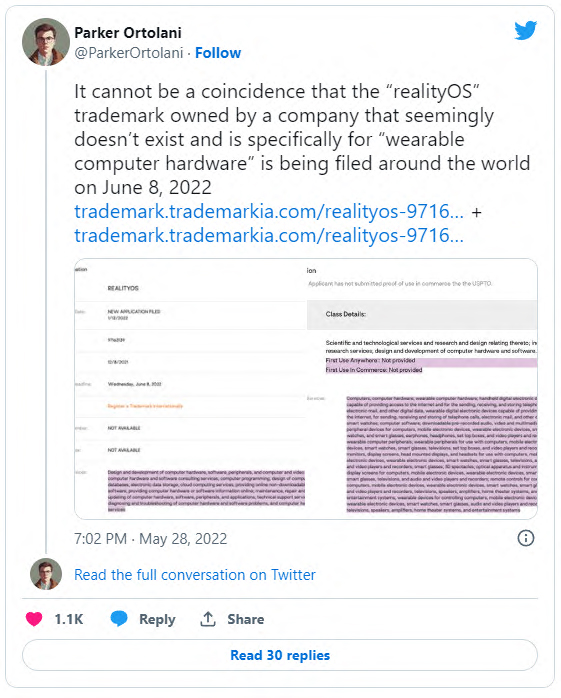 Waiting on an Apple VR headset release date
According to analyst Ming-Chi Kuo, the most recent estimate for when an Apple VR/MR headset might be released currently puts a launch date in the second half of 2023. Kuo revised a previous estimate of Q2 in 2023, due to a possible delay caused by software-related issues, which may have stalled the mass shipment schedule of any Apple virtual or mixed reality headset.
However, the company may still at least announce a new XR headset, possibly as early as January 2023, according to Kuo, who also noted in the same report that any such device may cost somewhere between $2,000-$2,500.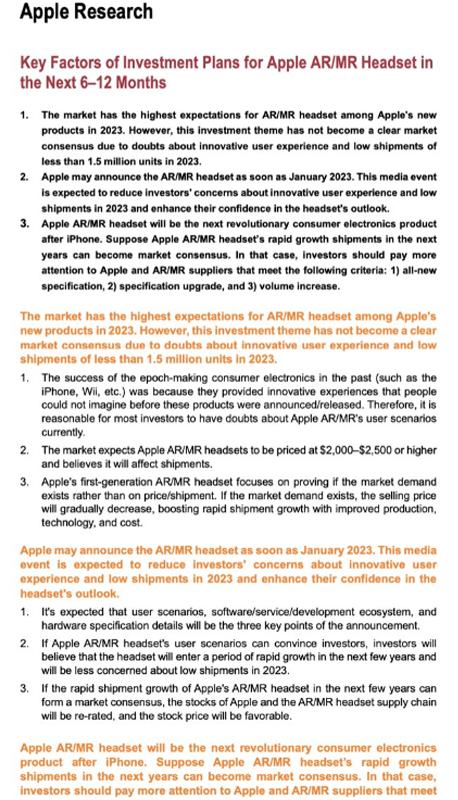 Source: — 郭明錤 (Ming-Chi Kuo) (@mingchikuo) August 8, 2022
This is all only concerning an Apple VR or MR headset as well – the rumors, estimates, and reports relating to Apple AR glasses are an entirely separate topic. Information surrounding any new AR glasses from Apple is even more convoluted, with reports dating back to 2020 suggesting that a so-called "Apple Glass" would enter production in 2021.
Clearly that has not been the case, and analysts are now anticipating a potentially more realistic shipping date of sometime in 2025 for a headworn augmented reality device from the company, with more conservative estimates pushing this date into 2026.
Regardless of what type of device may or may not materialize from the company, whether it is an Apple virtual reality headset or Apple smart glasses, it is something that both the XR industry and tech enthusiasts alike are eagerly awaiting. For a reliable source of up-to-date information on the latest news regarding any Apple VR/MR/AR devices, Tom's Guide is providing great coverage of events as they unfold.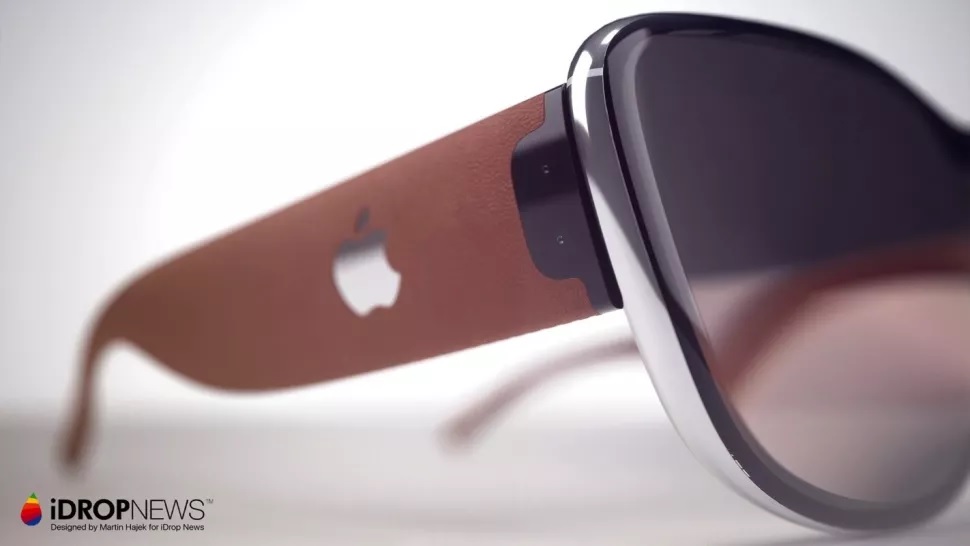 A render of so-called 'Apple Glass' - Image source: iDropnews/Martin Hajek
What would an Apple XR device mean for the metaverse?
Like most large tech companies, Apple offers many convincing reasons for users to remain within its ecosystem of hardware and software products. This is largely due to the way in which Apple platforms seamlessly integrate with one another, allowing users to move effortlessly between iPhone, Mac and Apple Watch. However, part of the reason the company's products work so incredibly well with one another is down to the fact that its ecosystem is closed, i.e. Apple has complete control over both the software (the operating system and apps that can be installed on a device) and the hardware (the device itself).
This "walled garden" as it is often referred to does pose problems for a future metaverse, especially one that is open to users. To some, this idea of an "open metaverse" can simply mean "open source" (like the Android platform, for example). For others, it is more about interoperability and open standards and protocols that will allow for different virtual worlds to be connected. It may also mean an open economy that is built on DeFi (Decentralized Finance), and of course some people consider an open metaverse simply something that is open to everyone and where anyone can join in.
This therefore poses the question of whether an Apple XR device would be rosy or rotten for the metaverse. An Apple metaverse would likely not be open – unless the company were to fundamentally change the way it has done business (which doesn't seem likely). This could create a problem not only for users, but for any dream of a future metaverse that is truly open.
Apple already charges a 30% standard commission on apps and in-app purchases. At this point, there would be no reason to believe that the company would change this policy, and is therefore probably somewhat safe to assume that this would most likely apply to any Apple metaverse offering as well. This would therefore mean that anything anyone bought in Apple's metaverse would be taxed (the commission would apply to the seller, but costs are almost always passed on to the consumer).
Companies such as Epic Games have stood up to Apple's 30% policy recently, with the two tech giants fighting a legal battle over Apple's practices in the iOS App Store. Other large tech companies have since stood behind Epic to support the company in its lawsuit, including Facebook, Spotify, and the Match Group (owners of Tinder), who have all noted their own issues with Apple's App Store policies in the past. Even Twitter owner Elon Musk has taken a dislike to Apple's policies in the last few weeks, with the tech billionaire reportedly looking at workarounds to Apple's App Store payment policies.
How might Apple distribute metaverse content
If the metaverse is supposed to be the next evolution of the internet, both as a means of communication, as well as a means of doing business (which estimates put at being worth $13 trillion by 2030), then a 30% commission from Apple applied to any content distribution within the metaverse would be akin to the company taxing anything that anyone purchased through any of its devices.
Therefore, at the core of the Apple metaverse question is whether the company will even bother with the metaverse at all, or instead simply create an XR hardware product that provides users with a means of accessing whatever form the metaverse ends up taking. In the same way that the iPhone connects users to the internet, perhaps an Apple AR or MR headset would simply be the vessel through which users are able to experience the metaverse, with no accompanying metaverse software offering being provided by Apple. This would ultimately remove any obligation for the company to use the term 'metaverse' in the first place, which is something Apple has been reluctant to do so far.
Things obviously depend a lot on how the company views the metaverse. If for example, Apple is looking at any potential future metaverse offering as an extended app store, then any metaverse economy could be in danger of being subject to the company's hefty commission charges. However, if Apple were to treat any metaverse platform in a similar way that it views its hardware (i.e. up to the user what they do with it once they own it), or perhaps as a spatial computing version of its safari browser, then things might look slightly less ominous.
This does raise the question of distribution though, and how Apple might tackle the sale of metaverse-related products within an XR hardware ecosystem. There is no indication at this point that Apple is planning to do anything different than its current App Store-based approach to content distribution. There are some basic tools that the company offers when it comes to XR content (e.g. ARKit and RoomBuilder), but it may be unlikely that the company will come out with a full virtual world offering that tries to compete with existing platforms such as Meta's Horizon Worlds.
Could Apple tax the metaverse?
If the company's recent track record concerning how it decides to apply its 30% commission to new and emerging technologies is anything to go by, this might cause some concern. Earlier this month, cryptocurrency exchange Coinbase stated that Apple was blocking the latest update to its digital wallet on iOS until the exchange either shared 30% of gas fees (essentially a blockchain transaction fee) from NFT sales, or disabled the ability to send them.
Both cryptocurrencies and NFTs are seen as an intrinsic part of Web3 and the metaverse, as they offer users a decentralized way to manage their digital assets. Apple's apparent decision to attempt to apply its standard 30% in-app purchase commission to crypto gas fees demonstrated to some that arguably, Apple fundamentally does not understand how blockchain technology works.
The official Coinbase Wallet Twitter account noted that if implemented, this would be "akin to Apple trying to take a cut of fees for every email that gets sent over open Internet protocols."
Coinbase's Twitter thread also pointed out that: "Apple has introduced new policies to protect their profits at the expense of consumer investment in NFTs and developer innovation across the crypto ecosystem."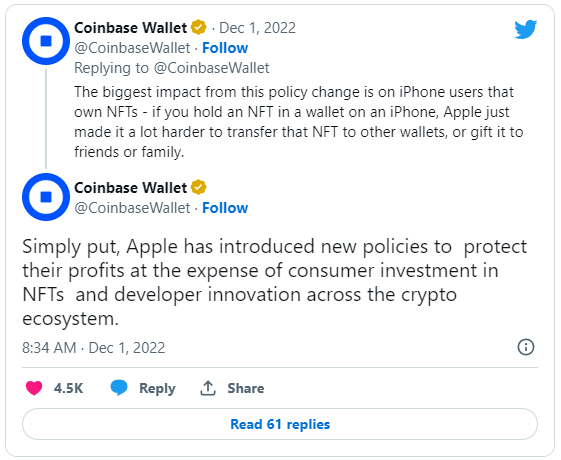 One concern is that if Apple tries to do the same with any metaverse platform that it creates, it would stifle development and creativity in the metaverse, and could dissuade potential developers and creators from wanting to build experiences if they are just going to be continually hit with fees from the company. Plus, any such tax could potentially shift focus of XR developers to one that dwells more on the bottom line than it does the user experience, which is usually not a good thing.
Would consumers 'get' an Apple AR/VR device?
Ultimately, it will be hard for Apple to create or be a part of a truly open metaverse if it forces users into its own siloed solution. The same applies to any tech company looking to carve out their own corner of whatever form the metaverse ends up taking. However, maybe it is the case that Apple doesn't actually want anything to do with the metaverse – at least in the generally agreed on version of what the metaverse should/will most likely look like. In October this year, Apple's Senior Vice President of Worldwide Marketing, Greg Joswiak, said that 'metaverse' is a "word I'll never use." In fact, Apple CEO Tim Cook even confirmed that 'metaverse' is a word that the company generally avoids, due to the fact that "the average person doesn't know what it means."
Whether Apple's confidence in the average consumer's ability to grasp technological concepts will grow in the coming years is yet to be seen. But, people seemed to manage fine when the company introduced its first touchscreen device back in 2007. Perhaps the company is instead just reluctant to use a term with "Meta" in the name for now.
The good news is that whatever AR/VR product Tim is cooking up in the Apple kitchen, it will no doubt be an industry-leading bit of tech. Apple's products are always built with quality and user experience in mind, and people are expecting nothing less from any upcoming Apple mixed reality or smart glasses device. In fact, one reason why many working in the XR industry are so excited for an Apple product to enter the space is the fact that they see it as a turning point for XR adoption.
Historically, whenever Apple has put a new product out into the world, it has done so confident in the knowledge that it has almost certainly got things right. Few of the company's products and solutions over the last decade (especially from a hardware perspective) have been unsuccessful.
Some of the company's products have not always been well received though, and with XR and the metaverse representing such a paradigm shift for consumers, there is no knowing just how the market will react to an Apple XR device. Apple's CEO could be right, and users might simply just not be able to grasp what the metaverse and any device that connects them to it is for.
How might the market react to an Apple headset
AWE co-founder, Ori Inbar, recently put it to the people with a poll that asked whether an Apple Reality passthrough AR headset would either:
Completely dominate the market, but the market reaches less than 3% of consumers, similar to the Apple Watch;

See stunted growth for not being smart enough, similar to the Apple HomePod;

Redefine and significantly grow the market to become the world's most beloved device; or

Be a total flop like the Apple Newton.
Of course the company can't always get everything right, but the strategy the company seems to be employing with regards to AR/VR/MR appears to be one that involves biding its time and ensuring that any creases are ironed out before releasing a product to the mass market. And while Apple takes time to iterate, improve and hone its first XR product offering, it also gets the benefit of watching how other tech companies' spatial computing products are faring in the space.
Whatever the situation is at Apple with regards to the metaverse, as well as augmented, virtual and mixed reality, it seems like the light at the end of the tunnel is gradually getting brighter, with a potential product announcement from the company seeming imminent in the coming months. As to whether that product will have anything to do with today's ideas of the metaverse is yet to be seen. Instead, maybe Apple is simply waiting to do things better… to build its own, closed betterverse solution where the company has the authority and control to do what it wants.

Header image source: MacRumors