With just one week left to go before AWE EU 2023, it's time to plan your trip to make the most out of what will surely be this year's most exciting European gathering of XR professionals and pioneers. This guide will walk you through the exciting meetups, activations, and perks awaiting you in the heart of Vienna. Get ready for a blend of networking, learning, and all-round fun and good times in the world of Augmented and Virtual Reality!
Thought Leaders and Innovators at AWE EU
A Jam-packed Agenda
Once again, we have worked tirelessly to bring together some of the best and brightest thought leaders and visionaries from across the European XR community. The agenda for AWE EU 2023 features 11 distinct tracks, covering a host of topics from across the augmented, virtual and mixed reality industries, ranging from XR's use across training and education, enterprise applications of AR/VR/MR technologies, as well as a track dedicated to AI and virtual beings, exploring the explosion of AI-based implementation that the industry has seen this year.
There will truly be something for everyone on the agenda, and with this being our first major conference since both the Apple Vision Pro and Meta Quest 3 headsets were announced, there is bound to be some lively discussion on the future of XR.
Europe's Most Exciting Expo Floor
The expo floor is always the hub of activity at AWE's AR and VR events, and this year's event will be no different. Attendees will get to enjoy an enormous space in which to connect with individuals from leading names such as Lenovo, Meta, Pico, Qualcomm, HTC, Niantic, Vuzix, Snap, Siemens, Volvo, Swisscom, as well as over 100 more companies and organizations operating within the spatial computing industry.
Plus, the expo floor at AWE EU will be the best place to try out the latest cutting-edge hardware and software solutions from the companies paving the way forward within the AR and VR space.

In addition to the carefully curated agenda and packed expo hall, below you'll find a guide to all the additional extras and perks that AWE EU has to offer:
Meetups at AWE EU
Web XR Meetup
Dive into the discussions around Web XR with like-minded individuals and experts in the field. This meetup is a chance to share your insights, explore new developments and build connections in the thriving XR community.
AWE EU Pre Meetup / Party
When: Monday, Oct 23, 19:00

Where: AmmutsØn Craft Beer Dive, 10 Barnabitengasse 1060 Wien Austria
Arriving the day before for AWE EU? Well, AWE partners AIXR, XR Vienna, Women in Immersive Technology, Virtual Worlds Society, and Euromersive have got you covered with their Pre Meetup and Party! Join in for an exclusive after after party specially curated for the AWE EU Community, that will provide attendees in town early with a perfect space to relax, reconnect, and relive the highlights of the event with fellow AI & XR enthusiasts.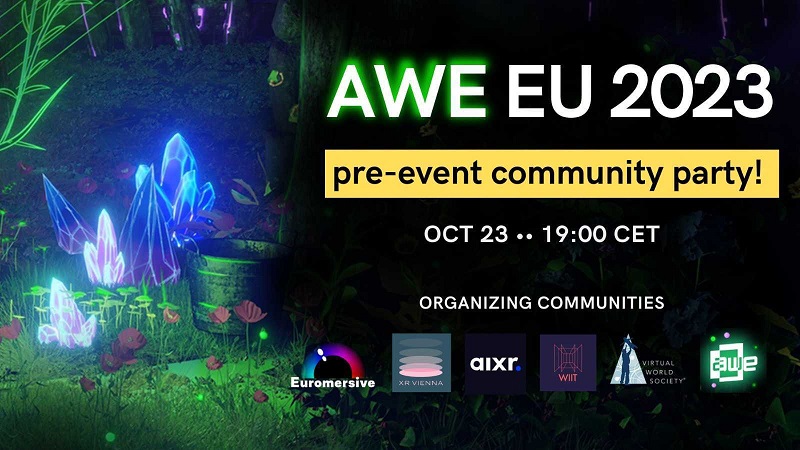 Activations at AWE EU
Pixel's Eco Travel Vienna Instagram Filter
Vienna's own Pixel Adgency brings you an interactive journey through AWE's crystal garden with their 'Eco Travel Vienna' Instagram Filter. Tap on the flowers and crystals to unveil Vienna's sustainable travel recommendations. Whether cycling around the picturesque Ringstrasse or savoring the crisp alpine tap water, discover how you can make your stay in Vienna an eco-friendly one.
Avatar Group Photo Contest
Kickstart your AWE EU 2023 adventure by scanning your name tag at avatar.awexr.com to enter Avaturn's custom Avatar building and collecting experience. Customize your avatar, scan your friends' badges to collect avatar friends and vie for a spot on the leaderboard. The top three avatar collectors will bag a free pass to the next AWE EU along with a memorable group photo of your AWE EU avatar gang.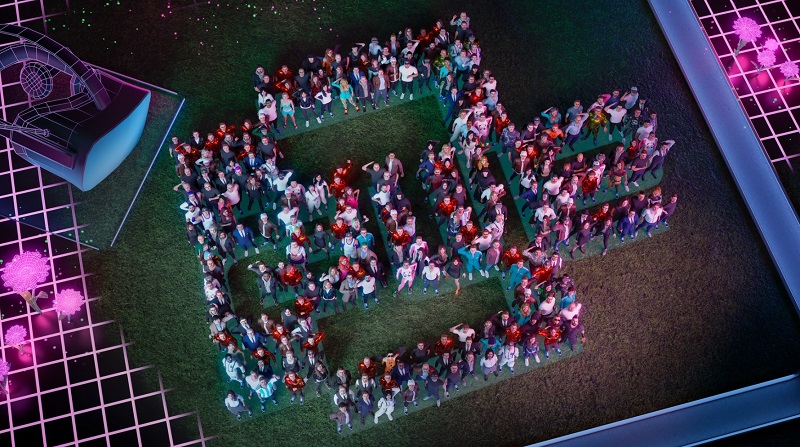 Fyware's AWE-centric Snapchat Lenses
Find yourself amidst the visual splendors of AWE with Snapchat Lenses by Fyware. Step into the Retro Head Mounted Display Photo Booth or snap a selfie in the mesmerizing AWE crystal garden. These immersive experiences are a fantastic way to commemorate your time at AWE EU 2023.
Vienna perks with AWE EU
Accommodation and Transit
If you're still on the lookout for accommodation, fret not – hotels are still taking bookings, and there is availability at several locations near to the Austria Center, where AWE EU will be taking place this year. Also, don't miss out on the discounted transit pass for seamless transportation across Central Vienna. With a bus, train, and more at your disposal, exploring the city has never been easier.

Vienna's Upper Belvedere baroque palace, which contains masterpieces by Klimt, Schiele, Funke, Messerschmidt, and van Gogh. Image source: Belvedere Museum.
Belvedere Museum Discount
A visit to Vienna would be incomplete without indulging in its rich cultural heritage. Attendees at this year's AWE EU event can secure a special discount for the Belvedere Museum by using the code that you received in your AWE EU confirmation email (or will receive if you haven't registered yet). So, as well as immersing yourself in virtual worlds at our event, make sure you take advantage of this discount to experience globally renowned works of art, film and music on display throughout The Belvedere and its historic building complex.
Offset Your Carbon Footprint with Terrapass
2023 is the first year that all AWE events are carbon neutral. We are of course continuing this trend at AWE EU, and attendees are able to offset their carbon footprints with Terrapass. It's a small step towards making a big difference.
Stay Hydrated with Alpine Spring Water
Don't forget to carry your water bottle, as the tap water here flows straight from the nearby Alps. It's a taste of purity unlike any other.
AWE After Party
When: Tuesday, Oct 24, 18:30-21:30

Where: 'Stage 3' venue, Vienna
Join us for an evening filled with music, laughter, and conversations that could spark the next big idea in XR at what will surely be another memorable AWE afterparty. We'll be bringing the party to Stage 3, situated just a stone's throw from the aforementioned Belvedere Museum. One-way buses will be provided, ensuring a hassle-free commute to the venue. The journey home is up to you though – just don't let it get too crazy as there'll still be an entire day of AWE EU to attend the following day!
As the countdown to AWE EU 2023 quickens, the excitement too is building. With a whole host of activities, insightful meetups, and engaging activations to get involved in and enjoy, this year's event is shaping up to be a memorable gathering of the European augmented, virtual and mixed reality community. If you still haven't secured your ticket, then what are you waiting for!? Come join us in the Austrian capital in one week's time, where the spatial computing industry will meet to learn, connect, and grow.