At the end of this month submissions will close for AWE's
XR Prize Challenge: Fight Climate Change
. Whilst we have received hundreds of incredible submissions already, there is still time for anyone interested in winning the $100,000 prize to get their XR-based climate change solutions in front of the eyes of our expert panel of judges.
The XR Prize Challenge aims to address four key areas, and AWE is looking for submissions that can demonstrate a creative, functional, and impactful XR-based solution to help humanity in its fight against climate change across the following categories:
Replacing Wasteful Material Consumption: For solutions that demonstrate how XR is a viable medium for reducing humanity's dependence on wasteful transportation, consumption of goods, and unsustainable real estate development;
Visualizing The Causes & Impacts of Climate Change: For solutions that demonstrate XR's unique ability to help more clearly communicate ideas and educate people about the causes and effects of climate change, tp potentially influence behaviors and policies to promote equity and fairness;
Educating About Solutions to Climate Change: For solutions that demonstrate XR as a unique story-telling medium for giving a voice to climatologists and sustainability solutions providers, providing them with a powerful platform to educate communities and expand their reach; and
Optimizing Design & Execution of Climate Solutions: For solutions that demonstrate XR as a unique decision-optimization tool, enabling professionals to design and develop perfected solutions that give us the best possible chance to mitigate and reverse climate change.

We recently hosted the AWE Nite New York event on the
awe.live platform
, which highlighted a handful of XR projects that are being designed to help in the fight against climate change (and save the world). In this blog post, we'll take a look at each of those projects, which will hopefully inspire more teams to submit their ideas and proposals before the December 31 deadline:
Kicking things off at the AWE Nite NYC event was Sean White, AR pioneer, investor and Stanford lecturer, who shared a project called Site Lens – a solution designed to address air quality and pollution in the air.
The solution, which was first iterated back in 2007 and developed at Steve Feiner's AR Lab at Columbia University, was designed to help urban designers and planners to understand the environment. The app allows for the real-time visualization of pollution particles in urban environments.
To do this, Site Lens utilizes a technique called "Situated Visualization," which essentially takes data (in this case air quality data) and puts it into a place or setting in which it is relevant. Then, through the power of augmented reality, users are able to visibly see carbon monoxide levels as well as particulate matter in their immediate environment through a handheld AR display.
According to White, one of the most important things when it comes to addressing climate change with technology is not only for users to be able to understand a climate issue, but to also then be empowered to take action. The ability to take action once a user understands something is an incredibly important feature to include in the systems people design.
Finally, it is important to be really clear with regards to what augmented reality is good for. In terms of something like visualization, analytics, awareness, or even situated action and being able to do something in the moment, it is important to focus on what a technology like AR can bring to the table in order to help us fight climate change. White's closing advice is to: find real problems; iterate on the design and how you are approaching things; utilize existing platforms; and focus on what you think those leverage points are.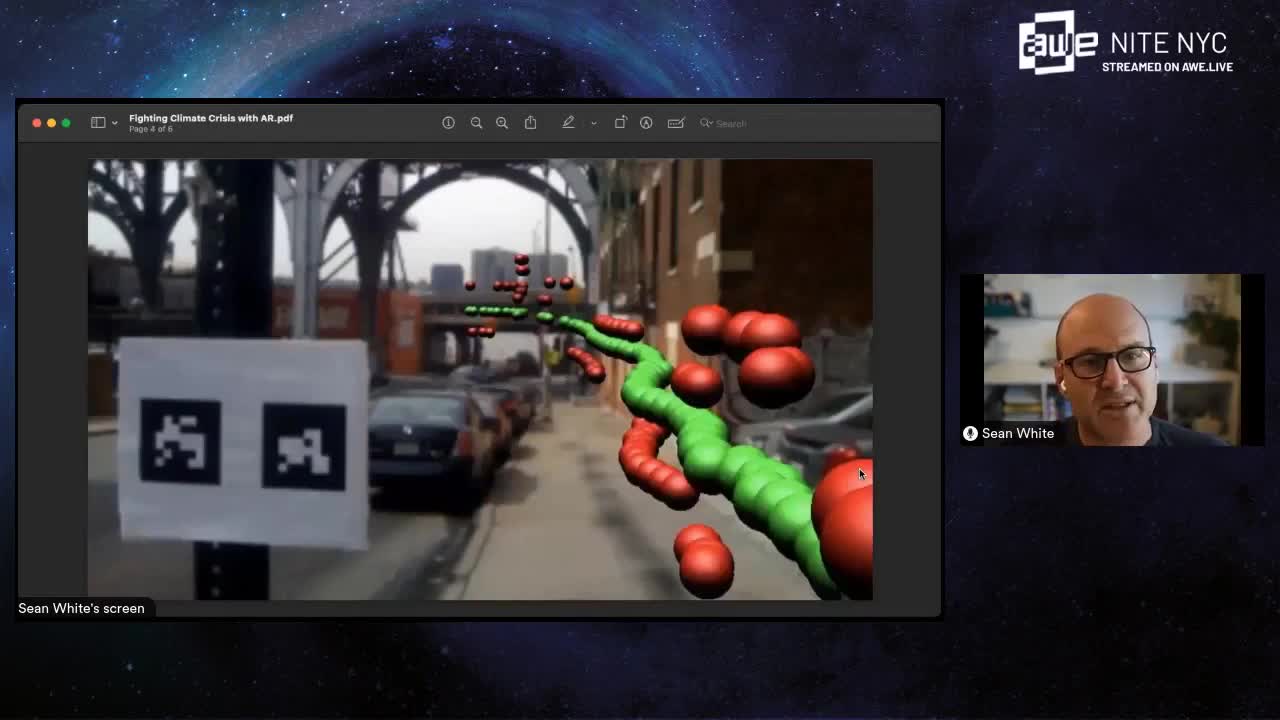 Next up was Astrid, an Icelandic project designed to educate youth and to provide a clear narrative on how we can take actions towards a positive climate future. Venessa Carpenter, Chief Innovation Officer at Gagarin explained Astrid's 'Garden of Choices' project – a virtual reality role playing game designed to allow users to discuss and debate climate change actions.
In Garden of Choices, five people join together in a shared immersive experience to investigate, debate, and ultimately decide together about the actions they think society should take to reduce our carbon footprint. The gameplay is also based on actual policy and climate actions in Iceland.
Carpenter said that one of the benefits of using VR for the experience was that it gave users a feeling of anonymity. A lack of direct eye contact whilst playing with their peers and instead being in a virtual environment meant that users felt they had more freedom to express themselves honestly. Plus, by using VR, the company has found it is able to more effectively engage youth in learning compared with traditional climate change educational approaches.
Gagarin has worked with science and educational partners in Scandinavia, including meteorological agencies, environmental agencies, as well as scientists and researchers, in order to co-create the Astrid project. In doing this research, the company has learned that personally relevant education leads to users taking action. According to Carpenter, "collaboration is the key to brighter climate futures," and as a result Gagarin is working with government municipalities, businesses, researchers, educators, designers and storytellers.
HRVSTS CEO Ali Daniali demonstrated his company's frm.ar app, which utilizes XR technology to assist with indoor vertical farming. HRVSTS' aim in general is to bring the benefits of indoor farming to the world, including saving water, being a better farming alternative for the environment, whilst still being able to provide a variety of produce. Plus, HRVSTS helps to connect buyers, sellers and farmers.
The company's platform is able to see inside of an indoor farm and unlock capacity so that it can be utilized for a variety of indoor growing purposes. The frm.ar app is an XR tool that uses the spatial awareness of an indoor farm to anchor real-time farm data to assist farmers with their daily, weekly, and monthly work and planning associated with growing and harvesting fresh foods.
The app's direct impact is that it helps to improve the efficiency of indoor farms, which themselves help fight climate change by reducing water usage, growing food with less fertilizer, reducing transportation costs, and delivering cleaner and healthier foods.
Another benefit of the app is that it allows farmers working inside vertical farms to keep their hands free while they work with their hydroponic systems. Plus, compared with existing processes that involve the use of a clipboard, by using augmented and mixed reality wearables, farmers are able to view daily walkthrough checklists or receive visual guidance during weekly seedling planting to maximize space for best water usage and crop yield.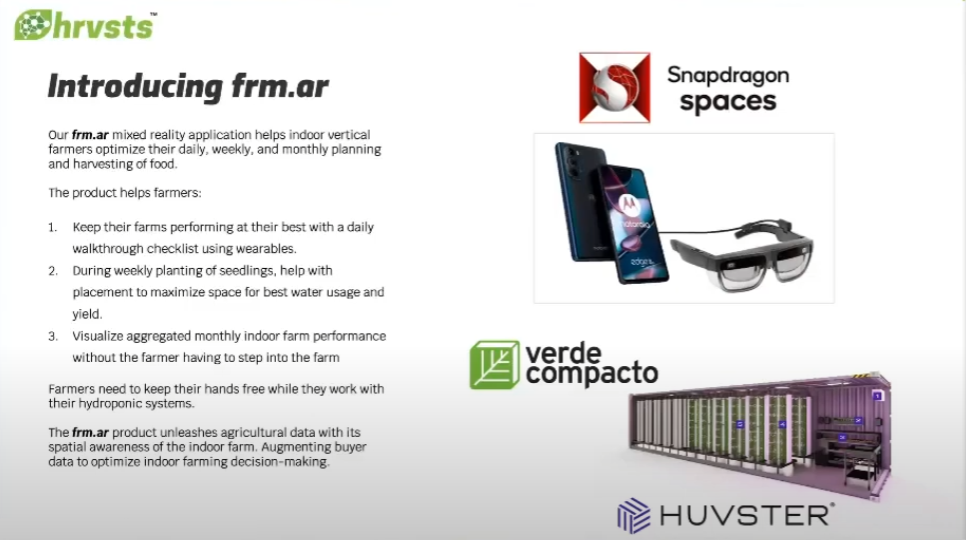 Last but not least at the AWE Nite NYC event was ThirdEye, a company that makes augmented and mixed reality smart glasses and enterprise-grade software platforms. Nick Cherukuri, the company's founder, explained ThirdEye's Carbon Footprint AR tracker solution, which uses ThirdEye's AR headset to allow industries to track their effects on the environment by monitoring greenhouse gas emissions.
ThirdEye's AR solutions for environmental sustainability, such as the company's teleconferencing platform, are helping businesses to reduce their carbon emissions and carbon footprint by eliminating the need for unnecessary employee travel to onsite locations, as well as by providing workforces with new tools for remote collaboration and troubleshooting.
One example of this is the US military, which has been using ThirdEye's technology across several of its bases, according to Cherukuri. Members of the US armed forces have used AR to view 3D holograms as a replacement to sending out senior experts to a site in order to provide assistance and guidance. Instead, AR allows for senior military experts or knowledge keepers to be sat in front of a computer in a command center and remotely offer assistance to lower skilled military personnel who are wearing AR glasses.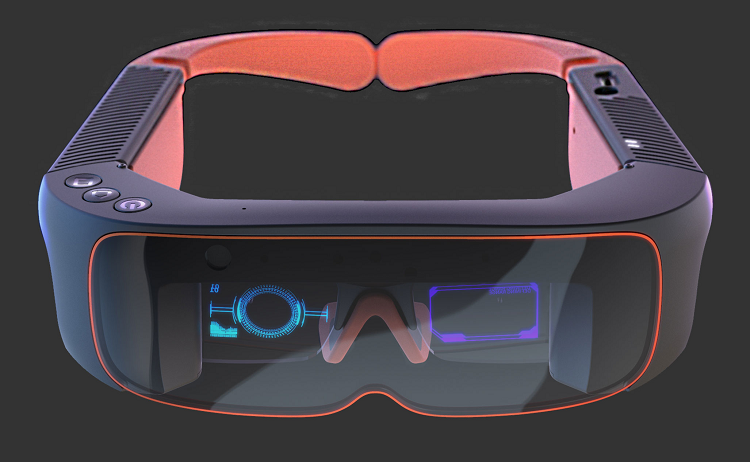 ThirdEye's X2 AR glasses.
This remote telepresence that AR can provide also means that travel can be greatly reduced. With transportation being one of the largest contributors to anthropogenic greenhouse emissions, reducing the need for travel altogether through XR technology can only serve to benefit the planet and help to tackle one of the leading causes of climate change.
Other ways that AR can help companies to be more environmentally sustainable include the fact that the technology allows users to visualize 3D holograms or digital twins of machinery, equipment, objects, or just about anything for training purposes. The benefit of this of course means that these objects do not then have to be made physically, which would mean huge reductions in material waste and resources used.
You can watch the full AWE Nites NYC video below to learn more about each of the fantastic XR solutions that were demonstrated at the online XR event.
Climate change is something that concerns everyone, whether you are a part of the XR industry or not. This prize is AWE's contribution to help solve the climate crisis. The $100,000 cash prize is obviously a huge incentive, but the XR Prize Challenge is about more than that – it is about saving the world. To add to that though, there is also the fact that the climate solutions industry poses one of the most significant economic opportunities for businesses over the next decade.
So, if winning $100,000 to kickstart an XR-powered, climate change-focused project that could not only help to save the planet but also potentially turn out to be economically viable (and hopefully profitable) sounds appealing to you, then now is the time to submit your concept or idea to AWE.
Furthermore, AWE will be hosting an
XR Prize Challenge webinar and AMA session
on the awe.live platform, where you'll be able to learn more about the challenge and how to participate from AWE Co-Founder and CEO Ori Inbar, and Nathan C. The session will take place on December 8, 2022 at 9:00 AM (PT), so make sure you bring your questions to this interactive 'ask me anything' event, as well as your passion for XR and desire for saving the planet!