Welcome to part six in our blog series that looks at some of the ongoing and emerging trends across Augmented Reality (AR), Virtual Reality (VR), and Mixed Reality (MR) – collectively referred to as XR. This post looks at the use of XR (specifically Augmented Reality) throughout the enterprise, and how AR technology is aiding frontline workers with on-site remote assistance capabilities, connecting them to an expert who can guide them through tasks remotely.
In this instance, it is mainly Augmented Reality, but also "Assisted Reality" (aR) technology that is enabling remote subject matter experts to see what on-site workers see through either a smartphone camera or smart glasses device, which provides a live video stream of a worker's field of view. The technology also allows experts to instruct and guide users via drawing, adding text, or tagging objects with 3D markers that stick to a physical object, which a worker is then able to see via their smart glasses or mobile device.
This technology has applications across several industries, including Aerospace, Automotive, Healthcare, Logistics, Manufacturing and Utilities to name a few. Automotive technicians can now put on a pair of Augmented Reality smart glasses and connect with an OEM expert located in a different country in order to get the latest guidance and instructions on how to address mechanical issues on a new vehicle. Surgeons can do the same whilst in the operating room and have an expert in a certain field of medicine guide them through a pioneering new technique without physically being present. New field service employees deployed to site can connect with remote experts in order to receive instructions on how to complete a task that is unique to a specific location, piece of equipment, or process.
In recent years, remote assistance has proven to be an invaluable tool for organizations, as it helps to increase productivity, reduce downtime of machinery and equipment, improve access to knowledge for entire teams, and reduce travel costs for experts since on-site staff members can be guided through task completion remotely.
In the era of COVID-19, Augmented Reality remote assist has seen a significant increase in implementation across the enterprise, as it has helped organizations meet social distancing requirements whilst simultaneously addressing travel restrictions. Even after these restrictions are no longer in place, uptake of the technology is likely to increase, as many businesses are planning to move their workforces towards more of a hybrid approach to remote working.
Enterprise Augmented Reality platforms such as PTC's Vuforia and TeamViewer's Assist AR offer remote assistance solutions for businesses that enable them to scale their problem solving guidance, support and expertise across service teams. Both platforms combine AR collaboration tools with real-time video communications in order to connect field technicians with subject matter experts, allowing them both to see and discuss issues and reach a solution together.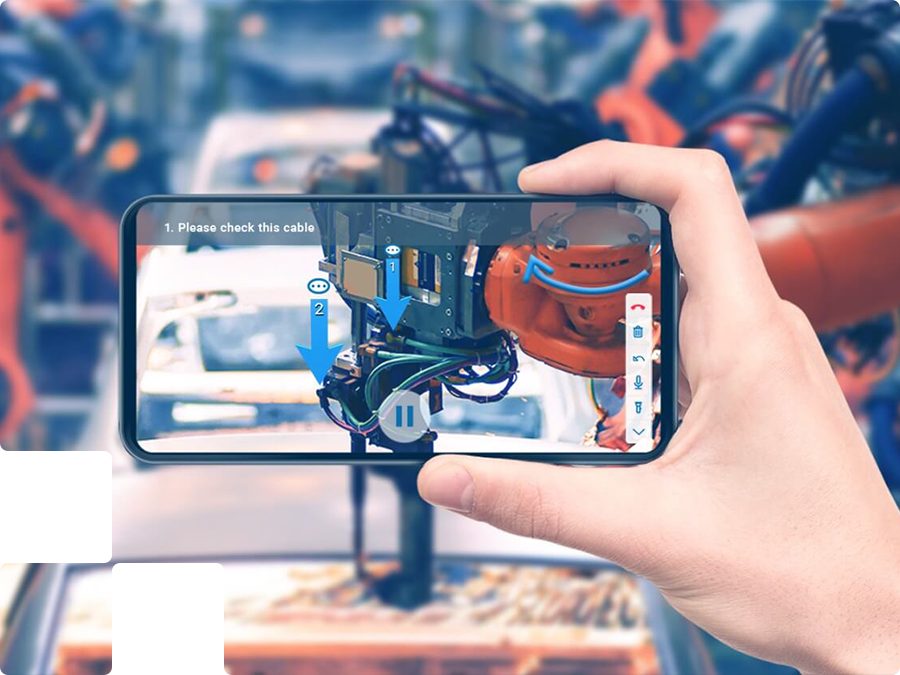 TeamViewer's Assist AR platform provides Augmented Remote Assistance for anyone, anywhere, anytime. Image source: TeamViewer.


In addition to remote expert guidance, Augmented Reality technology is also able to provide a suitable solution for on-the-job learning through remote working instructions. AR knowledge sharing platforms now enable anyone within an organization to access shared expertise and the knowledge they need to perform various tasks. Companies such as Scope AR offer Augmented Reality work instruction platforms that allow users to access AR tutorials from any device, enabling workers to complete tasks, even if they are deployed to site alone. Furthermore, workers' performance can be observed after work is carried out, and the observations from which can be used to further improve guidance instructions. Furthermore, similar to what was covered in our third blog post in this series on 'no-code XR platforms', existing solution (among others) allows organizations to easily create step-by-step work instructions with animated AR overlays, without requiring development, scripting or coding experience.
Of course, none of these AR remote assistance and work instruction software solutions would be viable without the underlying Augmented Reality hardware that workers are equipped with in the first place. Several hardware providers, including Lenovo, Microsoft, RealWear, Vuzix and many more, are providing businesses and the enterprise with headsets and smart glasses that are designed specifically with remote assistance in mind. RealWear for example provides its "ruggedized" industrial strength AR wearables through the company's HMT-1 range of devices. Though more of an Assisted Reality device (wherein information is not overlaid on top of a user's real-world view, but is instead shown on a screen within a their immediate field of vision), the HMT-1 is designed with frontline workers in mind, as it is built to operate from -20° C to +50° C, is resistant to water and dust, and can withstand 2 meter drops onto concrete.
Enterprise adoption of remote assistance technology is one of many topics that will be covered by the "Enterprise" track at this year's AWE USA event. Solutions providers and Fortune 1000 organizations will discuss some of the latest case studies that demonstrate how XR is helping to solve key operational pain-points for companies, as well as how Augmented and Virtual Reality technology is connecting and enhancing the capabilities of geographically dispersed teams throughout the enterprise.
Some of the best talks from this year's event that will cover these topics include:
Don't miss the world's leading AR/VR conference, taking place June 1-3 in Santa Clara, California.

Header image source: Scope AR