Welcome back to our recap blog series on this year's AWE EU 2023 XR industry event. With the promise of further insight, discussion, and innovation drawing attendees back to the Austria Center Vienna, Day 2 was all about forming connections and learning more about the latest in augmented, virtual and mixed reality technology.
Here's a recap of how the day unfolded: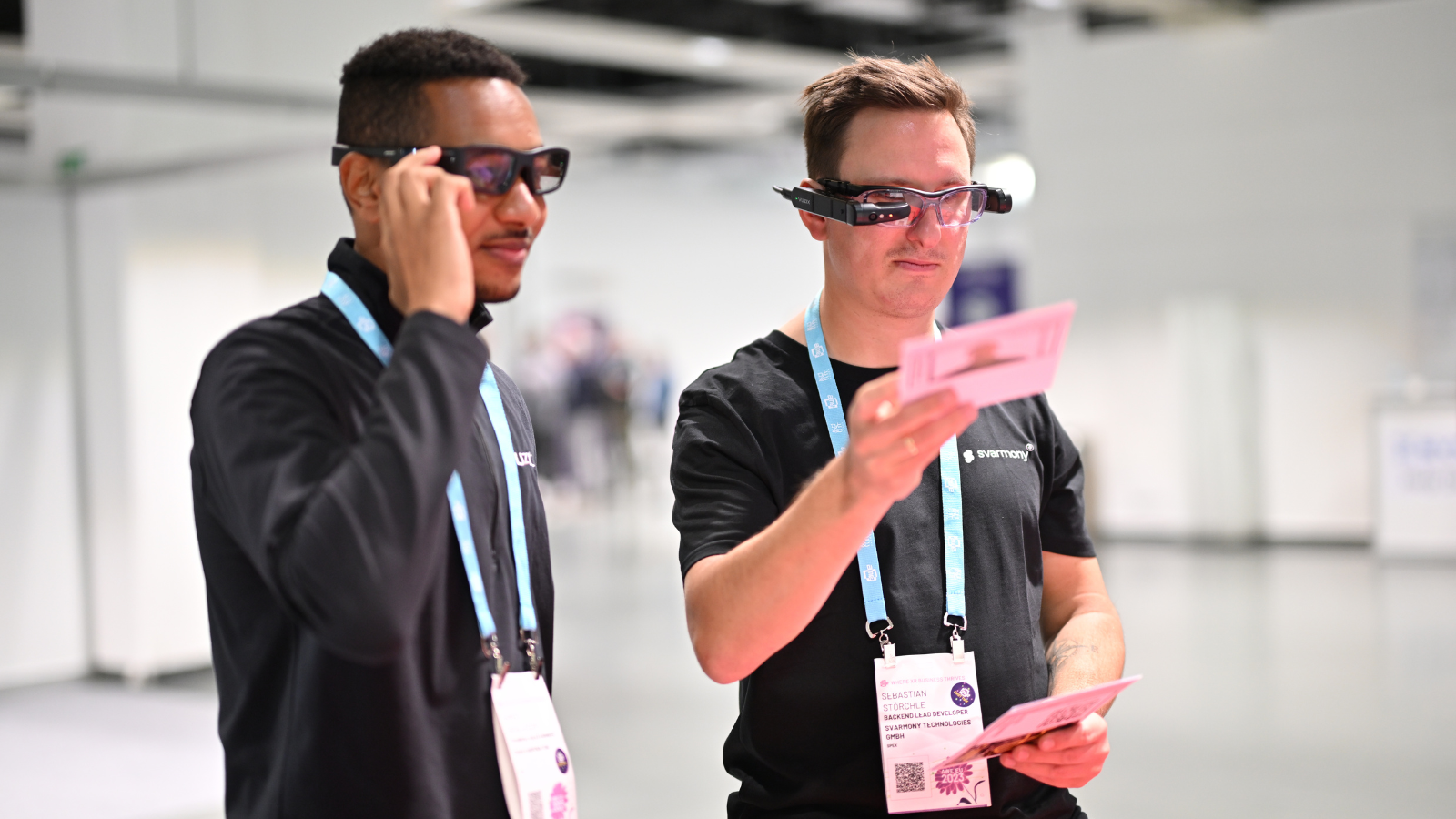 Insight from the Main Stage
Day 2 was kicked off by HTC VIVE's AVP of Enterprise Solutions for EMEA, Thomas Dexmier, who started this morning's Main Stage sessions with an insightful talk that demonstrated the vast range of use cases that virtual and mixed reality technology have for the enterprise, and how HTC VIVE has been at the forefront of XR adoption for many enterprise organizations.
Dexmier made many observations on the current state of XR's use within businesses and organizations, and highlighted that the enterprise itself is an enormous driver of VR and MR innovation. Things such as employer/employee satisfaction and tangible business growth that comes about as a result of XR's implementation will be the indicators that help guide the options available in future, as well as some of the hardware design choices that copanies such as HTC VIVE make.
In fact, it is the enterprises themselves that are ultimately playing a critical role in the overall worldwide adoption of technologies such as augmented and virtual reality. HTC VIVE works with a range of enterprises across a broad number of verticals, including healthcare, automotive, AEC, defense, and emergency services (just to name a few), and it is the companies within these verticals that are looking to implement XR that will play a large role in dictating its future, according to Dexmier.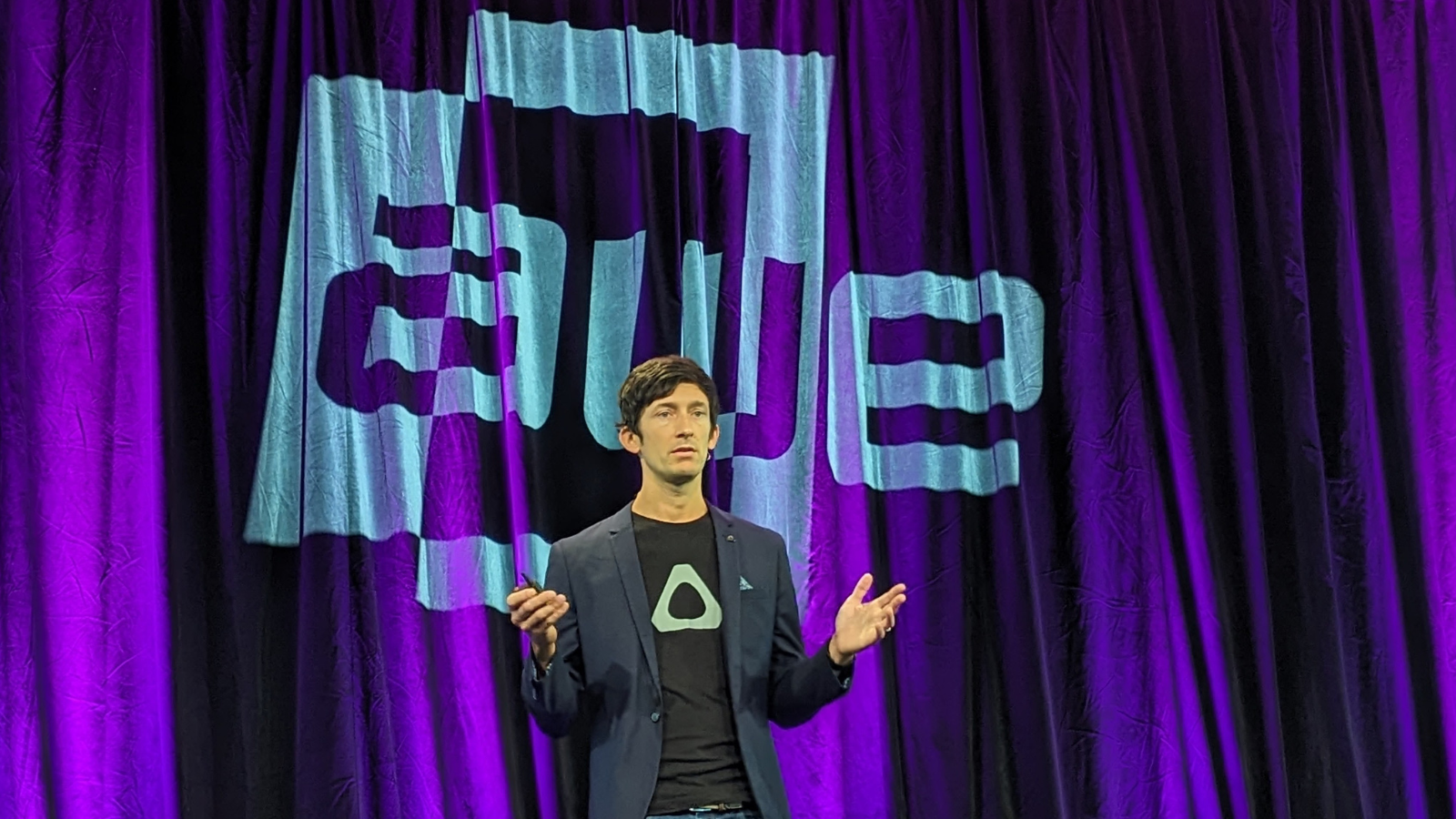 Other talk highlights
There was another packed day of incredible talks and discussions at AWE EU today, and as much as we would love to take a deep dive into every single one of them, there simply isn't time or space in this one blog post. Still, one talk from today that we very much enjoyed was 'How to Jumpstart VR Training For Your Company.' Magnus Mackay of Jotun, a global paint and coatings manufacturer, and Thiên-Sinh Polodna of enterprise immersive learning solution Uptale, shared five key lessons learned from their collaborations launching Jotun's 360º video training initiatives:
Start simple with a focused pilot to bring stakeholders onboard.

Choose a real need that serves the business and

Make the solution relevant.

Collaborate across functions and business units for better adoption.

Measure your work to make it easier to prove the impact of your VR training.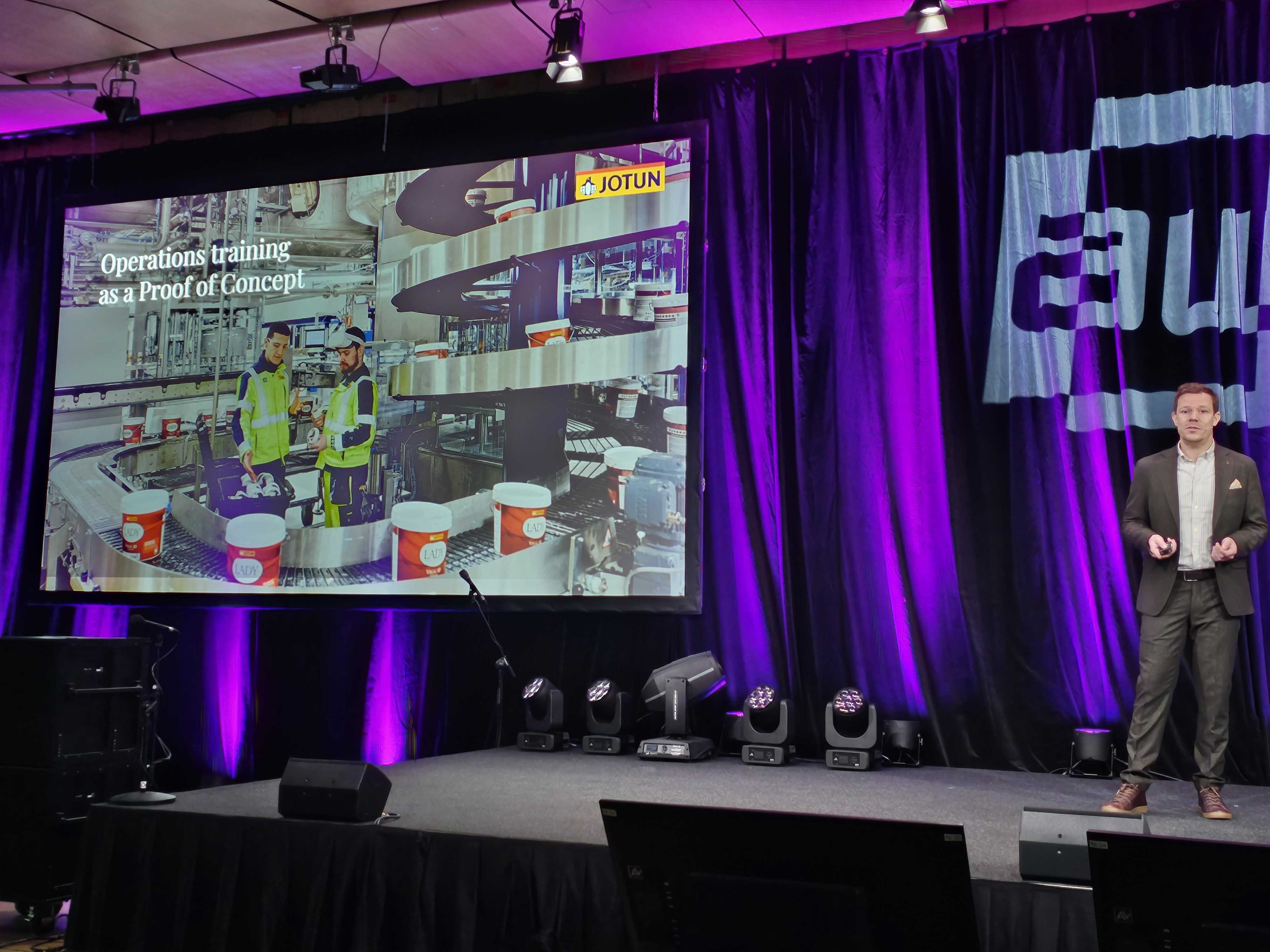 On the Retail, E-commerce and Advertising track, four XR founders discussed 'The Influence of XR on Creative Culture — Fashion, Beauty & Music.' Panelists include Ashumi Sanghvi, MAD Global and Future+; Lili Eva Bartha GN3RA; Samantha Tauber, VNCCII; and Dmitry Kornilov, FFFACE.ME.
Kicking off the conversation, Kornilov shared that "XR opens 2-way communication with audience through interactivity." G3NRA founder Bartha followed that, stating that: "large scale adoption will occur when XR is understandable, usable, and adds value." While there was tremendous enthusiasm for XR in culture, the panel agreed that focusing on easily accessible use-cases that work on today's technology is the quickest path for making an impact, or a successful brand activation.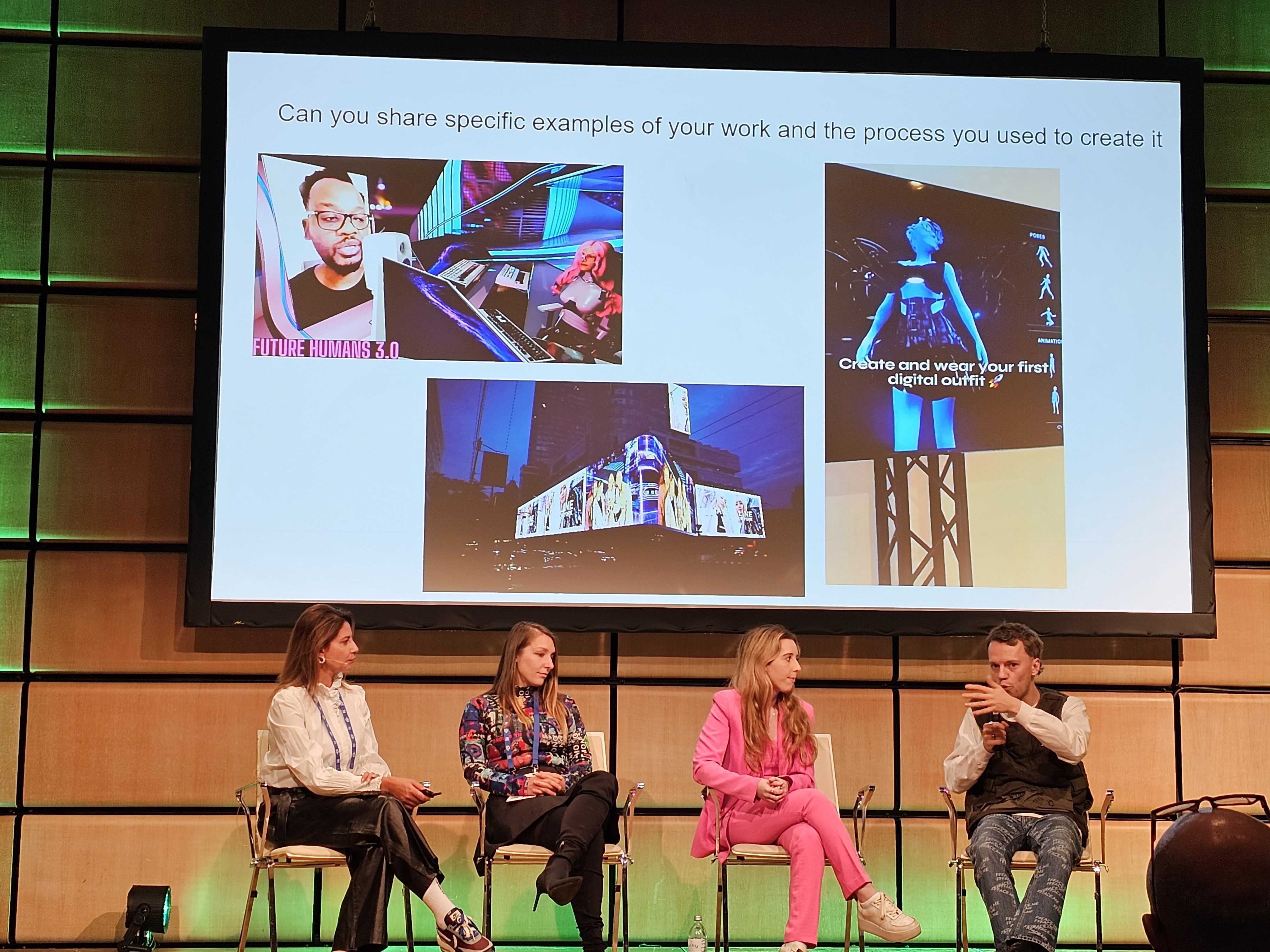 The Start-up Pitch Competition at AWE EU 2023
The Start-up Pitch Competition took place today, providing a platform for emerging entrepreneurs to showcase their groundbreaking XR solutions. This year's competition saw eight inspiring finalists pitch their ideas in front of AWE's panel of judges, made up of industry executives and venture capitalists.
Each start-up presenting was of course trying to convince the judges that their innovative idea should be the one to be awarded the title of "Start-up To Watch." Plus, start-ups were also vying to be in the running to receive an investment from acclaimed investor Chris Obereder.
There were more than 150 start-ups that entered the competition this year, but only one could be chosen as winner. However, BEFORE the grand winner was announced, there were three finalists who were shortlisted to be in the running for a $200k investment from Chris Obereder. The three finalists shortlisted for an investment (pending due diligence) were:
Brainspark Games | CEO: Reedah El-Saie

Virtual Beings | CEO: Wendelin Reich

ForwARd Games | CEO: Tim Friedland
However, the grand winner of this year's competition was Brainspark Games, with Reedah El-Saie being awarded the title of AWE EU 2023 "Start-up to Watch." The Brainspark Games founder and CEO delivered a powerful and flawless pitch, which left a strong impression on the judges. A huge congratulations also goes out to all of the teams that reached the finals this year.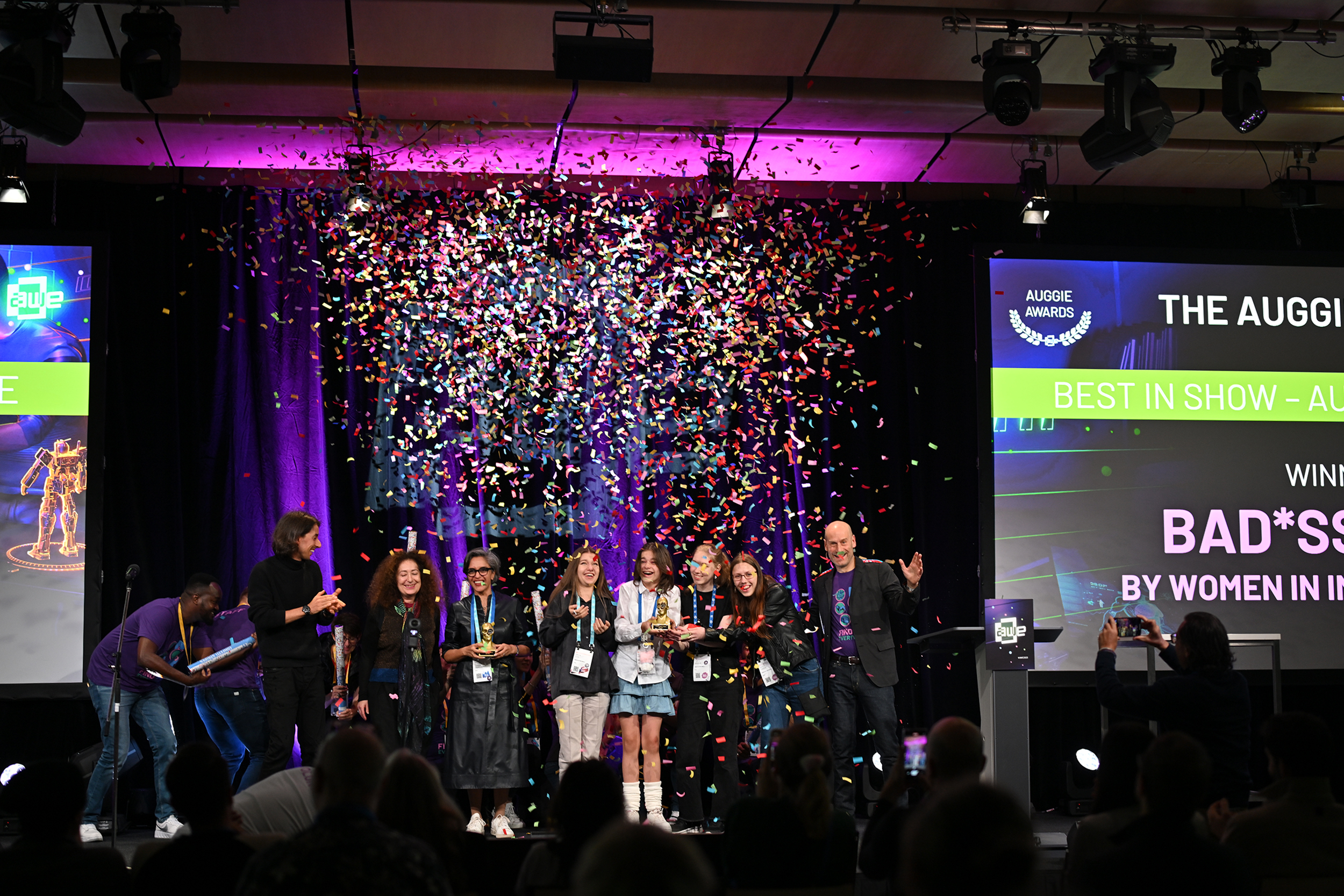 Event Wrap-up & Best in Show Awards
As well as the Start-up to Watch award, there were two 'Best in Show' awards handed out this year. The winners of these awards were:
Best in Show VR | VRgineers – Vrgineers is a leader in developing immersive training for military pilots with its advanced XTAL VR and MR headsets and aviation simulators. With an impressive booth at the event this year, Vrgineers' flight simulator training kit drew a crowd from day one, with people lining up to have a turn at flying a fighter jet in VR, and sharing their experiences on social media.
Best in Show Audience Favorite
| Bad*ss Girls by Women in Immersive Tech – we covered it in yesterday's
Day 1 Recap post
, but it was clear that everyone at AWE was talking about the five young girls (aged 13-17 years old) who wowed and inspired the audience with their incredible VR designs. Part of a campaign by
Women in Immersive Tech and InnoVationGirls
, the young winners are certainly going to be a force to change the world for the better, and you can certainly expect to hear more from them in the coming years.
You can watch the full event wrap-up below:
Closing Remarks
With the curtains drawing on AWE EU 2023, we want to thank all who attended and helped make this year's event an extremely memorable couple of days. The discussions, networking, and the spirit of innovation showcased in Vienna this week have been truly inspiring.
It is always a delight to see the XR community gather at our events, and witnessing firsthand the continuing advancements that the industry is making is extremely exciting. It is clear that the future of XR is bright, and it is thanks to the amazing people who are a part of these events that this industry is being driven forward at such an incredible rate.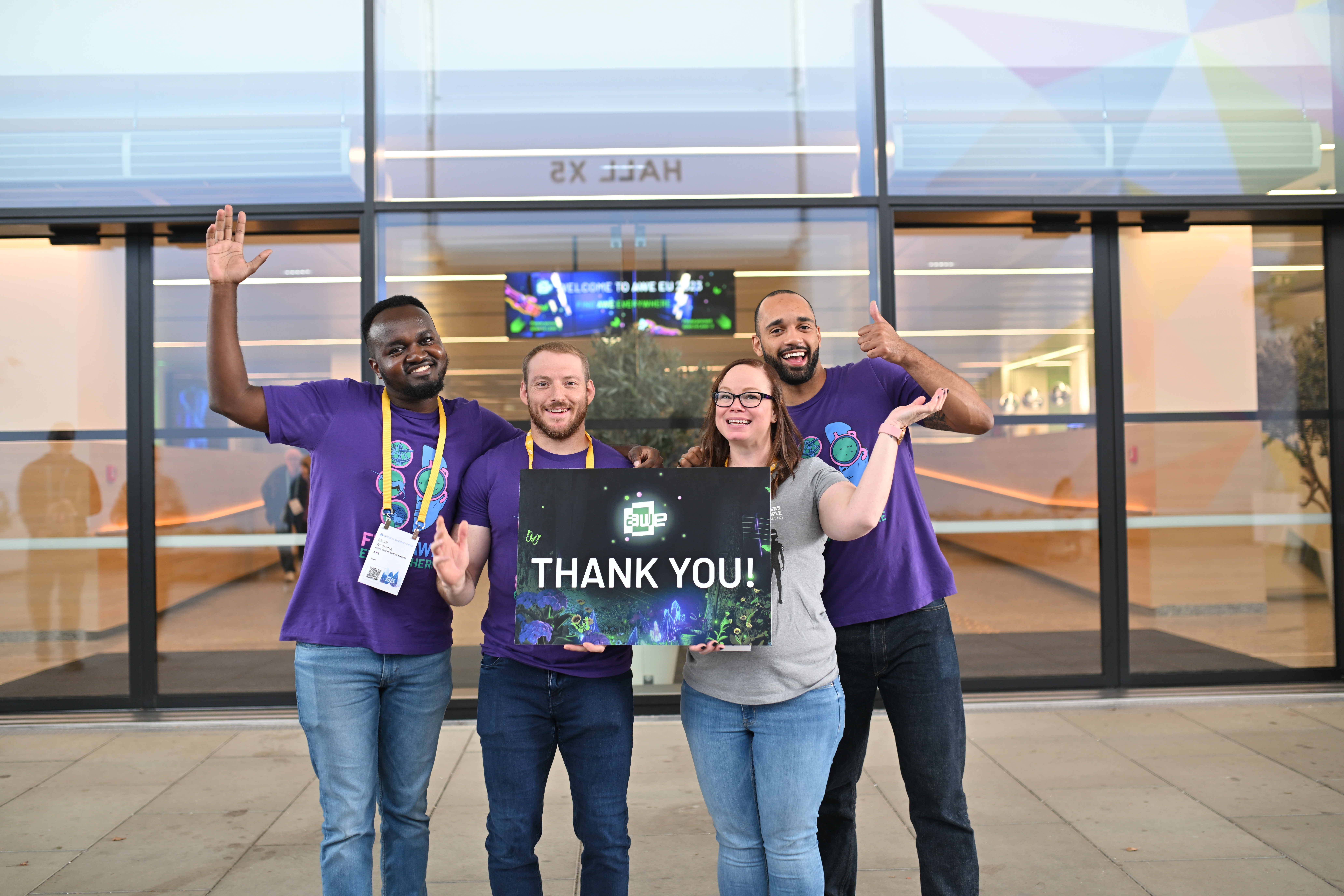 As we bid adieu to the last major AR and VR event in this year's AWE calendar, the anticipation for AWE 2024 begins, for which you can already register for a super discounted rate (see button below). We hope you're excited for what the future holds, because we're certain that it is brimming with possibilities, with XR at its heart. And wherever XR is, AWE will be there too, acting as a vital hub for connection and innovation for the incredible community that is pushing this technology forward.
As always, an enormous thank you goes out to our incredible sponsors this year, your continued support helps to make these events incredibly special. Finally, we extend our heartfelt gratitude to everyone who joined us this year in Europe, as well as the entire AWE community. Until next year, let's continue to dream, innovate, and grow this incredible industry.