Inbar opened the event with a vow to have a large, in-person comeback in Santa Clara for AWE USA 2021. He then introduced the new AWE Academy program, Web AR Workshop for Brands, Agencies, Creators, designed to teach brand managers, agencies, and creators the foundational skills necessary to craft a carefully considered approach for deploying web AR marketing and advertising experiences to customers. Attendees will learn how to set web AR campaign goals, craft an AR-enabled customer journey, and deploy an omnichannel web AR campaign that's measurable, impactful, and designed to either compliment or outperform traditional marketing benchmarks. The upcoming workshop will take place February 6-7th, 2021, from 9am-12pm PST each day, as well as one-on-one sessions until 3pm. For more information on the Webinar, click below.
Inbar discussed the benefit and importance of WebAR, remembering how the first AR campaign on an iPhone required the phone to be jailbroken. Apple jailbroke 200 phones and sent them to the media. People then were excited for the tech, but didn't like having to download an app, and today, 10 years later, this is still a major friction point. In those 10 years significant progress has been made in the tech, and now 80% of all AR campaign activations have session lengths of more than 1 minute, and 50% are more than 2 minutes long. A survey conducted by ARtillery Intelligence asking advertisers what the biggest challenges in AR advertising shows the top two concerns being the difficulty of reaching audiences at scale, which is solved by web AR, and unclear ROI, which is what the AWE Night sought to help.
Inbar then introduced the panelists: Paul Duffy whose company has helped brands institute web AR campaigns that in 4 days converted more customers than in the previous 4 weeks of standard web marketing and sales; Patrick Johnson of Rock Paper Reality who create web AR campaigns for companies with the "trifecta" approach of development, creativity, and strategy; Cathay Hackl, an industry expert currently working with the futures brand of the US Air Force in part on a webAR project, and able to provide an overall futurist view; Adam Wilson, who started Polyform two years ago with the intention of creating premium AR with a focus on conversion and utility, not just novelty; Wayne Chang, Head of Product at Saatchi art, a client of Rock Paper Reality who implemented webAR campaign to excellent results.
After introductions were completed, Inbar moved on to the main thrust of the panel, the Q&A section, beginning with questions for each individual panelist. Please note that the Q&A written out below is a summation of what was said by all panel members, and is not an exact transcript. Please see farther down the page for the full video of the event.
Q: For Wayne Chang - did you figure out how to produce an impactful web AR campaign?
Wayne Chang: Yes. In particular, the art market is moving more towards ecommerce. There are a lot of unique challenges that the art market is facing here that AR fits right into.
Q: For Cathy Hackl - how is the market changing?
Cathy Hackl: Well there is a huge uptick in demand for WebAR, and in marketers looking to use the tech because of the incredible conversion rates -- a 200% boost in conversions when marketers used Ar for product visualization. In anything in marketing, you have to think about your customer. When you're thinking of implementing AR, you need to think about how your potential customers are going to encounter and access your campaign, and WebAR can provide huge benefits here in terms of speed, ease, and hassle. (Q: do you want to name any names of people doing work you're excited about?) I'm excited to see what's being done and is going to be done in volumetric activations. Tom Emrich has done amazing work with various clients, Trigger, Sar. I tend to really like the work Panera has done, although I believe most of that is app based. I think one big player we haven't really tapped into is Adobe.
Q: For Patrick Johnson - What kind of customers do you see being the most interested in web AR?
Patrick Johnson: marketing and advertising. If you have a customer-facing brand, then most likely you're right for AR. That being said, some are even a better fit than others. In an industry where you have a commodity of your product, let's say Budweiser versus Coors, where, can you really tell the difference? Most people can't. So it becomes about your brand, your marketing dollars and how you're cutting through the noise to engage your customers. Things like wine and spirits, food and beverage, fashion, luxury goods. Brands with high marketing dollars and a good deal of competition are a good fit for AR. (Q: and what kinds of experiences are popular with those clients) Consumer packaged goods is huge. What we're looking at as well is that, especially with the cost of this, the good thing about web AR is the omni-channel strategy. You create this one asset, and you can then put it on your packaging, advertise it on social, push it on your website, and include it on all these different activation points on your customer journey and leverage that single asset, whereas an app-based asset only app users would be able to interact with it.
Q: For Paul Duffy - You're focused more on product visualization in the context of ecommerce, so visualizing a product in your home more than some more fully interactive experiences. Tell us about that process and what kind of customers are more leaning towards that experience.
Paul Duffy: Sure, so going to Patrick's point, we moved to web AR because it gave us the broadest aperture of display devices that we could find. The browser is an app. It has a lot of core functions and is very ubiquitous, it's on a lot of different devices. What we didn't want to do was be single-threaded to an iOS or an Android-type experience because it minimizes the aperture of display devices we could hit. So we ended up creating a file format around GTLF that allowed us to do very basic pinch, zoom, rotate, placement, for product visualization, and then we created a pipeline and a workflow that would allow us to build that so that it's photo-realistic and at scale. As I'm sure Chris and Patrick can attest, when you have to do hundreds and thousands, scale becomes an issue. And what we found after getting done with this was that the conversions were off the charts. Typical 4, 5, sometimes 10X increase in conversions, while using the exact same inbound method, putting it on the page, and making sure that there was a button there for the viewer to see, and because it's web AR zero friction. Once you've built a web AR asset, you can put it into an AR ad network, put it through all the social channels, put it in an sms messaging app, and can do it through a bandwidth constraint display environment. So if you're a brand that really wants to reach, you have the trigger points, stickiness, and conversion rate of AR, and now with web you have mass deployment, it's a great technique.
I assume you're asking how we handle at scale, a lot of volume, right? (Inbar: yeah) Yeah that's a big choke-point in the industry right now. We have 4 ways of doing it. I won't bore you with all of the details, but oftentimes there is almost always some form of 3D object existing in that brand or manufacturer's pipeline. First thing's first, you pull down that extract and then you adapt it for AR. There are a multitude of ways to do so quickly and cost effectively. We actually got to the point where we created an app that you would download, take a video, and then we would create effectively about a 95-98% no-touch 3D AR asset that would be then be touched up and put through the pipeline. And then you can also go the brute-force way where you get an army of folks to build fairly complex models around the products. What you need to do is not look at cost, but what you will net, at what's the return. And you can study that because it's a web asset. You can see the data points, you can see what's returning, you can see the clickthrough rates, and they're all very compelling.
Inbar then turned the topic to the readiness and maturity of web AR
Q: For Patrick Johnson - It's pretty well known that web is a couple steps behind native apps, what are some of the limitations you're seeing and how they affect how we think about web AR campaigns.
Patrick Johnson: Sure. I'll start with an example from the Siduri experience. They were built with volumetric capture, and so we had huge file sizes that took forever to load. Thinking about user experience we came up with a work around where we broke up the UI into multiple panels, giving the users something to engage with at each step, and measured drop times, looking at when it took to long and when users gave up on the experience, and that way we could cut it down where we needed to. So it's all about build, test, and adjust where necessary. Another challenge that we're seeing is that it's a whole different asset pipeline switching from app-based to web-based, and that's a whole different challenge in itself, trying to create that same photo-realism and quality. Those are two big things but there are plenty more
Q: for Wayne Chang - as a customer, was there anything you wanted to do in one of your web AR campaigns that you couldn't?
Wayne Chang: RPR was able to help us overcome some of the initial challenges. We have over a million art works, and they're all unique one of a kind works, with different dimensions, all different images, high-res jpegs, so how do we generate an AR experience that's compelling, accurate, and do it on the fly without a ton of rendering. We were actually able to do it in a really clever way, with one 3D model that's re-sized, and then RPR would apply the jpeg image. One thing we haven't been able to overcome yet is sculptured, themselves 3D objects, which are all unique and original, so how do we achieve 100% product coverage on that. That's one area we haven't been able to figure out yet.
Q: For the Panel - there's a related question in the chat in if/ how the LiDAR on the iPhone 12 can help with that quick rendering of 3D objects
A:
Paul Duffy: I think it's close, it's a good glimpse into how things will be, maybe in the next iteration of phones coming out at the end of 2021. It really all comes down to the materials. Things like shiny glass are very difficult, where as organic material like fabrics are much easier. LiDAR will help with immediately pulling it into your pipeline, but at the end of the year it is likely that we'll see apps that will come out for the types of LiDAR on the types of phones.
Adam Wilson: I think Paul nailed it. The tech is coming, it's not quite there yet. At this point there's photogrammetry stuff that's doing better than the phone LiDAR can, it's on the way. It's kind of like looking through a pinhole to the future of what we're going to be able to do, but we're not producing any models like that yet.
Q: For Adam Wilson - What are the kinds of projects you are called into, where they need your skills as opposed to to just visualizing a product?
Adam Wilson: At Polyform we're very committed to producing products, so we do a lot in the marketing space when it's in concert with a product release, we do a ton of work in retail. Retail is really beaten up in the last decade, the last few years, and the last year even more so. We do a lot of in-store experiences for them, where we try to take all of the benefits of ecommerce and bring them into the physical space through different types of sensors, etc. And now as people are trying to keep brick and mortar stores smaller, with experiences higher and less stock, we're finding a lot of in-store opportunities for AR, especially in the AR sector. They run into the same problems everyone is talking about here of having so many assets to render in AR, so we're seeing a lot of people dipping their toe in, changing what's on a mannequin, minor try-on, interactive posters, etc. We're seeing a lot of people trying to use AR to get the same kind of lift in store that Shoppify experienced online. And it turns out that there is a similar irl conversion lift.
Q: So Adam do you have tips for creators on how to create higher engagement and conversion in web AR experiences:
Adam Wilson: it's important to focus on the utility that you're bringing to the user. It's the sizzle versus the steak. A lot of times with new tech, and I think AR is still in that novelty phase before we get to the true utility phase. There are a lot of experiences that are just shiny objects, and that's great and we do see a lot of lift with them. But with the iPhone there was a long time before people stopped downloading apps just because they were shiny, and I think with AR that phase is going to be a lot shorter. People are going to be what they can get out of an experience practically. Focusing on what the user gets out of the experience will definitely increase engagement.
Q: follow up question from the chat. Is there a way to guide the user on how to interact with a user experience?
Adam Wilson: Depending on what kind of experience it is you want to have your lane detection or whatever kind of markers leading them through. I find with web AR experiences, especially with stuff we're doing in store, it can be someone's first ever interaction with AR, so they don't know anything about scrolling or pinch and zoom. You really have to hold them by the hand and not be afraid to provide that information even if it clutters up the experience from a designer's point of view. It's very important to educate the user. Tell them why you need to use their camera.
Inbar then moved the conversation to the heart of the day's panel, how to create impactful web AR.
Q: For Patrick - What are some of the strategy recommendations you're giving to brands to convince them to utilize web AR?
Patrick Johnson: Our first step is to just ask a ton of questions, bring in the stake-holders, and really understand the personalities of the customers they're going after. A lot of the questions we ask around usability are going to dictate how we actually create our user experience, our UI, how many infographics we are going to use, etc. Start with discovery. Then we usually move into the execution, exploring creative possibilities, studying the use cases, doing 3D whiteboard story sessions, and then downselecting and coming up with prioritization based on their channel strategy and customer journey. Then it comes down to budget, and what they want versus what they have the budget for. Finally it comes down to the validation phase, defining the analytic strategy, tracking the performance, supporting the leadership on the socialization. A lot of times we get hyper focused on just the AR experience when often if the customer isn't getting called, if they don't see a shelf-topper telling them that there's an AR experience, no one is taking it off the shelf. People need to know they're going to be getting something special. And also, what's the landing page that people are being redirected to when they click through the AR. Is it going to be in the same vane, consistent and coherent? If you're going to do it right it needs to be a thread from the first touch point to the landing page to the sharing it online with your friends.
Q: Switching to the customer perspective, Wayne, what do you wish you knew before you got started with your web AR campaigns and what are some of the tips you would give to other brand managers or agencies?
Wayne Chang: I can't stress enough the importance of testing and looking at the entire user experience and the journey of that user. It's easier to hit everyone over the head and say "hey we have AR," bu you need to think about that touch point and where you're connecting people to the AR in their journey. From that point, just constantly test and iterate and make sure it fits within the user journey. On that second point, to make it successful, having accurate tracking is of course a given, but really knowing, and sitting and watching what people do through user testing, and understanding how people interact with the AR feature is also very telling. Guide the user as much as possible. The benefits are there. We saw people who used the AR feature were 4X more likely to convert. One other thing we're exploring is how we might want to push up where the experience is in the journey, so that a customer could scroll through a carousel of different products in the AR experience, without having to go back and select a different product and open it up separately in AR every time.
Q: Paul Duffy, when you use web AR for ecommerce websites what uplift are you seeing and what can you do to improve this uplift?
Paul Duffy: Simplicity is key, make the callout clear. Once someone clicks it has to be a fairly seamless launch. As for other areas to use it, what we did is we studied where AR could fit in the customer journey, and we realized we could create the equivalent of an AR-itized ad unit, posting the same level of web AR experience into that ad unit, and we discovered the same increase in clickthrough, level of experience, and add to cart, circumventing the landing page altogether. If I could introduce Hareesh Achi, who's part of our team on that.
Hareesh Achi: Yes, definitely reiterating what Paul said. Also, one thing we've found with AR ads is how to set the complementary products as well. How do you engage, it's not just an individual product, but how do you compliment it. For example, if you are a luxury handbag retailer, maybe you compliment that with jewelry or watches. That is also key to engagement and increasing conversions.
Moving to the future of web AR.
Q: Wayne, where do you want AR to be on the web that you don't see yet but would like to see in the future?
Wayne Chang: As I said before of course product coverage and being able to model 3D objects at scale. One other thing I'd really like to see is a potential sales tool, where the customer can scan their room in LiDAR and the sales team can then see that scan and help them to decorate the entire room while in an AR experience, and help them create gallery segments across multiple walls, and maybe even help them decorate an entire room.
Q: For our futurist on the panel, Cathy, where is AR going on the web, and do you think at some point we'll see AR running on top of the AR Cloud?
Cathy Hackl: What I'm seeing is that AR in many of its different forms is becoming a full-funnel medium, not only getting people interested and bringing them into the funnel, but helping at purchase and post purchase when you think about virtual humans and customer service. I really think we need to start thinking when we talk to brands and clients about AR being a full-funnel medium, I think that's where it's going looking forward. When you ask about the AR cloud, or the metaverse, there are two things to keep in mind: first, when we look around us, everything we see around us is 3D and has volume. What happens when we move away from this to glasses? We'll want all of this content to be 3D, dimensional content. With that being said, when does the web on our computers as we know it end and when does it start in glasses? When Does it stop being "web AR" and "app AR" and all just become "AR"? One thing to keep in mind is that every single one of the panelists here, and I'm sure to a large extent the participants, are creating the printing press of the future. These assets we're building will live on. I personally think of the futures of museums and universities and libraries as being the repositories of this 3D content. I'm working now with Avatar Dimension in DC working towards recording in volumetric video for historical preservation, recording not only people telling their stories but things like heritage, dances, or people speaking languages that may be lost, artifacts, so as to preserve those memories and that history.
Questions from audience
Q: What sort of engagement increase are brands seeing with AR vs 2D assets?
Paul Duffy: 25% or more people will click on a link now because they're interested. Once they're in upwards 30 seconds, but most around the 2-3 minute range. Those that spend more time dwelling with your product have a much higher likelihood of converting. All of our clients see that 4X conversion boost. And I see these metrics every day. I do also agree with what Cathy said about it becoming full-funnel.
Hareesh Achi: Also from an ad perspective, the retargeting is also very high, where even if a conversion doesn't happen, you can take the amount of time someone is in an AR experience and use that for retargeting ads to those specific customers. I also agree with what Cathy was saying about the future being 3D AR glasses.
Q: About the workshop, do we offer a preview of the workshop for people to get a feel of the style?
Patrick Johnson: If there are any questions people can shoot me a question, I'm happy to offer answers and tell a little bit more than what's on the webpage, although I think the webpage does a pretty good job of layering out exactly what we'll be covering. I'm more than happy to dive into it and answer any questions people have leading up to the event itself. It's a massive presentation, we have about 130 slides we're going to be working through alone, and that doesn't even account for the assignments we're offering and the discussions we're doing. The thing is packed
Ori Inbar: It really is about condensing hundreds and hundreds of conversations with clients to help you save a lot of time and money.
With that, Ori again thanked the panel, and closed with a slide on the Web AR workshop. Check it out here!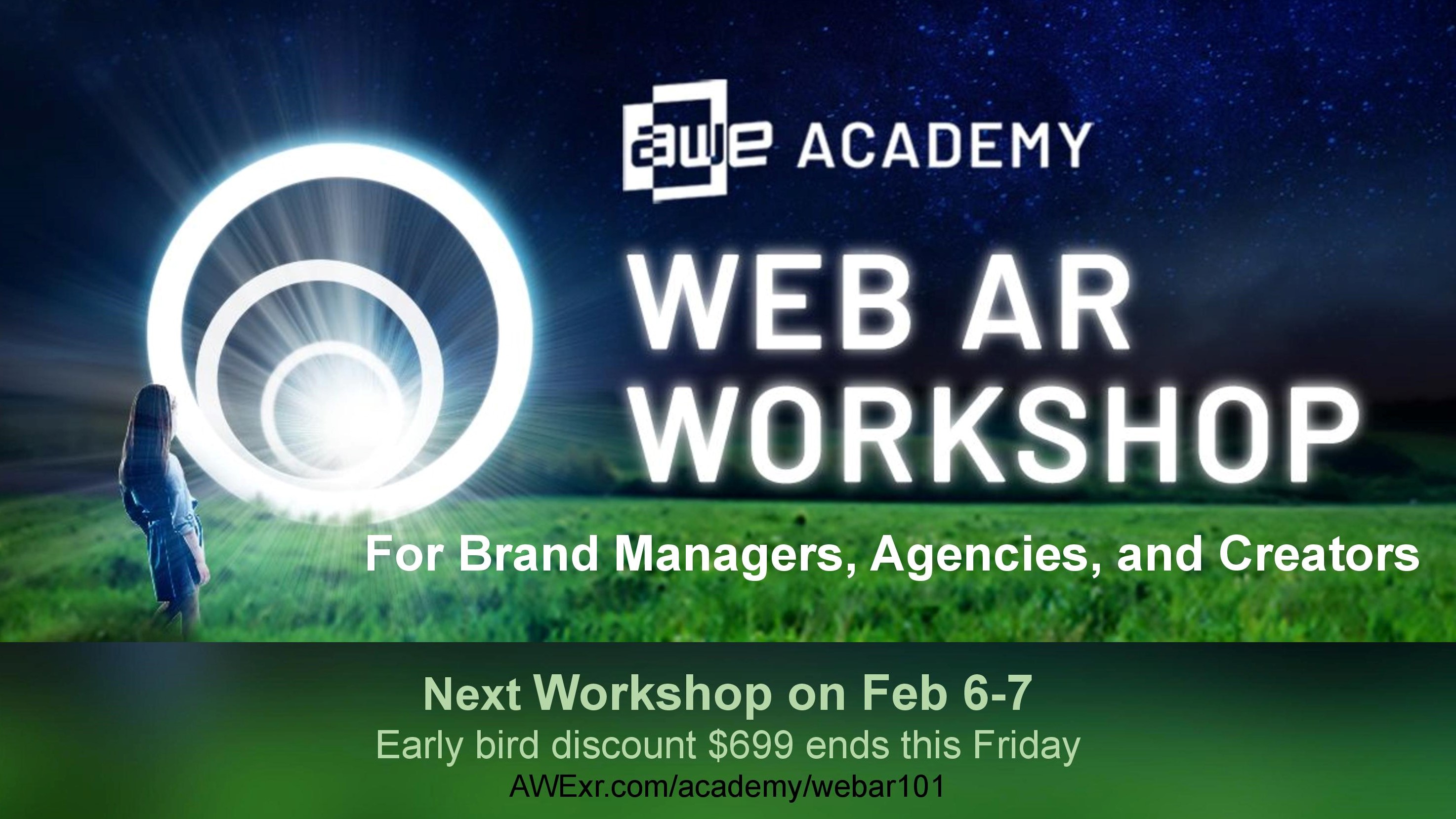 Watch the Whole Panel Here




Check out more upcoming AWE Nites!