Welcome back to our blog series that explores how XR technology, including augmented, virtual and mixed reality, is being used to enhance branded experiences by immersing audiences in new and exciting brand engagements. Brands are continually exploring new avenues to reach their audiences, and XR has emerged as a powerful tool with which they can increase the spread of their campaigns.
In previous posts we have looked at the use of: virtual try-on implementation in brands' e-commerce strategies; augmented reality filters for creating engaging and shareable branded content; and utilizing the power of XR to enhance mundane objects into interactive and fun parts of a branded marketing effort. However, in this post, we will explore one other approach that has proved to be incredibly potent – gamification.
By incorporating elements of play and competition, brands can create memorable experiences that not only entertain but also cultivate brand loyalty.
Reengaging Fanbases with Gamified Experiences
The impact of gamification in XR is perhaps best exemplified by the global augmented reality phenomenon that is Pokémon GO. By merging the real world with the virtual, this game reinvigorated a global fanbase and transformed casual walks into thrilling Pokémon-catching escapades. The game, which was created by Niantic, was released in 2016 and has since been absolutely raking in the profits. In its first five years, Pokémon GO had made more than $5 billion. Even now in 2023, from January to August the game's in-app purchase revenues surpassed $324 million worldwide, according to Statista.
Pokémon GO continues to keep its content fresh by leveraging its massive IP catalogue of creatures to constantly introduce updated and new elements and content to the game. This latest content shown above was only just released in August 2023.
Leveraging Strong IP
Of course, not all XR-based gaming experiences will be as successful as titles such as Pokémon GO. In fact, one huge advantage that the game had from the very beginning was the fact that it was leveraging a massively popular intellectual property (IP).
However, for other brands that also have their own strong IP, they may still have a unique advantage when it comes to gamification, in that they are more likely in a position where it would be possible to develop games that not only entertain but also serve as an extension of their products or services.
A couple of examples include:
Avon – When beauty care brand Avon sponsored a popular Brazilian reality show, the company was looking for a way to differentiate itself from the other sponsors while at the same time also showcasing its products' benefits through the use of immersive technology. For the campaign Avon created an AR filter that allowed people to play a game via avatars that looked like the TV show's participants. Players earned points that could be redeemed for a range of real life Avon products. The addition of this XR-powered gamification element helped to tie the experience to both the brand messaging and lead generation.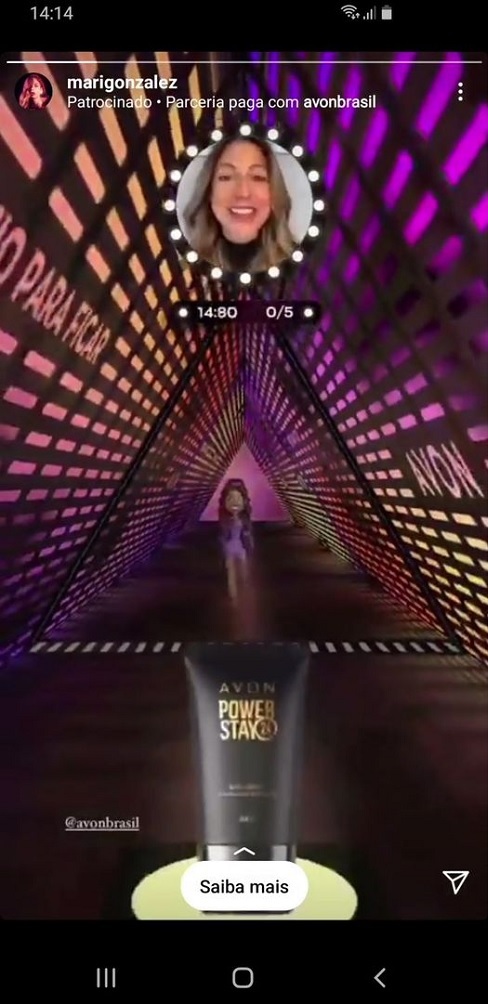 Image source: Meta
Gran Turismo 7 – A staple for fans of racing simulation video games, and a series that is built off of automotive IP and brand placement. The Gran Turismo series allows players to put themselves in the driver's seat of more than 450 vehicles in unparalleled detail. Plus, the game is playable on PlayStation VR2, allowing players to experience racing sims like never before and become deeply immersed in some of the world's most iconic automotive brands. Granted, this is less of an experience built purely for XR, but the fact that players can use PSVR2 to actually feel like they are sat inside some of their favorite vehicles will only help to enhance the connection and engagement that users feel with all of the vehicle brands featured in the game.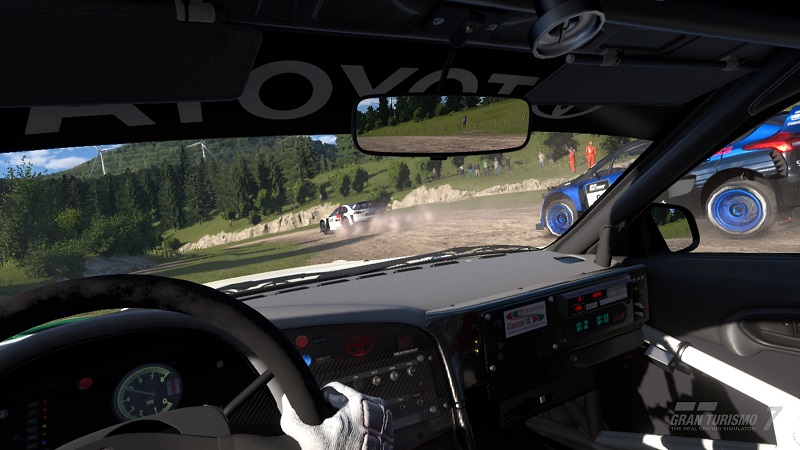 Image source: Sony Interactive Entertainment LLC
There are even more great examples out there, with some highlighted in this insightful post from Meta. The message is clear though – with the power of XR, the possibilities for gamification are endless, and the stronger the IP, the more seamless and impactful the gamification efforts have the potential to be. However, it is important to note that branded AR/VR/MR experiences will tend to work best when the reason for using XR is intentional on the user's part, rather than soley being about pushing a product.
Immersion Through Brand Elements
Gamified branding experiences don't always have to feature some sort of giveaway though. In some instances, they can simply be fun for the sake of fun. Take Kraft's Mayoverse for example – wherein the company engaged with Reddit users and asked their most ardent fans for their strangest mayo fantasies. The resulting experience, created by Nexus Studios, utilized smartphone AR capabilities to teleport users through mayo-jar-portals into four mayonnaise-themed rooms. Once in these rooms, visitors could partake in mini-games that ranged from mayonnaise pinatas, building sandwiches drenched in mayo, or just simply covering the room in mayonnaise in some way, shape or form.
While it may sound peculiar (let's be honest, it is pretty peculiar), it's certainly a memorable way to get users to engage with a product that's really just a simple condiment. The key takeaway here is that gamification can make even the most ordinary products extraordinary, and it can do so in a way that resonates with a broad audience.
Video source: Nexus Studios
The essence of gamification lies in integrating brand elements into interactive experiences. Whether it's collecting virtual rewards, completing challenges, or unlocking exclusive content, these game-like elements should ideally create a sense of achievement, engagement or at a minimum, fun. What's more, gamified experiences don't always necessarily need to rely on a well-known IP in order to be engaging and memorable for users. For instance, a local coffee chain could create an AR game where users collect virtual coffee beans from various branches to redeem real-world discounts. The game mechanics could ultimately be extremely simple, but the integration of branded elements could make the experience interactive, immersive and enjoyable. And associating this enjoyability with a brand name is never a bad thing.
Mid-blog keyword check
Mayo/mayonnaise - 9
XR/AR/VR - 8
Pokémon - 4
Google indexing won't know what's hit it.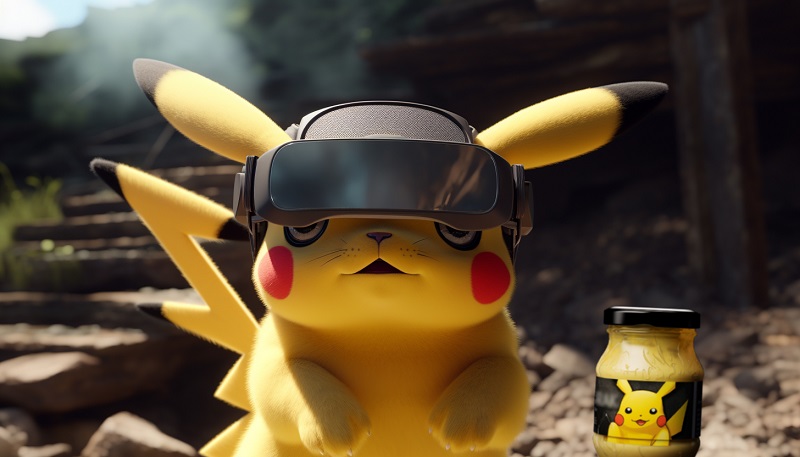 The Value of Gamified XR Experiences: Beyond Entertainment
The value of utilizing XR to create gamified immersive experiences extends far beyond mere entertainment. It fosters deeper engagement between customers and brands, which in turn can help to create a greater sense of brand loyalty. Whether through AR or VR, by creating a memorable gamified experience, it can create a more lasting positive impression of a brand for users.
Moreover, XR experiences that employ gamification can help to open up new revenue streams as well. Brands can monetize these experiences through in-app purchases, advertising, or even by putting their branding within existing successful AR or VR gaming experiences. Similarly, in what is more of a reversal of brands creating their own gamified experiences, brands can also place their branded content within pre-existing AR games.
One example of this would be Niantic's 'Rewarded AR ads' feature that was introduced earlier this year, which uses a smartphone's camera to immerse players within branded content in the real-world around them. Through the implementation of Rewarded AR ads into Niantic's real-world AR games (including Pokémon GO) players can engage with interactive experiences from in-game ad units while they move around in the real-world to unlock game rewards. For brands the benefit is that this can mean they are able to reach players near key physical locations (such as high street stores), delivering branded AR experiences that lead to improved results across the funnel.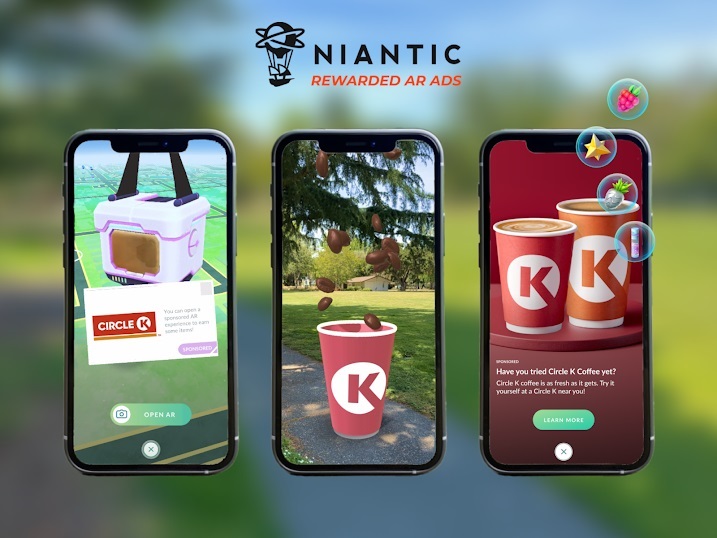 Circle K successfully piloted Niantic's Rewarded AR ads with the goal of increasing brand awareness and product consideration for its new coffee offering. Image source: Niantic
The Future: AI and Personalization
As technology advances, the potential for gamification in XR is limitless. With the increasing integration of Artificial Intelligence (AI) across AR and VR platforms, brands will be able to offer more personalized gaming experiences based on user behavior and preferences.
Imagine a fitness app that uses AI to create personalized workout challenges based on a user's past performance, or a travel app that offers location-based quests when users are exploring a new city. The future of gamification in XR is therefore not just about play; it's about creating deeply personalized and engaging experiences that resonate with individuals on a contextual and meaningful level.
Challenges and Considerations
While gamification offers numerous benefits, it is certainly not without its challenges. As well as crafting an appropriate message for their target audience, brands thinking of utilizing a strategy that implements gamified augmented, virtual or mixed reality experiences will need to ensure that game elements do not overshadow the core brand message.
Additionally, the technical aspects, such as ensuring cross-platform compatibility and addressing potential bugs, are crucial for the success of any gamified XR experience. Essentially, the elephant in the room in this instance is, in order to successfully implement this sort of strategy, it does involve the creation of a digital game, which itself requires a skilled and knowledgeable team in order to successfully execute. So for many reasons, but most likely budgetary constraints, this sort of approach may often only be viable for large name brands with larger marketing budgets.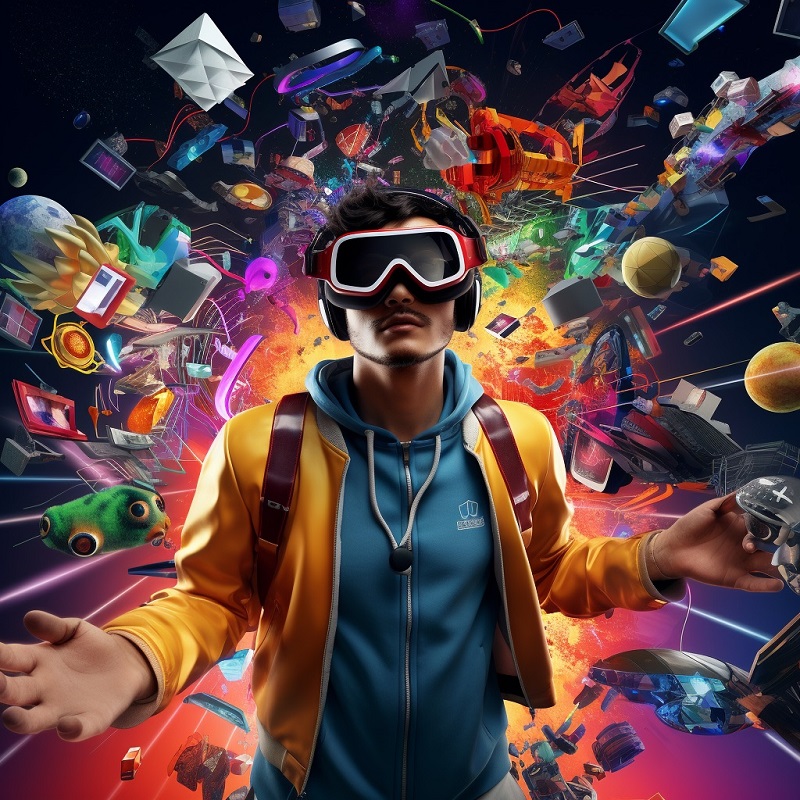 A Game-Changing Strategy for Modern Marketing
As we move further into the age of spatial computing and personalized experiences, the power and appeal of gamified XR as a branding vehicle will undoubtedly continue to grow. With XR technology now at the disposal of marketing teams, it is no longer just about playing the game of brand messaging; it's about changing the game altogether.
For brands and companies looking to revamp their engagement strategy, there is no better place to learn about the latest tools and techniques and hear from industry leaders than at AWE EU this October, which once again will feature an entire Retail, E-commerce and Advertising agenda track dedicated to exploring the ways brands are leveraging XR for increased engagement, sales, and personalization across both e-commerce and brick-and-mortar operations.